Lil Wayne Wants to Get Married + Expand Trukfit Clothing Line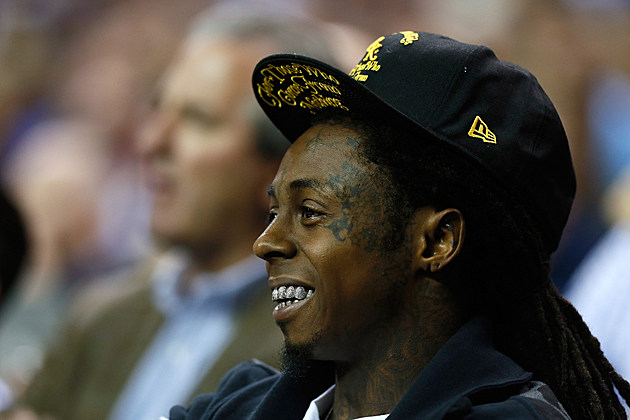 Now that he's announced his retirement is on the horizon, what does Lil Wayne want to do with all that free time? Easy: Get hitched (really!) and design more clothes.
"I know y'all want me around for a little bit, [but] 'Tha Carter V' is my last album," Wayne announced last week. "I've been rapping since I was 8 years old; I'm 30 now. That's a long time, and I like to do so many more things, and when I like to do something, I end up loving to do it real quick. And I love to do something, I'm fully focused on it and it only, and music sometimes is not that it."
Weezy, who was previously married to high school sweetheart Toya, told Sway Calloway that despite his Lothario reputation, he'd actually love to settle down one day if he met the right girl. When asked if he ever sees himself married, he quickly quipped, "Yup. Yeah, man, yup. Happily married too." He chuckled, "I'll probably run down the aisle. I'll probably slide into the preacher like it was home plate!" Too cute!
As for what work he wants to do when he retires from the rap game, the 'No Worries' MC wants to work more on his Trukfit line. He explained that the line's simplicity is what made it so immediately popular. "I think because it's not trendy and it's not what's the norm," he said. "People are tired of everything just being 'what's cool.' Everybody's wearing such and such, everybody's doing such and such, and I don't believe that's what Trukfit is. Trukfit is just a bunch of little characters on a shirt, a bunch of sayings and stuff … I have plans down the line to expand it."
While Wayne doesn't design the apparel himself, he does oversee and decide on everything that gets made. "My designer sends [drafts] over to me in an email and I decline or approve, it's that simple," he explained. "And the kids are enjoying it. And not only the kids, I have pro athletes hitting me up , sending me their addresses, like, 'I need a box of that sent to me every month' or 'I'mma wear that to my press conference' or 'I'm gonna wear that when I sign my deal' — so it's really moving."
Watch the Lil Wayne 'No Worries' Video Feat. Detail
Subscribe to WTUG.com on

Source:
Lil Wayne Wants to Get Married + Expand Trukfit Clothing Line