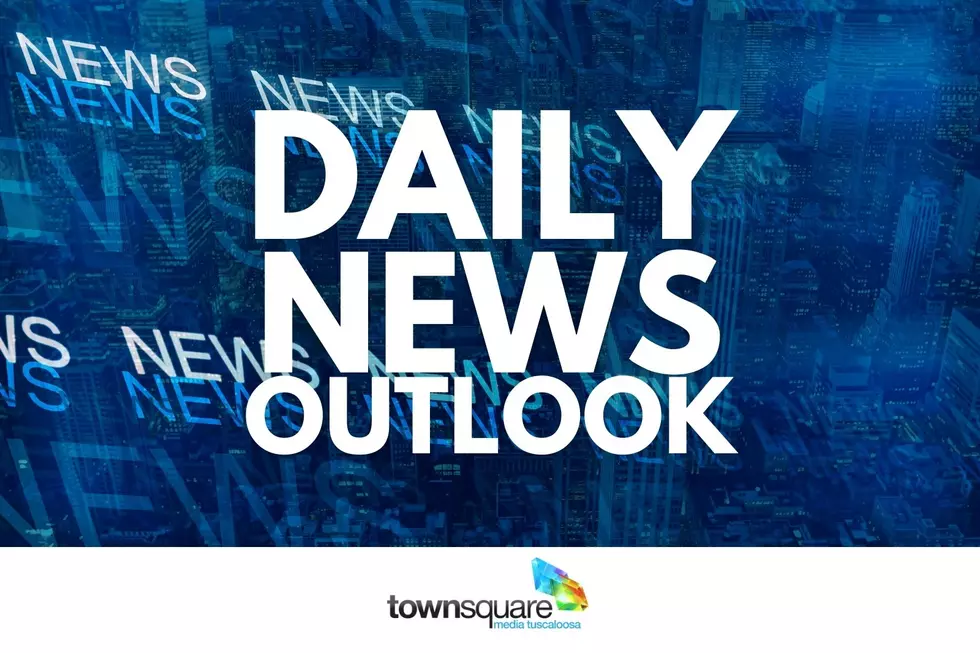 West Alabama Thursday Briefing
Canva
It is Thursday, September 2023, and if you liked yesterday's weather you will like todays, and tomorrows. While there is a very low chance for showers in northern Fayette and Walker Counties today, the rest of Alabama will remain mostly sunny and dry.
The Forecast:
Today: Mostly sunny with highs in the mid to upper 80s.
Tonight: Fair skies with lows in the 60s.
High School Football Friday: Partly cloudy with highs in the 80s during the day. The games Friday night should be played in near perfect conditions, mostly clear, with a low around 62. East wind around 5 mph.
Crimson Tide Football Saturday at Bryant Denny Stadium: Sunny, with a high near 88. Calm wind becoming north around 5 mph in the afternoon.
Saturday Night: Mostly clear, with a low around 61
Sunday: Sunny with a high near 87 followed by a 20% chance of rain Sunday night with a low of 65.
Beginning of Next Work Week: Chances of showers thru Wednesday with highs in the lower 8-s and lows in the mid 60s.
---
---
Topping the News:
Two juvenile students at Hillcrest High School have been charged with felonies for bringing guns with ammunition to school yesterday. Due to their age their identities will not be released.
Sergeant Josh Hastings, a spokesperson for the Tuscaloosa County Sheriff's Office, said deputies were called to Hillcrest around 11 a.m. Wednesday after someone reported seeing a student with a firearm, which the Thread reported as it happened. 
Principal Jeff Hinton said in a message to parents that although the gun was not loaded and ready to fire when it was discovered, the students were also in possession of a magazine loaded with bullets.
Hastings said Hillcrest High faculty and staff and the TCSO school resource officer there handled the initial response perfectly and kept the situation under control until the other deputies arrived.
---
Sports Illustrated has announced Tuscaloosa is the location for development of its first college town resort. Tuscaloosa Mayor Walt Maddox is ecstatic over the potential economic year around economic impact from the upscale SI facility. The facility will include 100 hotel room, 75 condominiums, vacation club units and a health center. It will be located on Rice Mine and could be open in late 2025.
---
After voting down as contract offer, 190 members of United Autoworkers Union Local 2083 are striking at Tuscaloosa ZF Industries for higher wages and better benefits. The company makes chassis for Mercedes and a protracted UAW strike could have a major impact on the Vance Plant and the price of vehicles produced.
---
In written statements, UA and the Sigma Alpha Epsilon Fraternity say they are investigating claims of a violent hazing incident at the fraternity's chapter on campus. According to a lawsuit filed by the parents of a UA honors student, their son received traumatic head injuries after being repeatedly struck by his SAE fraternity brothers and forced to snort a white powdery substance.
---
Why not do both? That is U-S Senator Katie Britt's take on the controversy over construction of the West Alabama Highway 43 corridor widening project and the I65 widening proposal. Gov. Ivey says both projects are important to the state. But she does say the Highway 43 project will have tremendous positive economic impact on the rural, poor region of West Alabama.
---
The U-S Department of Labor is helping coal miners suffering from black lung disease to file or re-file claims for their disabilities at the Jasper Public Library between 9 and 5 today. A similar event was held in Tuscaloosa yesterday.
---
A hearing in Montgomery turned strange Wednesday morning when a barefoot activist poured a small bottle of water on the head of Kyle South, a former state Representative and the current president of the Chamber of Commerce of West Alabama. Video uploaded to the platform formerly known as Twitter by environmental journalist Lee Hedgepeth shows the woman, reportedly Anne DiPrizio, standing behind a seated South and dumping water in his hair in a self-proclaimed "spectacle."…South took it in stride. South was defending Alabama Power's use of unlined storage for coal ash.
---
---
In Sports:
The Alabama High School Athletic Association has given Tuscaloosa County High School its win over Bessemer City back after clarifying its rule about players receiving food-related gift cards.
"The Alabama High School Athletic Association Central Board of Control met Tuesday at the AHSAA Office and unanimously approved a clarification for the AHSAA Amateur Rule concerning food-related gift cards presented to AHSAA student-athletes," wrote the AHSAA. "The Central Board action also rescinded any sanctions that were assessed to schools which have been penalized this school year for Amateur Rule violations concerning such gift cards."
Last week, Tuscaloosa County had to forfeit its 55-33 over Bessemer City due to players receiving gift cards from a local restaurant for their performance the week prior. 
---
Have a great and blessed day!!