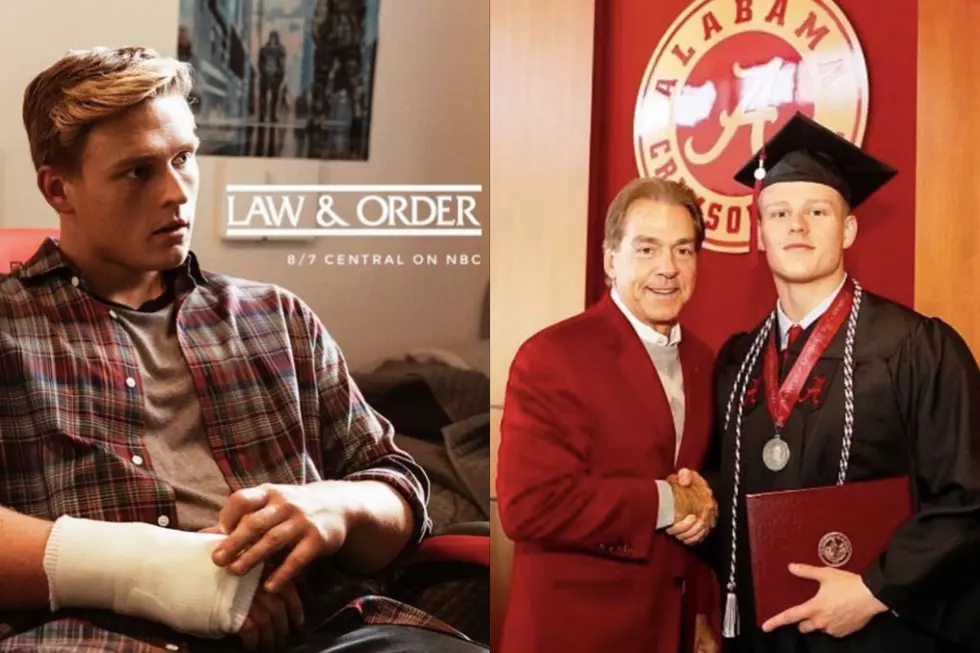 EXCLUSIVE: Former Alabama Football Player Makes Acting Debut on "Law and Order"
Photos Courtesy of Instagram: @brandontylermoore
A former Alabama football player looking for his big break has been cast on NBC's hit TV show Law and Order after switching his focus from the field to acting.
Moore's journey to landing the role would see him join the Crimson Tide football team and work through a few humble beginnings as he aims to take Hollywood by storm.
Rise to Tide
Brandon Tyler Moore, an Ohio native, originally had his eyes set on being a hotshot in the NFL but had personal connections to theater throughout his childhood and always kept acting on his mind.
"Growing up, I was the kid who did skits and we had cassette tapes," Moore told the Tuscaloosa Thread. "I thought I was going to go to the NFL like anybody else, but I did dramas and musicals so I was the 'non-traditional' football guy."
As Moore continued to try his hand at both passions on and off the field, he focused on his NFL goals and by the time he reached his senior year of high school, he already had offers to play football in college.
His eyes, however, were set on playing for his dream school, the University of Alabama, and he was ready to take on the challenge.
"I had offers from smaller schools, but wanted to play at Alabama from watching 'Two-A-Days' on TV," Moore said. "I wanted to be challenged and I knew that I was going to play against the best of the best on both sides of the field."
Moore left his private school in Ohio upon graduation and accepted a preferred walk-on position at Alabama. Entering his freshman year at 335 pounds, Moore did not have a lot of playing time and was redshirted, but was able to experience the Tide's 2013 National Championship over Notre Dame.
The Shift
During his sophomore season, Moore stepped up and played snapper. Former strength and conditioning coach Scott Cochran reportedly told Moore he was not the most fit to play, calling him "too fat, too slow and not having fast enough feet" to play.
Moore took his words seriously and began working out, dropping from 335 pounds to 285. Cochran told him the same thing again, which pushed Moore even harder to lose enough weight to prepare him for more playing time.
Eventually, he dropped to 245 pounds before he was switched to playing fullback and long snapper. Moore began seeing action in the games and by his fourth season, things were looking up when an injury altered his world.
During a football practice in preparation for a game against Arkansas, Moore tore his ACL and said it shattered his spirit regarding his future on the team.
"I was pretty mad at God and at everything," Moore said. "I remember going home and seeing my dad and we both cried because we saw how hard I worked."
Moore said his injury was an eye-opener for how much he meant to the team.
"I wasn't this big-time guy, but the guys really respected me," Moore said. "Derrick Henry came up to me one day and said 'I'm sorry bro; you don't deserve this' and he hugged me. Other guys began doing the same and it felt good to know the team was behind me."
Moore later had surgery and was three months out from spring training when he had to make a decision about his fifth and final season to prepare for post-college ball.
"In the hospital, I ripped off my name on the hospital band and replaced it with a phrase 'don't waste today' and that went with a scripture from Psalm 39: 4-5," Moore said.
He got to work, leaning into rehab so he could return to the field. The work paid off and even earned him a scholarship for his final season with the Tide.
Moore said he finished his final season strong before moving on to practice with several NFL teams, including the Tampa Bay Buccaneers, New England Patriots and the Pittsburg Steelers but did not get an opportunity to play professionally.
"Welcome to Acting"
Moore stuck around Alabama, interning in the Tide's weight room before he made the decision to move to Atlanta in 2019 to pursue his passion for acting.
He found himself sleeping on the couch of an associate, looking for work as an extra on movie and TV sets where most actors begin their careers.
"I started googling extra work before landing a gig in a movie that never came out," Moore said. "We were on set for 15 hours, we didn't get food until hour 14 and we never got paid because the movie fell through. This was my 'welcome to acting' moment, to see how badly I wanted this."
Moore and several other extras he met began networking with each other, sharing tips and job opportunities while he worked several side jobs, including driving for DoorDash and Uber Eats, selling suits, pillows and blankets at Costco and anything else to provide for himself.
"Taking Off"
Moore told the Thread things began to turn around when he met a friend at church who was working in the industry and offered him a way off of his friend's couch by giving him a spare room in her home.
He later landed his first speaking role on "Brides, Grooms and Emergency Rooms."
He secured an agent, Susan Taylor Walters with STW Talent and began undergoing training to perfect his craft.
"She's the reason my career started taking off," Moore said.
Moore later booked the Lifetime Network movie, "Just What the Doctor Ordered" alongside Eric Roberts, the brother of actress Julia Roberts.
Moore continued to train and audition for roles when he booked "Dead Silent" on the ID Channel. He said his "door opener" role came when he booked a role on Season 2 of the Paramount+ crime and political drama "Mayor of Kingstown." His first episode debuted last weekend.
Moore said before the COVID pandemic, he auditioned for a role in a movie before it was cut. He received a call in 2022, asking if he would participate in a film where he was asked to speak a foreign language for the part.
"The movie director asked if I could speak German and I said no. He asked me if I took any foreign languages in high school and I told him 'yeah I took Chinese' and he told me 'well if you took that I know you can learn German.'"
The movie, "Condor's Nest" will feature Moore, who has the first speaking role in the project. The film will debut nationwide on Friday.
Scoring Law and Order
Moore said he auditioned for a role on NBC's Law and Order in early October. He didn't immediately hear back on if he secured the role. On Halloween, he received word that he would participate in an episode and flew to New York City to film for the part on November 1.
The episode premiered on the network as well as Peacock on January 12. Moore said his experience was amazing and he learned a lot from the cast during the experience.
"I was told that Law and Order opens doors for actors and I pray that this will be a big year for my career," Moore said.
Moving Forward
Moore said all of his hard work has paid off and meeting and filming with big stars, such as Jeremy Renner and Hugh Dillon, reminded him of hard times and allows him to "see the hard work has paid off."
Moore credits much of his inspiration to Caleb Castille, another former Alabama football player who now stars on CBS's NCIS: Los Angeles.
"We stay connected on Instagram and he's been encouraging, paving the way for a fellow Bama boy, showing me it's possible."
As Moore continues moving forward towards more opportunities in the future, his biggest desire is to dedicate his success to the state of Alabama.
"I want to make my Alabama family proud," Moore said. "I know I wasn't a big name on the field, but hope I can bring them some pride in my new field."
Iconic Photos From Alabama's 18 National Championships
Claimed or recognized, no FBS football program has more national championships than the Tide. Look back on all 18 titles in Alabama history with these photos.
Top Stories from the Tuscaloosa Thread (1/16 - 1/23)
20 of the Top Stories published by the Tuscaloosa Thread during the week of January 16th, 2023.