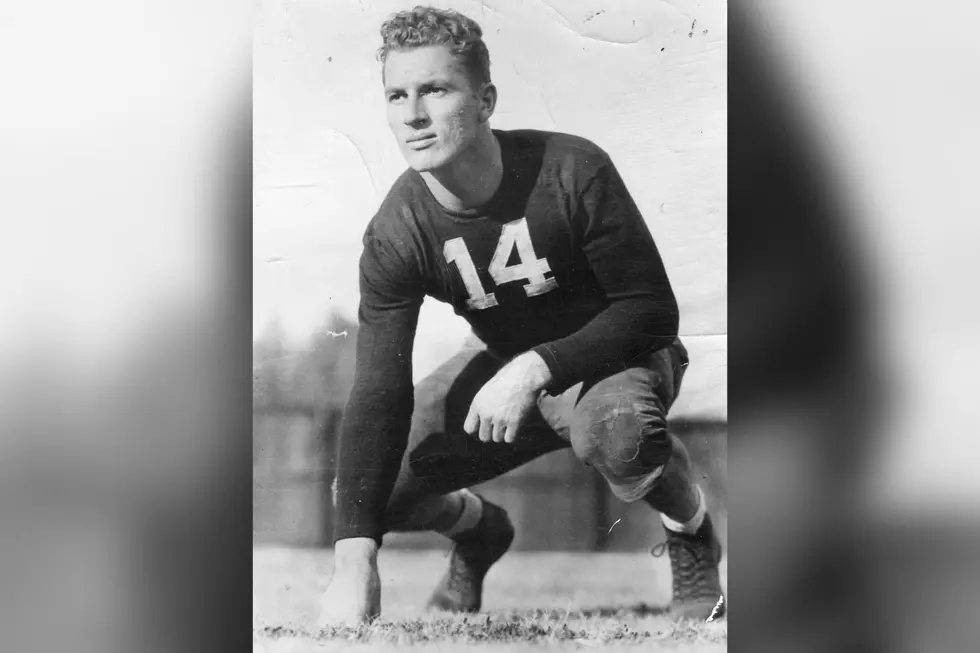 14 Days Away from Bama Kickoff: Don Hutson
Photo courtesy of the Paul W. Bryant Museum
Each day counting down to Alabama's Week 1 matchup with Utah State, I will highlight a former player whose jersey number coincides with the amount of days until the game. The Crimson Tide kicks off in just 14 days, so let's look back at a revolutionary Bama star, Don Hutson. 
Don Huston is widely known by football fans as the game's first modern wide receiver. A revolutionary athlete, Huston suited up for the Frank Thomas led Crimson Tide from 1932-34 and was a member of the program's fourth national title team.
Born in Pine Bluff, AR, Hutson honed his athletic skills from a young age, playing multiple sports and even, according to an article from ESPN, playing with wild snakes to develop his quickness.
He was a multi-sport athlete in his days at Pine Bluff High School, suiting up for the football, baseball and basketball teams. While he is now vastly remembered because of his football career, Hutson actually came to the university on a partial baseball scholarship.
Once he arrived on campus though, he couldn't escape the feeling that football was the sport for him, so Hutson tried out as a walk-on in 1932. His teammate and future legendary coach of the Crimson Tide, Paul Bryant, said of Hutson in his autobiography, "He was something to see even then.  We'd hitchhike to Pine Bluff just to watch him play.  I saw him catch five touchdown passes in one game in high school."
His days at Pine Bluff High School were certainly impressive, but as a member of the Crimson Tide, Hutson struggled to find his role. He sat on the bench for most of his first three seasons, only earning a starting role in his final year in Tuscaloosa.
In that one year as starter though, Hutson completely redefined the "end" position. He created the mold of a modern wide receiver, utilizing his speed and agility to gash opposing defenses. Alabama finished the year undefeated and won its first of two National Championships under Thomas, and Hutson was a driving force behind it.
After his time in Tuscaloosa, the Pine Bluff native signed with the Curly Lambeau led Green Bay Packers and put together an absolutely historic career. Across eleven seasons, all in Green Bay, Hutson completely changed the way football was played. He created the wide receiver position, lining up along the outside of the field and drawing defenses away from the middle.
From 1935-45, Hutson hauled in 488 passes for nearly 8,000 yards in an era where smashmouth football dominated the scene.
He has a laundry list of career accolades, including three NFL Championships, two league MVP awards and eight career All-Pro selections. Not to mention, Hutson also led the NFL in receiving yards in seven seasons and receiving touchdowns in nine.
He was named to the 1930's All-Decade team as well as the 50th, 75th and 100th anniversary teams, and now resides in Canton, OH enshrined in the Hall of Fame for all football fans to see.
Salute this Crimson Tide legend and stay locked in to Tide1009.com for the countdown to Alabama football. Check out the rest of the list here.
Iconic Photos From Alabama's 18 National Championships
Claimed or recognized, no FBS football program has more national championships than the Tide. Look back on all 18 titles in Alabama history with these photos.
Highest Rated Recruits of the Saban Era By Year
Check out Alabama's highest-rated recruit from each Crimson Tide recruiting class during the Nick Saban era.