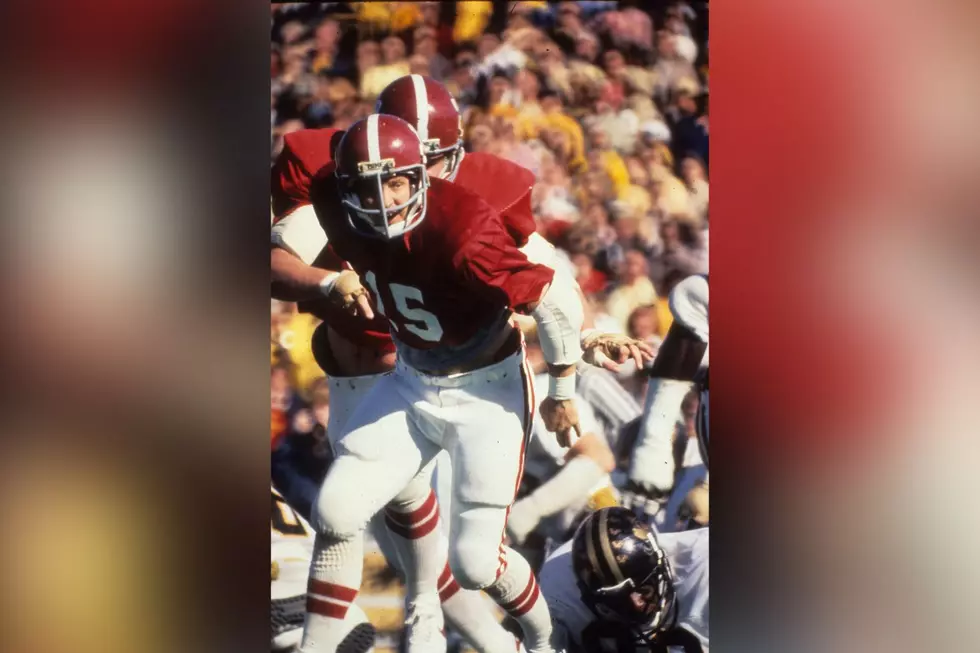 15 Days Away from Bama Kickoff: Tommy Wilcox
Photo courtesy of the Paul W. Bryant Museum
Each day counting down to Alabama's Week 1 matchup with Utah State, I will highlight a former player whose jersey number coincides with the amount of days until the game. In honor of 15 days until kickoff, let's take a look at one of the most legendary figures in Crimson Tide history, Tommy Wilcox. 
Tommy Wilcox suited up at strong safety for the Crimson Tide from 1978-82, becoming one of the top defensive backs in program history. He played for two national champion teams and was chosen as a member of Alabama's All-Century squad in 1992.
Born in Harahan, LA, Wilcox played wishbone quarterback for Bonnabel High School, and, after a stellar career, earned a scholarship from Paul Bryant to the University of Alabama.
Wilcox redshirted his first year, and was relegated to the scout team, or, "the dummy team," as he once called it. After a year of not seeing the field or any meaningful reps at practice, the Louisiana native was ready to call it quits.
He returned to his hometown and only came back to the team after coach Bryant personally flew out to re-recruit him.
Once Wilcox arrived back on campus, he was urged by Bryant to change positions as his future at quarterback looked bleak. The redshirt freshman made the move to strong safety, and started the next four seasons there.
In his first year as a key piece of the Crimson Tide defense, Wilcox compiled an impressive 49 tackles, seven pass deflections and four interceptions. He was named SEC Freshman of the Year and the Tide won its sixth title under Bear Bryant.
As a sophomore, the former quarterback continued to hone his skills as a defender. Wilcox finished the year with 75 tackles, six pass deflections and two interceptions. Alabama went 10-2, defeating the Baylor Bears in the Cotton Bowl.
In Wilcox's junior season, he helped lead a stout Alabama defense that allowed just 18 points per game. He finished with an impressive stat line once more, compiling 58 tackles, 10 pass deflections and three interceptions.
As a senior, he continued to add to his Crimson Tide legacy, ending the season with 61 tackles and a pair of pass deflections. Alabama finished the season 8-4, but sent coach Bryant out with a win in his final home game, defeating Illinois in the Liberty Bowl, 21-15.
Despite being named an All-American in his senior season, Wilcox went undrafted in 1983 and did not sign with a team as a free agent. He bounced around the USFL for a brief stint, seeing time with the Arizona Wranglers and Chicago Blitz, but was forced into retirement after a serious neck injury in 1984.
After stepping away from playing football, Wilcox spent time at Hillcrest High School as a teacher and assistant football coach before he began the "Tommy Wilcox Outdoors" show in 2003 which still runs today.
Stay locked in to Tide1009.com for the countdown to Alabama football. Check out the rest of the list here.
Iconic Photos From Alabama's 18 National Championships
Claimed or recognized, no FBS football program has more national championships than the Tide. Look back on all 18 titles in Alabama history with these photos.
Highest Rated Recruits of the Saban Era By Year
Check out Alabama's highest-rated recruit from each Crimson Tide recruiting class during the Nick Saban era.