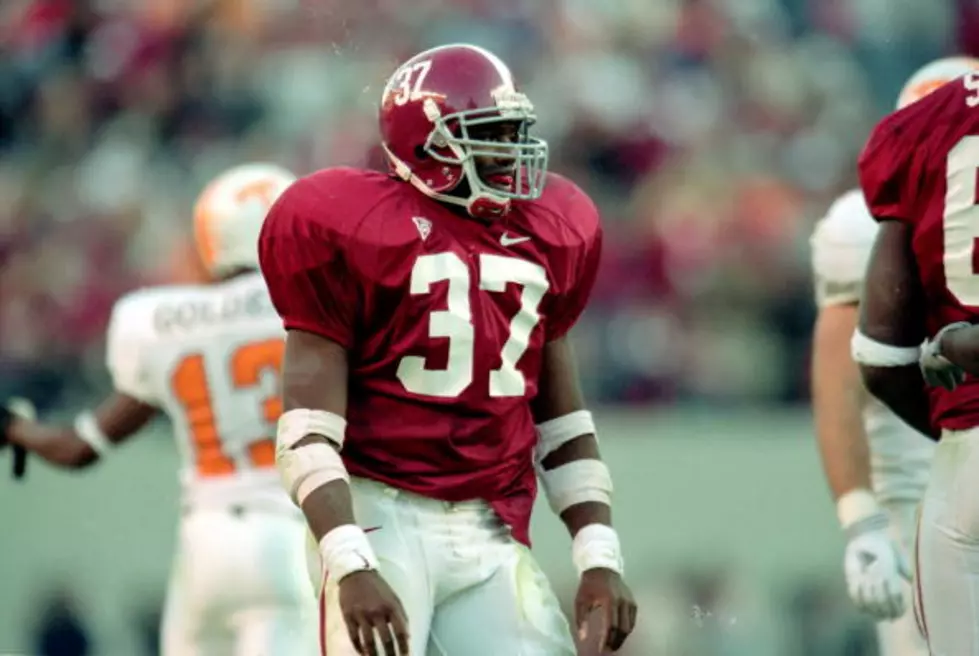 37 Days Away from Bama Kickoff: Shaun Alexander
Getty Images
Each day counting down to Alabama's Week 1 matchup with Utah State, I will highlight one former player whose jersey number coincides with the amount of days until the game. Kickoff is in just 37 days, so let's look back at one of the best to ever do it, Shaun Alexander. 
Shaun Alexander was a dominant running back for the Crimson Tide during a tumultuous time in program history. Alabama's third all-time rushing leader, his career ranks among some of the best to ever suit up in Crimson and White.
Alexander was recruited by Gene Stallings after a stellar high school career in which the back rushed for over 6,600 yards and 110 touchdowns. He was given the nickname, "Alexander the Great," by his teammates at Boone County High School in Florence, KY, and joined the Crimson Tide in 1995.
The running back was redshirted in his first season at Alabama, but in his second year was a major contributor. The redshirt freshman rushed for nearly 600 yards and six-touchdowns, but one performance in particular stands out among the rest.
On November 9, 1996, the Crimson Tide went into Baton Rouge and Alexander had a field day against the LSU Tigers. Alabama won 21-0, and its brand new back rushed for 291 yards, a record that still stands today.
Stallings resigned after Alexander's second year, and head coach Mike DuBose took over ahead of 1997. The Tide struggled mightily in DuBose's first season, finishing 4-7, and Alexander did not fare any better, compiling just over 400 yards and three touchdowns.
In 1998, the junior back and Alabama began to turn things around. The Crimson Tide went 7-5 and Alexander finished with over 1,000 yards and was named All-SEC.
Despite interest from the NFL, the Florence, KY native returned for his senior season and continued his streak of dominance. Though slightly hampered by a sprained ankle, Alexander rushed for over 1,300 yards and led the Tide to an SEC Championship.
After an incredible career with Alabama, the former highly touted prospect entered the 2000 NFL Draft and was selected in the first round by the Seattle Seahawks.
Alexander spent eight seasons in Seattle and put together an incredible professional career. He rushed for over 9,400 yards and 100 touchdowns, but his best year came in 2005 when he not only earned the rushing title, but was named NFL MVP as well as Offensive Player of the Year and All-Pro First Team.
Alexander is widely regarded as the best back in Seahawks history, and several of his franchise records continue to stand today.
Now, the former MVP runs his own company and works as a public speaker. Alexander and his wife, Valerie, have 12 children together and are currently working to create a family-focused media platform called, "Amazing Grace Families."
In 2019, the Football Writers Association of America created an award named after Alexander to honor college football's top freshman, and since it's inception, has been awarded to four athletes: Trevor Lawrence (2019), Kenneth Gainwell (2020), Will Anderson, Jr. (2021) and Brock Bowers (2022)
More info on the former Bama back and his future projects can be found on his website here.
Stay locked in to Tide1009.com for the countdown to Alabama football. Check out the rest of the list here.
Iconic Photos From Alabama's 18 National Championships
Claimed or recognized, no FBS football program has more national championships than the Tide. Look back on all 18 titles in Alabama history with these photos.
Highest Rated Recruits of the Saban Era By Year
Check out Alabama's highest-rated recruit from each Crimson Tide recruiting class during the Nick Saban era.