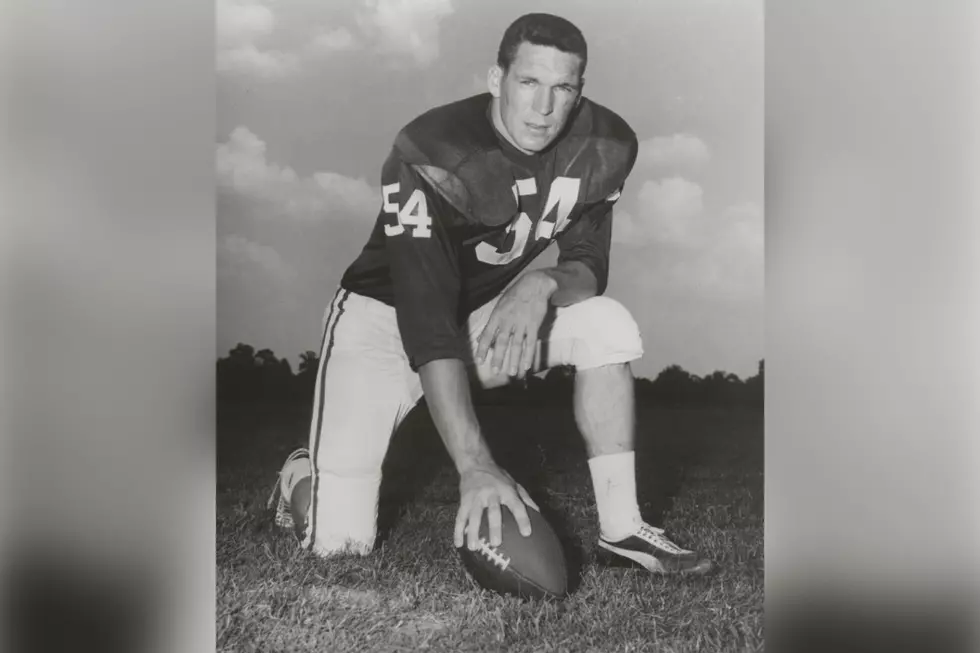 54 Days Away from Bama Kickoff: Lee Roy Jordan
Photo courtesy of the Paul W. Bryant Museum
Each day counting down to Alabama's Week 1 matchup with Utah State, I will highlight one former player whose jersey number coincides with the amount of days until the game. Let's look today at one of the most memorable players to ever suit up for the Crimson Tide, Lee Roy Jordan. 
No matter what side of the ball you played on, Lee Roy Jordan was going to hit you. Hard.  
Jordan, born and raised in Excel, AL to a family of seven brothers and sisters, played both center and linebacker for the Crimson Tide from 1959-62 and was a force to be reckoned with on offense and defense.
After serving as a backup in his freshman season, Jordan took over as a starter for Alabama in 1960 and helped the Tide to an 8-1-2 record. The sophomore was named MVP of Alabama's Bluebonnet Bowl matchup with Texas that resulted in a 3-3 tie.
Moving into his junior season, Jordan kept his role as a starter on both offense and defense. The Tide finished the year 11-0 and defeated Arkansas to win coach Paul Bryant's first national championship. Jordan was named to the All-SEC Second Team for his play.
As a senior in 1962, the Excel native continued to dominate opposing teams from both sides of the ball. Though the Tide came just short of another national championship, Jordan was named a unanimous All-American and even won his second bowl game MVP award, taking home the honors after a 31 tackle performance in the Orange Bowl.
In the 1963 NFL Draft, the Dallas Cowboys selected their future defensive leader and took Jordan with the sixth overall pick.
In his rookie campaign, the former All-American made his impact felt early. Jordan became the first rookie linebacker to start in franchise history when he took the field in the Cowboys' season opener against the Cardinals.
In eight appearances in 1963, Jordan recorded three interceptions; something he would quickly become known for on top of his ferocious hits.
Alongside Chuck Howley and Dave Edwards, Jordan helped form Dallas' "Doomsday Defense" which took the league by storm in the 60s and 70s.
Arguably the most memorable moment of Jordan's 14-year career came in a game against the Bengals in 1973. Cincinnati quarterback Ken Anderson threw three first half interceptions, all of which were hauled in by none other than Jordan.
From 1963-1976, Jordan put together a seemingly Hall of Fame caliber career with the Cowboys. The linebacker amassed 743 career tackles which stood as the franchise record until 2004, and was named to five Pro Bowls and two All-Pro teams. Though he was among 15 finalists for the Pro Football Hall of Fame in 1988, Jordan was not selected and has since not returned to the ballot.
Jordan currently sits third all-time in career interceptions amongst linebackers and was inducted into the Cowboys Ring of Honor in 2018.
Now, the former NFL star resides in Dallas, TX where he owns a lumber supply company. 
Iconic Photos From Alabama's 18 National Championships
Claimed or recognized, no FBS football program has more national championships than the Tide. Look back on all 18 titles in Alabama history with these photos.
Alabama Football Players in the Hall-of-Fame