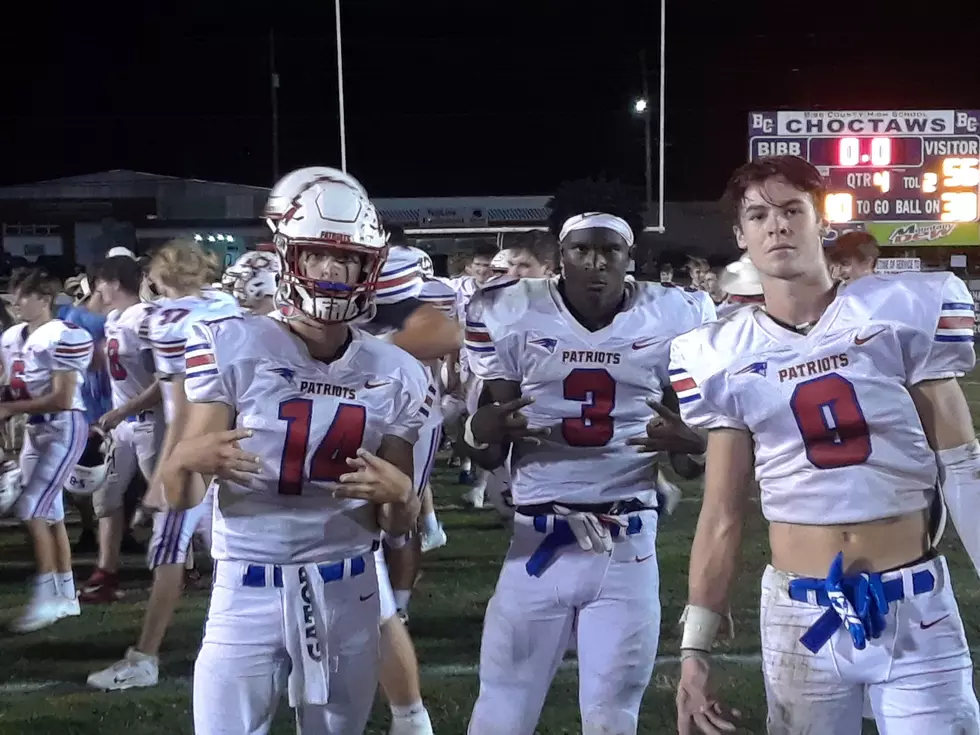 ACA Wallops Bibb County, Re-Asserts Region Dominance
Tide 100.9 / James Ogletree
Enter your number to get our free mobile app
In a battle between the top two teams in Class 4A, American Christian Academy left no doubt about who deserves the top spot, defeating Bibb County 56-13 on the road on Friday night.
Senior running back Brandon Waller rushed for 256 yards and five touchdowns on just 16 carries for a gaudy 16.0 yards per carry. Most of his success came on outside runs or tosses to the boundary as he continually outran Bibb County defenders.
He had a hat trick in the first half, scoring three short-yardage touchdowns, but he also ripped off runs of 33 and 29 yards and scored from 39 yards out in the third quarter.
"Brandon's a tremendous player and has a lot of speed, but also some power," ACA coach Chris Smelley said. "Sometimes teams kind of load up there in the box, and we wanted to use his speed to get to the edge, and he really showed out."
His final carry, though, was the exclamation point on a statement win for the Patriots. After they took over on downs with 3 minutes left at their own 3-yard line, running backs coach Eddie Hall told Waller to go back in for one more play.
"I wasn't even trying to score, man," Waller said with a laugh. "I was trying to get my second-string running back in. … Coach [Hall] was like, 'You need one more.'"
ACA controlled the game from the beginning, finding the end zone three times before Bibb County moved the chains three times. Fourteen of the Patriots' 17 plays in the first half resulted in either a first down or a touchdown.
Sophomore quarterback Sawyer Deerman ran in a 2-yard touchdown in the first quarter and added a 1-yard score on the first play of the fourth quarter.
The Patriots' only passing touchdown to go along with their seven rushing scores was a 58-yard wide receiver screen from senior quarterback Hunter Sute to senior Cam Jeffery, with senior wideout Jacob Jett providing the key block.
Sute finished the game 9 of 13 for 147 yards, one touchdown and no turnovers. He also hooked up with senior wide receiver Kamari Lassiter for a 44-yard completion.
On the other side of the ball, the Patriots' defense held Bibb County senior running back Deshun Murrell, a UCLA commit, to 93 yards on 31 carries, far below his season average of more than 11 yards per carry. He scored both of the Choctaws' touchdowns but didn't record a run longer than 8 yards.
"[That was] such a gutsy performance," Smelley said of his defense. "So many guys stepped up, played huge, played assignment football – all 11 guys flying to the football. [He's] a great running back, and to hold that team to 13 points, it just was a tremendous effort from all 11 guys on the defensive side."
Senior defensive back Brayden Todd added an interception, his first of the year.
ACA (5-0 overall, 3-0 in Class 4A, Region 3) is off next week before playing Holt on Oct. 2. After the game, Smelley said the team will take some time to enjoy this win and then get back to work during the bye week.
"I told our guys at halftime that I can't think of very many things that would be more fun to do than to be out here competing with these guys. … To come out and for our guys to play that physical of a game against an opponent that's as good as Bibb County is, this is a night to remember for sure."
Bibb County (4-1, 2-1) hosts non-region opponent Andalusia next week.