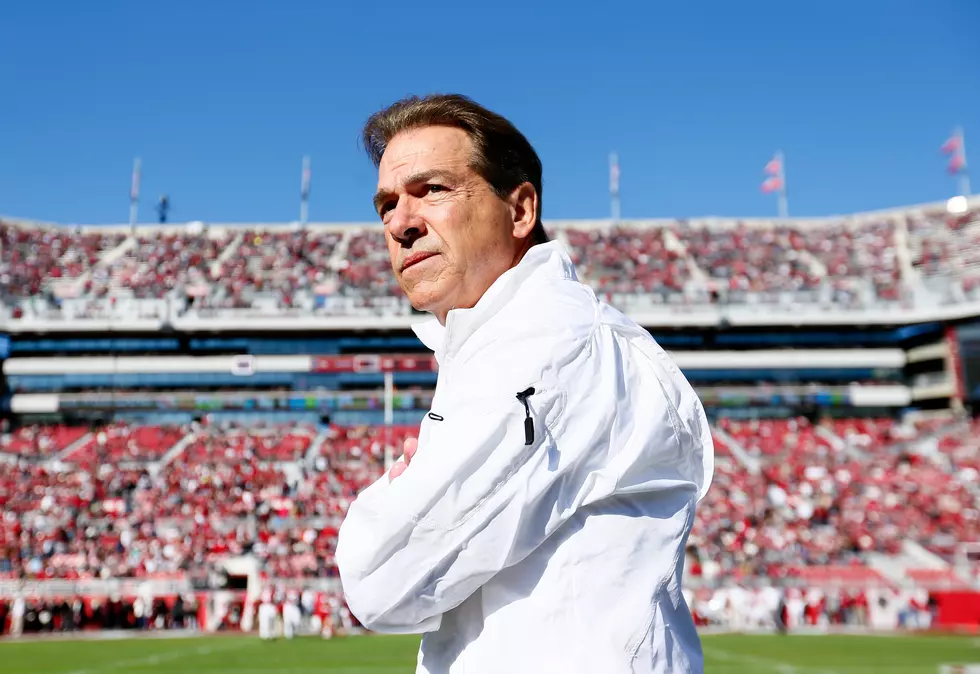 Alabama Football Coach Nick Saban Discusses Cecil Hurt
Getty Images
Alabama athletics lost an icon this past week in the passing of Tuscaloosa News sports columnist Cecil Hurt. Hurt had covered the Crimson Tide since 1981 and set the standard of sports journalism in the state of Alabama.
Alabama head football coach Nick Saban was presented several opportunities to discuss the legendary sports writer and has taken the time to reveal a reverence for someone Saban considered a friend.
"I'd like to send out our deepest condolences to Cecil Hurt's family, friends, all the people who enjoyed the columns that he wrote through the years. I know it was his passion to do a great job in terms of how he covered Alabama athletics. He was a good friend. He was actually a trusted companion to me. You know, I confided a lot of things in him. He never violated my trust. I thought the guy was one of the brightest, neatest big picture thinkers, you know, ever that I've ever been associated with in the media environment. Truly just loved the guy, loved his sense of humor, loved the way he went about his work and he'll certainly be missed by all of us. But our thoughts and prayers and condolences go out to his family," said Saban during his Wednesday press conference.
"Well you know, Cecil was to me one of the best of his time, in terms of being a journalist. He truly was a journalist, he just wasn't a reporter, he didn't try to create news, he's a very bright guy who had great perspective on things and you know, he was also a good friend. One of the things that most people don't know is, he was one of the few people in the media that I really trusted. I actually told him things that I would never tell anybody else," said Saban on his weekly radio show Hey Coach. "We would have meetings about things, and I would share things with things, concerns that I had, things that I had. Then he would go out there and promote the idea in a way that was beneficial, whether it was to the program or the players or the community, whatever it might be. I tell you what, he was special and I don't think there was anybody that loved what he did, in terms of representing the University, reporting and representing the University of Alabama athletic program the way he has for so many years, we're certainly all going to miss him, that's for sure."
"He was always so professional in the way that he managed his business and I'm really going to miss reading his column because that's the one thing that I always read in the Tuscaloosa paper. I don't read about our team, when people write about our team but I always read what he wrote," Saban continued on Hey Coach. "He had a unique insight on how to present things in a very simple fashion where people could really understand and get something from it."
Hurt was an icon in the sports media field, his passing will be felt throughout the industry.
The 2021 Alabama Football Schedule in Photos
Starting Alabama Quarterbacks Under Nick Saban
Here is every quarterback that has started for the Crimson Tide under Nick Saban.
2021 Alabama Crimson Tide Recruiting Class Signees