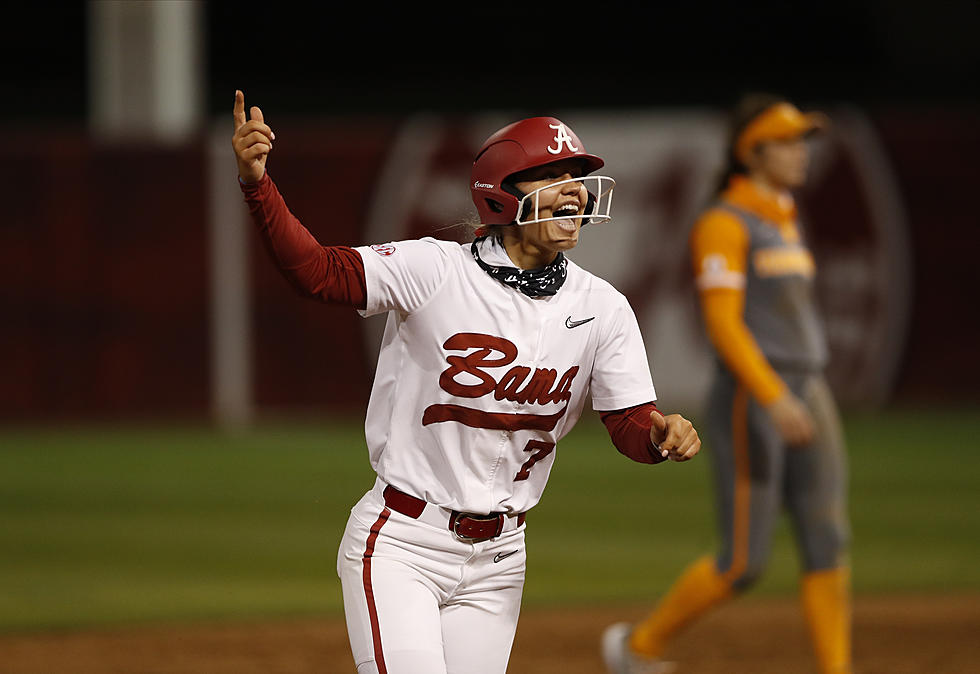 Alabama Softball Falls to Tennessee in First Game of the Series
Crimson Tide Photos / UA Athletics
After a seventh inning rally, Alabama (22-2) falls to Tennessee (21-3) 4-3 in the first of the three game series.
The Alabama Crimson Tide started off the game strong with leadoff hitter KB Sides hitting a double to left-center field. Alexis Mack followed with a single. With one out in the inning Sides scored on a Tennessee fielding error. With her speed, Mack was able to cross the plate from second bringing in Alabama's second run of the game.
Tennessee's starting pitcher, Ashley Rogers, was able to keep Alabama's bats quiet for majority of the game. Rogers went three-up-three-down for four innings straight. She had three strikeouts and forced four ground-outs.
Tennessee's offense was able to get a hold of starting pitcher Montana Fouts in the top of the third. The Lady Vols scored three runs on four hits, two of those runs were scored with two outs in the inning. Fouts allowed 10 hits, three walks, and struck out seven in 125 pitches.
Fouts previously had a career-high of eight hits given up per game.
"They put the bat on the ball 10 hits is 10 hits," said head coach Patrick Murphy. "They did what they needed to do."
In the top of the sixth inning Tennessee was able to extend its lead to 4-3. Rogers kept Alabama quiet again in the bottom of the sixth. After allowing two walks she left KB Sides and Bailey Hemphill on base to end the inning.
Fouts kept the Lady Vols to a two-run lead in the top of the seventh.
In the bottom of the seventh with a three-two count, leadoff hitter Bailey Dowling sent the ball over the wall in center field to cut Tennessee's lead to one.
Claire Jenkins followed Dowling's momentum by drawing a walk after seeing 14 pitches and fouling off nine.
"You got to see one of the best at bats in our history," said Murphy. "But, we needed a little bit more of that from [innings] two to six."
A fly-out and two strikeouts ended the game for the Crimson Tide.
Alabama will play Tennessee again in the second game of the three-game series on March 20 at 2 P.M. CST.
Alabama Crimson Tide Softball Record Book
The 40 Best Cover Songs by Rock Bands