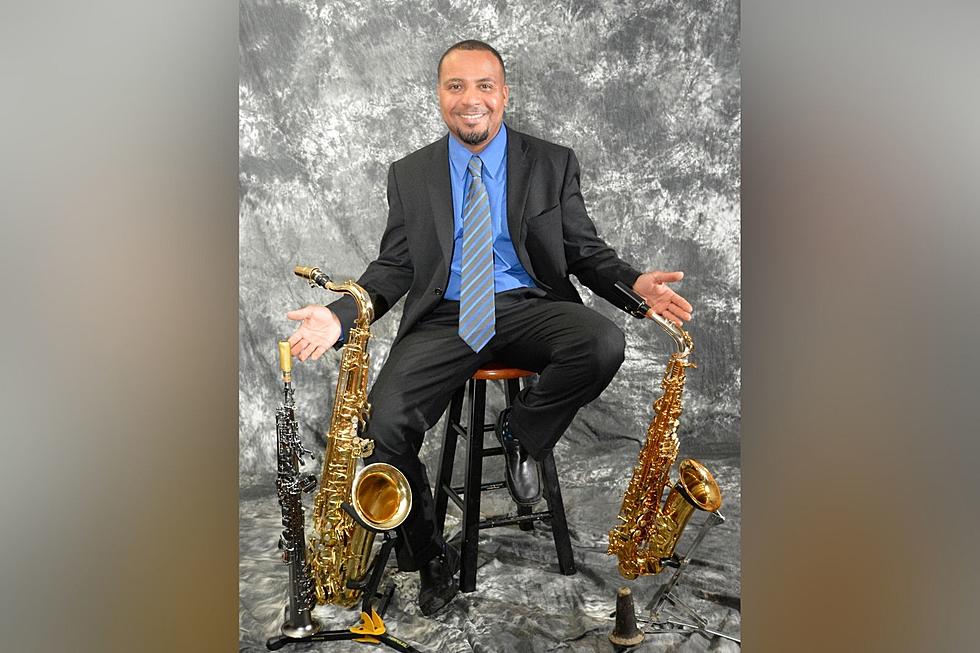 Alabama's Loyd Watson, Jr. Trendsetter Musician Is Making Waves
Photo Courtesy of Loyd Watson, Jr.
Townsquare Media Tuscaloosa, 92.9 WTUG, Praise 93.3, 105.1 The Block, and the Tuscaloosa Thread are proud to present the 2022 Black History Makers of Alabama supported by Sealy Furniture Outlet, Twelve25 Sports Bar & Entertainment Venue, and Red Oak Credit Union.
The Yellowhammer State is filled with great African American leaders from the past, present, and future. We thank our West Alabama community partners, the Alpha Phi Alpha Fraternity, Incorporated, Delta Phi Lambda Chapter, and the Alpha Kappa Alpha Sorority, Incorporated, Eta Xi Omega Chapter for their continued support.
Loyd Watson, Jr. is a Black History Maker of Alabama
"Our ancestors paved the way under the most dire circumstances; we have no excuses that are acceptable to not keep it going." "From Dinah Washington to Lionel Richie and beyond, I thank you!" "I'll continue to do my best to add to Alabama's rich artistic history." - Loyd Watson, Jr.
Loyd Watson, Jr. is to modern jazz what Miles Davis was to the hard-bop movement: a trendsetter. To be a trendsetter, one must be versatile enough to saturate himself in all areas of music and have the ability to take all that he/she has immersed themselves with and produce a sound of their own. That task is daunting in and of itself, but trendsetters make accomplishing that task looks easy. Loyd's path to greatness began in West Tuscaloosa, Alabama, a place from which no one would expect such genius. He started playing the saxophone in the seventh-grade beginner band. From there, he would continue to play in bands all throughout high school and ultimately, college. Fulfilling the status quo would not be enough for Loyd. He formed his own band at the age of fifteen. While it was not unique to start a band, it was unique to start a band that played almost entirely original music. This stance definitely was not popular among local music enthusiasts, but it earned him respect. By the time Loyd had enrolled at Jackson State University, Jackson, Mississippi, he had gained notoriety as an "original cat," one who had his own sound and could not be easily compared to anyone.
After graduating Magna Cum Laude with a degree in Music Education-Jazz Concentration, Loyd returned to his home state of Alabama to become a middle and high school Band Director. After four years of teaching, Loyd decided to leave secondary education and took a job completely outside of the music field. He landed a job at Mercedes Benz as a production worker building SUV's. Although this was quite a change, Loyd never stopped writing and performing all types of music. While in this transition, he re-united musically with life-long friend Anthony Avery, better known as Sam Addams. Sam, a trendsetter himself, worked tirelessly with Loyd to create Multiple Personality, Loyd's debut album and statement in the groove. He takes it a step farther with his second offering, 'By Way Of', a silky smooth mix of grooves and hypnotic melodies.  Seeing a need to create the next great Christmas classic, Loyd penned the lyrics of the title track of his holiday album, 'The Reason.'  Loyd took his latest album titled '4918', back to where it all started, his parent's address.  This is where he organized a six-piece band at 14 years old.  
Loyd currently is balancing working at his "regular job" and touring to support his releases. He did return to college and earned a Master's Degree in Continued Education from the University of West Alabama.  He is contemplating a Doctorate degree in Music Education.  As of right now, Loyd wants to play and continue to compose music he deems relevant.  He's never been one to release music just to have something new out.  The music has to be good, period.  Loyd considers himself to be a 'blue collar' musician; he just rolls up his sleeves and gets the job done.  He's going to do this regardless of who's there willing to work or not.  He credits his success to his drive/work ethic and his unique, mellow tone.  Most importantly, he gives the credit and all the glory to the Most High.
Loyd plays an Ezra Brown EB1 Tenor Saxophone, Selmer Mark VI Tenor Saxophone, Selmer Super Action 80, Series II, and Mark VI Tenor Saxophone, a Cannonball Professional Model Alto Saxophone & Cannonball Raven, and Selmer Super Action 80, Series II Soprano Saxophone.
For more information on Loyd visit his website at www.loydwatsonjr.com
LOOK: 50 Black actors who made entertainment history
LOOK: Here are the biggest HBCUs in America
More than 100 historically Black colleges and universities are designated by the U.S. Department of Education,
meeting the definition
of a school "established prior to 1964, whose principal mission was, and is, the education of black Americans."
StudySoup
compiled the 20 largest historically Black colleges and universities in the nation, based on 2021 data from the U.S. Department of Education's
National Center for Education Statistics
. Each HBCU on this list is a four-year institution, and the schools are ranked by the total student enrollment.
LOOK: 28 Modern Black History Makers & Moments
LOOK: 50 essential civil rights speeches
Many of the speakers had a lifetime commitment to human rights, but one tried to silence an activist lobbying for voting rights, before later signing off on major civil rights legislation. Several fought for freedom for more than one oppressed group.
Keep reading to discover 50 essential civil rights speeches.