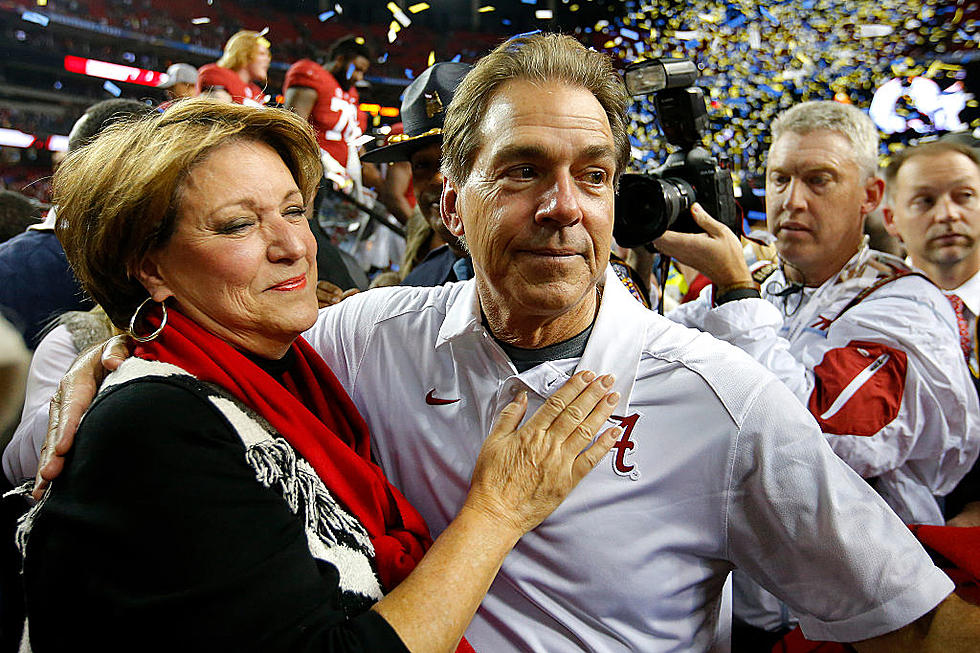 Alabama's Nick Saban Cleans House Even At Home
Getty Images
We all love Nick Saban and here's another reason why!
The best coach ever is apparently the best husband ever also!
Nick Saban needs to be a life coach for men all over the globe!
Here's a man that knows the secrets to not only coaching a winning team but on how to run an efficient household.
We have all heard the term " Happy Wife Happy Life", here's the proof!
Women all over the world hear me…Alabama men know how to treat a lady!
Recently Nick Saban was asked a question in regards to anyone knowing something about himself.
He answered this question and left many of us in disbelief. The answer we got was not what we expected!
In the video, we have gotten a glimpse to a side of Nick Saban that only Miss Terry has been lucky enough to witness.
He admits to getting a chore list from his wife and not ignoring it!
I know, many of us have been guilty of procrastinating the Honey-Do-List, yet he not only gets in a game of golf…he finishes the list!!
Now I will admit that I hate the Honey-Do-List. Yes, I'm guilty of the occasional "forgetting" to do something on this list too.
As men, we have all, at one time or another been handed this piece of paper and thought, not today dear.
Maybe he is onto something here and the men of the world need to listen!
I mean, truly how hard would it be to do something off the list and make our wife or girlfriend happy?
Why do so many men ignore this list?
Is it because we feel that being handed a list is childish? Does this list make us feel inadequate? Maybe it's just that some men feel that cleaning is woman's work?
For me, it's because I tend to misplace the list.
Well, Alabama men know that Nick Saban is a genius and now he has given us the play of a lifetime.
How to keep our ladies happy!
So for those guys out there that just don't get it. Follow the advice you have just been given.
Nick Saban would never steer us wrong!
Remember Happy Wife Happy Life!!
Nick Saban's Coaching Tree: Where Are They Now?
Alabama Crimson Tide All-Time Passing Leaders
The 2021 season is in the books and after Bryce Young's Heisman campaign, the all-time passing leaderboard requires an update.
Here's Why Every SEC Team is Inferior to Alabama