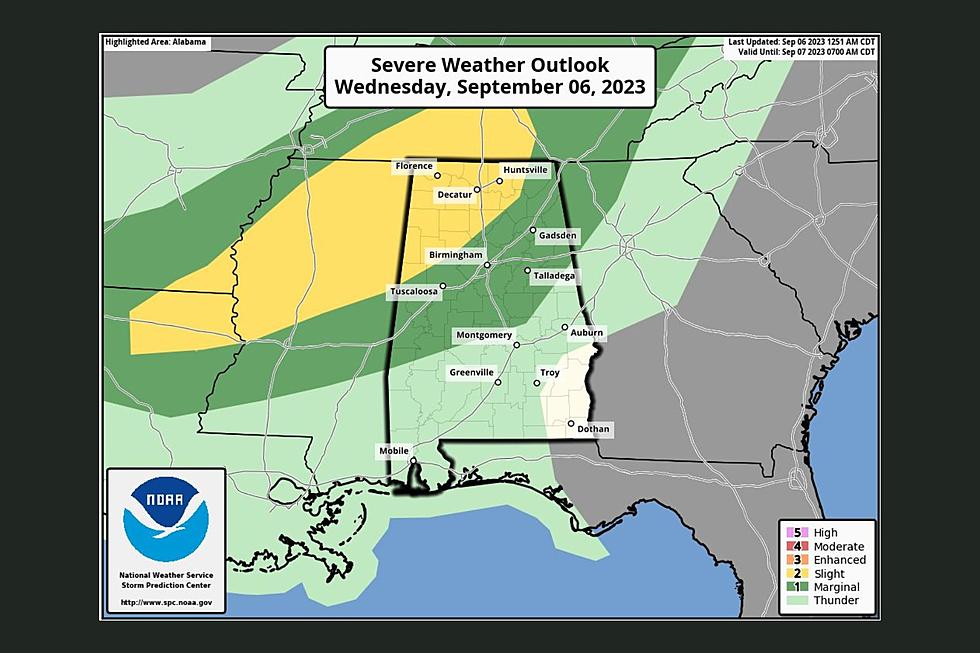 Alert: Possible Strong to Severe Storms in Portions of Alabama
National Weather Service
The Townsquare Media weather center is monitoring storms off to our northwest. The current tracking places these strong to severe thunderstorms in our coverage area later today and into the evening hours. Here is what you need to know.
"As we get into the peak heating of the day, a line of strong to severe storms is expected to develop and move into northwest counties of Central Alabama," said the National Weather Service in Birmingham.
Risk Level and Areas of Concern
The Storm Prediction Center has "defined a "slight risk" (level 2/5) of severe thunderstorms for areas north of a line from Reform to Hanceville to Scottsboro. A "marginal risk" (level 1/5) extends down to Linden, Prattville, and Ranburne," said James Spann, ABC 33/40, and Townsquare Media Tuscaloosa Chief Meteorologist.
Timing
According to the National Weather Service in Birmingham, the timing of this active weather should be between 5 p.m. and 9 p.m.
Potential Threats
The possible severe weather threats with this storm system include damaging winds and quarter-size hail.
Spann said, "It won't rain everywhere, but any one spot stands a 60/70 percent chance of seeing a thunderstorm late this afternoon and tonight over the northern half of Alabama."
Unique Getaway in Mississippi: Stay in a Silo Farmhouse
Check Out This Modern & Designer Tiny House Airbnb
Florida for the Holidays? This Tiny Home with a Pool is Perfect
Super Exclusive Airbnb Gives "Little Talladega" Vibes
Fabulous Newly Remodeled Downtown Birmingham, Alabama Airbnb Loft