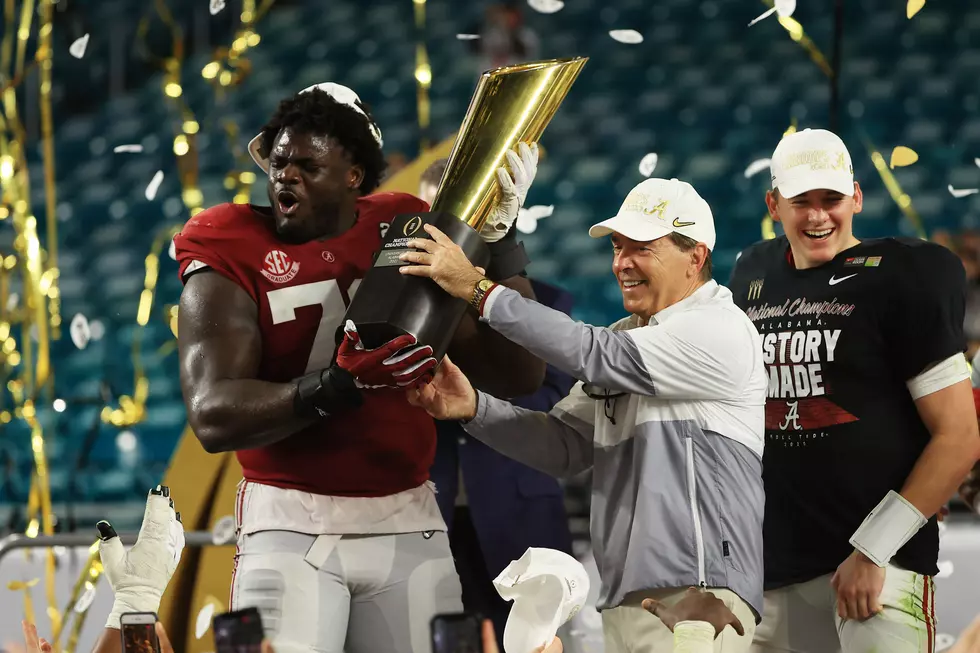 Alex Leatherwood Headed to the Las Vegas Raiders
Getty Images
Alex Leatherwood is officially off the board. The Crimson Tide tackle was taken No. 17 by the Las Vegas Raiders. He became the fifth Crimson Tide player to be selected in this year's first round.
Leatherwood was one of the top offensive line prospects coming out of high school in Florida. Alabama landed the five-star recruit over Florida State, Florida, Michigan and LSU. During his freshman with the Tide (2017), Leatherwood played in seven games including against Vanderbilt, Ole Miss, Tennessee and Georgia in the national championship.
The future First-Team All American secured a starting position at right guard for his sophomore season in 2018. Leatherwood started in all 15 games with his best game against the Arkansas Razorbacks with a 90% in  knock downs and only half pressure allowed. In the College Football Playoff Semifinal, Leatherwood did not give up a sack the entire game against Oklahoma and gave time for 528 yards of offense.
After spending the 2018 season at right guard, Leatherwood moved back to left tackle the next season. Leatherwood started in all 13 games with 28 career starts and had a 99.1% success rate out of 752 snaps. In 2019, the offensive line ranked third nationally at .92 sacks per game and only gave up 12 sacks in 406 pass attempts. Leatherwood earned SEC Offensive Lineman of the Week after opened holes allowed the running backs to run for 145 yards and three touchdowns.
The Crimson Tide standout OT passed up the NFL Draft and returned for his senior season. Leatherwood played 832 snaps, allowed only two sacks, led an offensive line that opened holes that averaged five yards per carry with 78 runs of 10+ yards and won the the 2020 Joe Moore Award. Leatherwood became Alabama's fifth Outland Trophy winner and made the unanimous first team All-American.
The former Alabama OT will now suit up for the big field on Sunday afternoon in the AFC West. He will join former Alabama Crimson Tide teammates Josh Jacobs and Henry Ruggs III.
LOOK: 100 years of American military history
West Alabama Restaurants That Should Be Franchised Nationwide