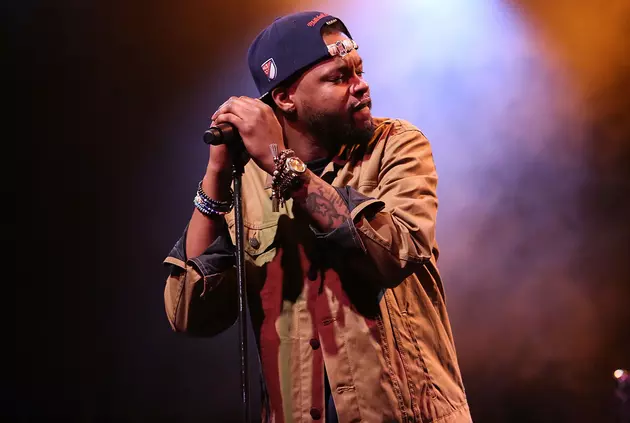 BJ the Chicago Kid Discusses 'In My Mind' and Whether R&B Needs 'Saving'
Jesse Grant, Getty Images
The singer is preparing to release his major label debut In My Mind on Motown and there's no other contemporary singer that sounds quite like him. It was four years ago when BJ released his debut indie album Pineapple Now-Laters to widespread acclaim; he wasn't at all new to the industry, but to those introduced to BJ via the Pineapple... project circa 2012, he was a breath of much-needed fresh air. Reminiscent of fellow Chicagoan Dave Hollister, BJ is a sultry, smoky addition to a genre that some lovers of R&B feel is in need of depth and substance.
"I think I'm just very soulful in what I do, for sure," he tells The Boombox. "But it's definitely R&B soul music -- I'll let you guys judge it how you want. But I feel like no matter what I sing, it sounds soulful -- it's just within me."
There's been tremendous growth in the past four years. From track to track, In My Mind sounds much like a mishmash of hip-hop, soul, funk and whatever else inspires young artists in a time where black music without creative borders has been revived via albums like Kendrick Lamar's To Pimp a Butterfly and D'Angelo's Black Messiah. Of the album, BJ describes the melding of sounds as "a melting pot."
"One whole song may be this, and the bridge may be this," he explains. "I think that's what makes it interesting. It's about the certain kinds [of music], rather than you looking at a map and seeing the whole journey. It's about taking it step by step and I think that's what the music does in that form."
On the new LP's intro, BJ shares the following with a laugh: "The only things I'm afraid of is losing somebody I love, God... And spiderwebs." Even in conversation, he has an air of undeniable confidence. The crooner seems unaffected although he's very much a part of the movement to "bring R&B back." It's as if he's unaware of the debate swirling around him, the argument that R&B is a 'dying' genre or the fact that singers and rappers are ofttimes sonically interchangeable these days. BJ, having worked with rappers for years before and after Pineapple... shrugs off the notion.
"Whether they're talking about ratchet stuff or what's going on in the world, it's still R&B music," he insists. "Fetty Wap is a singer. Ty Dolla Sign is a singer. Chris Brown is a singer. He does pop music sometimes but he's an R&B singer. His pop songs still has a heavy R&B feel. Every song Chris Brown does, I can hear the R&B in it. The divider may be a little lower than it used to be, but I feel like that's why it's our job to kinda even the field a little bit and show what we do add to the feel of everything. It's not dead though."
In fact, Jill Scott's phenomenal Woman dropped in 2015, boasting only one feature -- BJ the Chicago Kid. He guested on "Beautiful Love" ("Jill is the warmest spirit man. She's dope."). As he worked on In My Mind, R&B chanteuse Goapele popped in at a session and BJ was able to play her a few tracks. Then when he decided to take a break from recording his own album, the singer paid homage to D'Angelo, one of his inspirations, by releasing the Untitled EP in January. Some would be apprehensive about covering such a beloved artists' acclaimed work, but again--BJ is nothing if not confident.
"Nah. [There was no] pressure. I really listen to [D'Angelo's hit] 'Untitled' all the time, so it's not like I had to learn it," he reveals. "That's why I was able to just kinda do it my way. I wanted to flip certain things, mash certain things together so we were able to have fun with those three songs. I'm glad he appreciated it and he loved what we did in honor of him."
"It wasn't planned," he continued. "It was such an honor to see that he retweeted it and we appreciated that he was even able to hear it because it wasn't about trying to make a moment or anything like that. We just admire his work and wanted to do something in appreciation on the anniversary of 'How Does It Feel?'"
BJ has the hearts of the veteran R&B artists and his contemporaries recognize his talent as well. Kehlani, an Oakland singer-songwriter building her own name in today's R&B, worked with BJ on the track "Down For You" from her You Should Be Here album. As mentioned before, BJ has worked with rappers for years, from Kendrick Lamar to Big KRIT. The latter added the singer to his Kritically Acclaimed Tour last winter before even shaking his hand. "I was honored to even be a part of it," BJ says. "I was a KRIT fan before I met him. We talked on the phone or through Instagram, sending emails about music but my first day on the tour was my first day meeting him in person. And he was the same person when I met him."
For BJ the Chicago Kid, it's less about ego and the frills of being credited -- he believes good energy produces more good energy and the honor is in showing appreciation. Everything else will come; regardless of what anyone else is doing for the radio.
"I definitely don't follow what 'they' do. I redid [Aaliyah's] "One In a Million" and I actually redid it," he states. "I made it nine minutes long. If I go back and touch something, I'm gonna find a way to do it my way," he adds. "We love experimenting creatively with stuff like that and it always takes us it another world where by the time we're done with it, we're surprised. 'One In a Million' is an awesome example of us just letting go and letting the music do what it do, when we do it like that, we don't have to worry about sampling it. Just fully paying homage is my thing."
BJ the Chicago Kid's Motown debut In My Mind is slated for release on February 19.