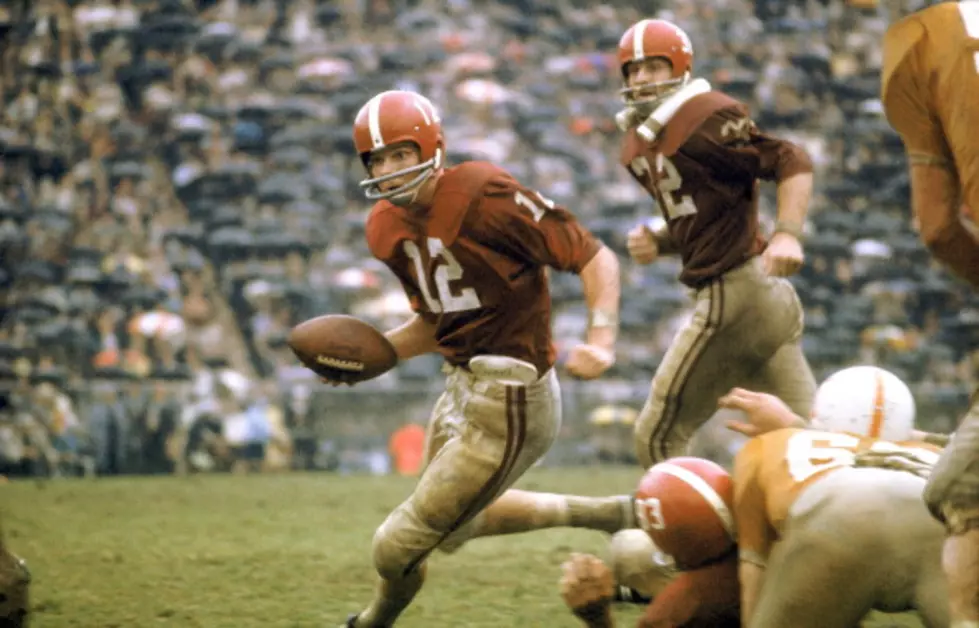 Celebrate the "Snake" on His 75th Birthday
(Photo by James Drake /Sports Illustrated/Getty Images)
On Christmas Day in 1945, the Crimson Tide legend and Alabama Sports Hall-of-Famer, Kenneth Michael Stabler, was born to Leroy and Sally Stabler in Foley, Alabama. In memory of one of the most important quarterbacks in the history of this great state, Tide 100.9 is celebrating and remembering the elusive left-handed gunslinger Kenny "Snake" Stabler.
Originally a king on the baseball diamond at Foley High School, Stabler would eventually translate his impressive athleticism, with encouragement from his father, onto the Foley Lions' football field. His decision to commit to life on the gridiron proved to be fruitful as the young and undersized Stabler would finish with a high school record of 29-1.
In this era in Alabama sports history, however, no top in-state prospect could complete their recruiting journey without a visit from another Alabama legend, head coach Paul "Bear" Bryant. Even though the young Stabler felt as if his style of play would better fit into the system of Auburn great Ralph Jordan, "Snake" was infatuated with the presence of coach Bryant and even wanted to immediately head back to Tuscaloosa with him at the conclusion of his home visit in Foley.
During his first year at The University of Alabama, Ken Stabler was forced to play on the Tide's freshman team due to NCAA rules prohibiting first-year players to compete in varsity sports. Even if this rule wasn't in place, it's difficult to argue that Stabler would've seen any playing time due to the talents of Alabama's starter and fellow future NFL hall-of-famer, "Broadway" Joe Namath (1962-1964). Though, in classic "Snake" fashion, when the prepared Stabler finally won the starting job as a junior, he led the Crimson Tide to one of their earliest undefeated seasons (11-0) and the second Sugar Bowl Championship in just three years.
An underwhelming following season for Alabama was made much sweeter with a last-second 47-yard rushing touchdown from the senior Kenny Stabler to win the 1967 Iron Bowl, affectionally known in Tide lore as the "Run in the Mud." Stabler had endeared himself to the Crimson Tide fanbase and supporters as a fierce and down-right gritty quarterback with his often underestimated late-in-game heroics.
At the conclusion of his time in Tuscaloosa, Stabler was drafted by Al Davis and the Oakland Raiders organization in the second round of the 1968 NFL Draft where he would yet again experience head coaching in it's finest form under NFL legend John Madden.
Stabler's early professional career was extremely challenging due to injury, lack of playing time, and alleged confrontations with Raiders ownership. In fact, he even reportedly asked for a trade on numerous occasions. Though, just like in Tuscaloosa, Ken Stabler didn't squander his chance for success when given the opportunity. "Snake's" five straight seasons coiled up on the sidelines had prepared him to prove to the world what the undersized kid from Alabama could accomplish.
1974 proved to be an impressive breakout campaign for Oakland's new starting quarterback as Stabler would go on to lead the league in touchdown passes en route to his only NFL MVP award of his impressive career. Less than three years later, in the 1976-1977 season, Ken "Snake" Stabler would cap off the 13-1 regular-season by leading the Oakland Raiders to their franchise's first championship at Super Bowl XI in Pasadena, California.
According to Raiders head coach John Madden, "There'll be people all around him, jumping up and down - yelling and screaming. The fans are going crazy and he can just stand over there and be just as calm as he is during the rest of the week. I could never understand that, that's amazing to me."
But, in life, all good things must come to an end and just three seasons after earning what would be his only Super Bowl ring, "Snake" was traded to the Houston Oilers for the 1980-1981 season. In 1982, Stabler would find himself playing for and closing out his career with the New Orleans Saints.
Kenny "Snake" Stabler's prolific career and legacy are tattooed within the history books of one of the most iconic organizations in NFL history. Even being 40 years retired, Stabler still holds the Raiders franchise record in wins from a starter (69-26-1) while only coming in second to Derek Carr in total passing yards.
The first and one of just two left-handed quarterbacks who've made it to the Pro Football Hall of Fame, "Snake" completed his tenure with nearly 28,000 passing yards across three organizations.
According to ESPN's "A Football Life" series, Stabler would pass away on his own terms in July of 2015, surrounded by family and even listening to Lynyrd Skynyrd's "Sweet Home, Alabama," in his final moments. He is buried with a crimson and white "shaker" from Alabama's Bryant-Denny Stadium and is laid to rest in his hometown in Foley, Alabama. Stabler was posthumously selected to the Pro Football Hall of Fame on August 6, 2016
Happy 75th birthday, "Snake". Your contributions to our school and home state will never be forgotten. Rest in peace and Roll Tide.
Enter your number to get our free mobile app
Alabama Football Players in the Hall-of-Fame