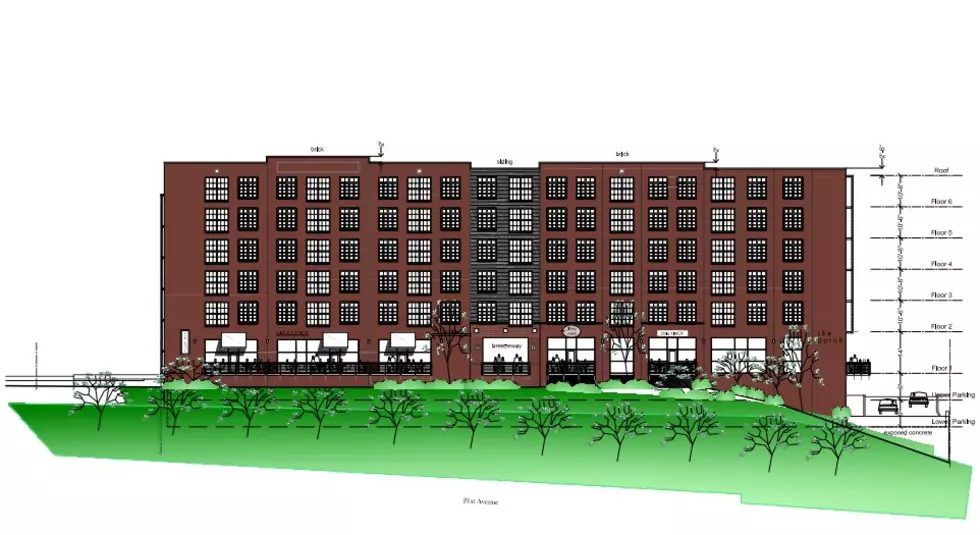 Tuscaloosa City Council Narrowly OKs 6-Story 'Life on Fourth' Apartments
City of Tuscaloosa
The Tuscaloosa City Council narrowly approved construction plans for a six-story mixed-used apartment complex on downtown Fourth Street after months of debate over the proposal.
The concept, tentatively named Life on Fourth, is meant to include more than 14,000 square feet of commercial or office space on its first floor and five additional stories housing 90 apartment units.
It will be developed by First Paramount, LLC.
The development is planned for 2104 Fourth Street, a vacant lot behind Taco Mama and across 21st Avenue from Jim N' Nicks.
The $34 million concept will include studios and one-, two-, and three-bedroom units that are expected to lease from $900 to $2,550 per month, depending on the unit layout.
Documents submitted to the city say developers will build 190 bedrooms in 90 units and will feature above-ground and underground parking for tenants.
The council, which votes to approve basically all construction in the downtown area to ensure it conforms to municipal plans for the area, only narrowly OK'd Life on Fourth in a 4-3 vote Tuesday night.
The vote came after it was tabled for more discussion twice in June and again in August.
Councilors Cassius Lanier, Raevan Howard, Kip Tyner and Matthew Wilson voted to approve plans for the development. John Faile, Lee Busby and Norman Crowe voted against it.
Tuesday's vote was not a public hearing, so neither the council nor their constituents discussed the development before the vote was cast.
Stay connected to the Tuscaloosa Thread for more on the concept as it develops.
Top Stories from the Tuscaloosa Thread (9/5 - 9/12)
19 of the Top Stories published by the Tuscaloosa Thread during the week of September 5th, 2022.