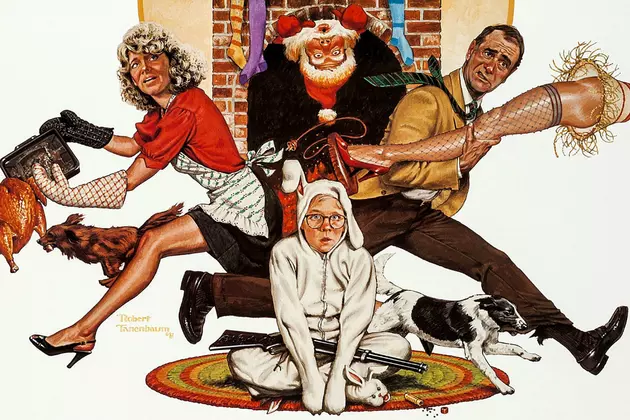 FOX Will Shoot Its Eye Out With a Live 'A Christmas Story' Musical
MGM
While A Christmas Story is about as bold a holiday choice these years as Die Hard  —  did you know it takes place during Christmas???!  —  I'll always carry a candle for Bob Clark's story of a dysfunctional family finding love via an air pistol. My own extended family would gather for the holidays each year and practically have A Christmas Story on a loop; it was a good day, then, when TBS saved us the trouble of rewinding the VHS tapes and started playing the film 24/7 on our behalf. Cliche or not, A Christmas Story still sets the stage for the holidays in my household.
Of course, that deeply personal experience can't possibly be a unique one, otherwise we wouldn't be getting a live television musical adaptation of the film. Earlier today, Variety announced that FOX will be bringing the musical adaptation of A Christmas Story to the small screen as another in its successful line of live musicals. Benj Pasek and Justin Paul, who wrote the music for the Broadway show, will also return to "compose several new songs" for Fox's television event.
As the Variety article notes, A Christmas Story: The Musical was nominated for three Tonys upon its initial release, including Best Musical, Best Original Show, and Best Book of a Musical. Because of that, A Christmas Story: The Musical was one of the featured musical numbers at the 2013 Tony Awards, meaning you can now listen to a high-quality recording from the show at that year's broadcast:
It's a decidedly old-fashioned medley, which makes a lot of sense for both adaptation and network. FOX doesn't like to stray too far from the early-modern era of Broadway musicals, and A Christmas Story: The Musical will give them plenty of bombastic tap numbers without any questionable content. All told, this should be the perfect combo for anyone who wishes they had more Christmas musicals to watch come the holidays. Let's just hope FOX doesn't start playing this one on endless repeat on their own channel, too.