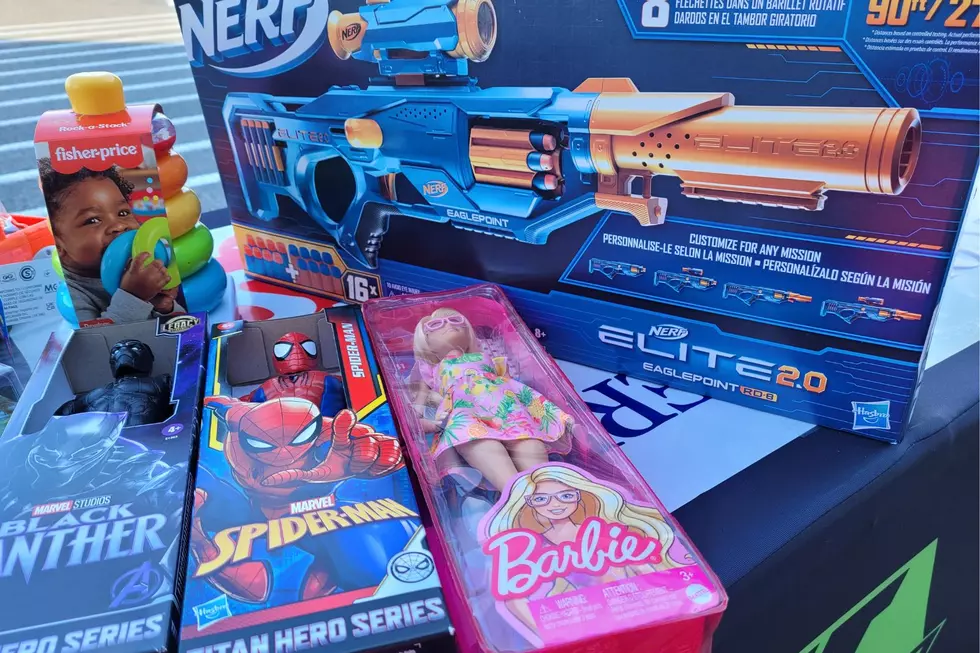 Help West Alabama Kids: Toys for Tots Donation Box Locations
Mary K, Townsquare Media
The Marine Toys for Tots Foundation has been delivering hope to children for 75 years. Over the years the program has distributed 627 million toys and supported 281 million kids, according to the foundation's website.
Unfortunately, there are children in our communities that might not receive a single toy this Christmas.
You can help West Alabama children have a happy holiday season by donating a new,  unwrapped toy to a local collection box. Ideally, the Toys for Tots coordinators would love the donation boxes to overflow with toys for girls and boys.
The Tuscaloosa headquarters for Toys for Tots serves Fayette, Greene, Hale, Lamar, Pickens, Sumter, and Tuscaloosa counties.
Click here for more information to add your location to the donation drop-off location list.
Here's How You Can Help Save Christmas for a West Alabama Child in Need
Helping out is simple:
Step 1
Buy a new toy.
Step 2
Drop off your new unwrapped toy at one of these awesome locations.
TOYS FOR TOTS DROP BOX LOCATIONS
Townsquare Media
142 Skyland Blvd, Tuscaloosa, AL 35405
Tuscaloosa Toyota
This location will be matching all toy donations
3325 Skyland Blvd, Tuscaloosa, AL
Alabama Fire College
2501 Phoenix Dr, Tuscaloosa, AL
Army Reserve Center
Livingston, AL
AT&T
1552 Temple Ave, Fayette, AL
909 US Hwy 80 E, Demopolis, AL
Bama Bounders
2005 32nd St, Northport, AL
Bedzzz Express
618 15th St E, Tuscaloosa, AL
Brose
10100 Brose Dr, Tuscaloosa, AL
Brown Memorial Presbyterian Church
3535 Stillman Blvd, Tuscaloosa, AL
Central Elementary School
1510 Dinah Washington Ave, Tuscaloosa, AL
City of Tuscaloosa - City Hall
2201 University Blvd, Tuscaloosa, AL 35401
Cube Smart Self Storage
949 31St St, Tuscaloosa, AL
Coral Industries
3010 Rice Mine Rd NE, Tuscaloosa, AL
Crimson Chiropractic
2302 Mcfarland Blvd, Tuscaloosa, AL
Crunch Fitness
3325 Mcfarland Blvd E, Tuscaloosa, AL
Ervin's
242 Skyland Blvd, Tuscaloosa, AL
2003 32nd Ave, Northport, AL
EXIT Realty
1818 University Blvd, Tuscaloosa, AL
Eddins Estates Apartments
5350 Ken Sealy Dr, Cottondale, AL
Freeway Insurance
1535 Hackberry Ln, Tuscaloosa, AL
Goodwill
1140 Veterans Memorial Pkwy, Tuscaloosa, AL
Grifols (Talecris Plasma Resources)
3201 Tenth Ave, Tuscaloosa, AL
Harley Davidson Tuscaloosa
6401 Interstate Dr, Tuscaloosa, AL
Hotel Capstone
320 Paul Bryant Drive, Tuscaloosa, AL
Impact Nation Fellowship
1110 26th Ave E, Tuscaloosa, AL
Landmark Apts
5501 Old Montgomery Hwy, Tuscaloosa, AL
Little Blessings
Westwood School Rd, Coker, AL
Logan's Roadhouse
1511 Skyland Blvd, Tuscaloosa, AL
Moe's Southwest Grill
1130 University Blvd, Tuscaloosa, AL
Metro Diner
1800 Mcfarland Blvd E, Tuscaloosa, AL
Mingledorffs Distribution
5030 Old Montgomery Hwy, Tuscaloosa, AL
Northridge Middle School
3811 Northridge Rd, Tuscaloosa, AL
Ollies
635 Skyland Blvd, Tuscaloosa, AL
Palisades Apartments
3201 Hargrove Rd E, Tuscaloosa, AL
Peco
3701 Reese Phifer Ave, Tuscaloosa, AL
Rivers Edge Market
40520 SR-69, Moundville, AL
Synovus
2200 Jack Warner Pkwy, Tuscaloosa, AL
6800 SR-69S, Tuscaloosa, Al
3068 McFarland Blvd, Northport, AL
Southview Elementary School
2601 Southview Dr, Tuscaloosa, Al
Texas Roadhouse
1363 Mcfarland Blvd E, Tuscaloosa, AL
Tuscaloosa Children's Theatre
601 Energy Center Blvd, Northport, AL
Trinity Physical Therapy
7402 SR-69 S, Tuscaloosa, AL
Tuscaloosa Association of Realtors
2007 Paul W Bryant Dr, Tuscaloosa, AL
Titlebucks
3318 Mcfarland Blvd E, Tuscaloosa, AL
Tuscaloosa Chevrolet
6500 Interstate Pkwy, Tuscaloosa, AL
UA Law School
101 Paul W Bryant Dr. E, Tuscaloosa, AL
UA System Office
500 University Blvd E, Tuscaloosa, AL
UA College of Continuing Studies
Kilgore Ln, Tuscaloosa, AL
Walmart Neighborhood Market
4201 Hargrove Rd E, Tuscaloosa, AL
CHECK THEM OUT: 100 years of Christmas toys, gifts and fads
LOOK: See what Christmas was like the year you were born
TOP 10: The best holiday TV specials of all time, ranked