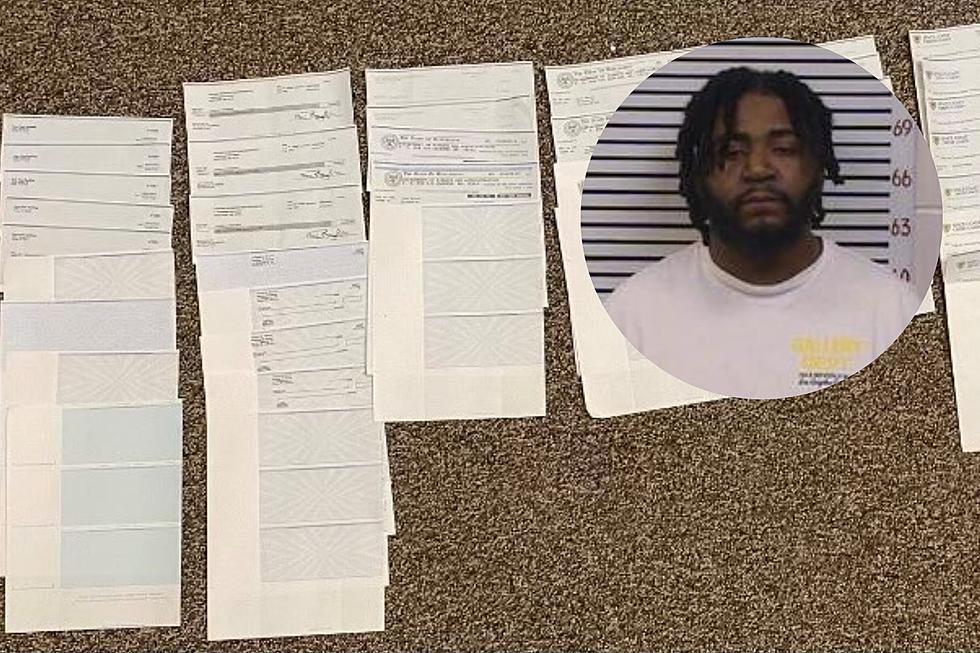 Man Accused of Tossing Weed on Alabama Deputy's Car Caught with 45 Forged Checks
(submitted)
A Mississippi man is facing dozens of charges after he reportedly tossed marijuana on a deputy's car last week and was subsequently caught with 45 forged checks.
District Attorney Andy Hamlin and Pickens County Sheriff Jordan Powell said the driver, 26-year-old Tony Tyrone Kidd, was allegedly speeding on Highway 82 when a PCSO deputy attempted to pull him over.
The deputy said Kidd was throwing marijuana out of his car window as the law enforcement officer followed him - some of which reportedly landed on his cruiser
Kidd eventually stopped the Dodge Charger he was driving at a car wash in the city of Reform. The PCSO deputy reportedly found marijuana and paraphernalia in the vehicle plus puzzling boxes of what appeared to be checks written by at least 10 businesses, government entities and healthcare providers in West Alabama and east Mississippi.
According to the press release, the checks totaled more than $390,000 and all were forged.
"The deputy's exceptional attention to detail prevented the potential theft of a significant amount of money from many people," Sheriff Powell said. "Investigations into financial crimes can often be lengthy and complex. I'm thankful for our close working relationship with the DA's office and for their assistance in this matter."
Kidd, 26, was charged with 45 counts of third-degree possession of a forged instrument and one count each of first-degree theft and attempted first-degree theft, plus second-degree possession of marijuana, tampering with evidence and possession of drug paraphernalia. He was also cited for speeding and other charges remain possible.
He remains in the Pickens County Jail with bond set at $500,000.
"It's important for everyone to review their accounts on a regular basis and report any irregularities to their financial institution and law enforcement," Hamlin said. "By doing so, you not only safeguard your finances, but also play a crucial part in preventing financial crimes."
For more coverage of crime in courts in West Alabama, stay connected to the Tuscaloosa Thread.
Top Stories from the Tuscaloosa Thread (9/4 - 9/11)
15 of the Top Stories published by the Tuscaloosa Thread during the week of September 4th, 2023)