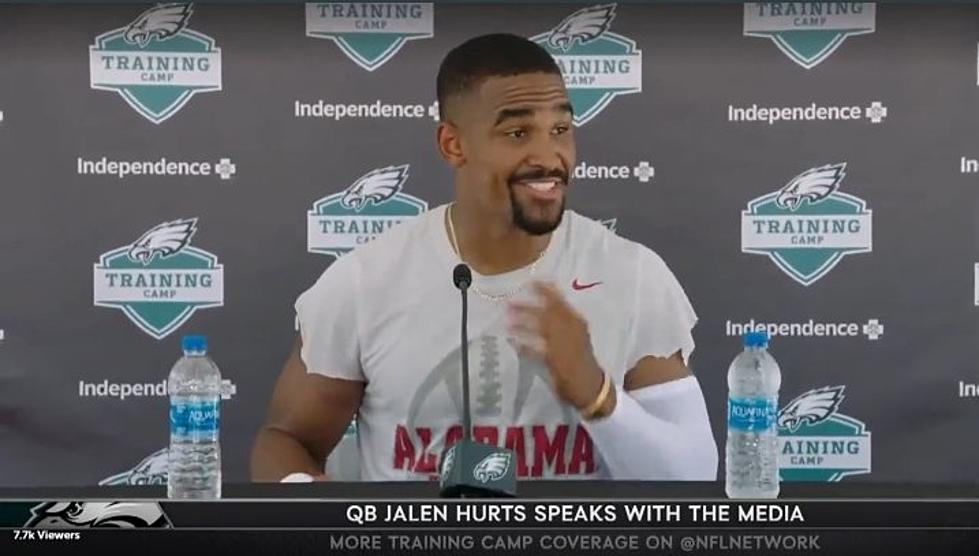 Jalen Hurts Reps Bama During Eagles Press Conference
Photo Courtesy of @BamaProUpdates on Twitter
Former Alabama and Oklahoma and current Philadelphia Eagles quarterback was back in action this week after missing the second preseason game due to stomach illness. Hurts met with the media after Tuesday's practice and was immediately asked about the Alabama football shirt he was rocking.
"It's a good shirt. It's just a shirt, it was in my locker, I just put it on. I usually like to wear white shirts at practice. Its a white shirt, it represents Bama, four quarters, commitment, discipline, effort and pride. Fun shirt," said Hurts.
Hurts is looking to prove to the Eagles that he has what it takes to be a franchise quarterback as a second-year player. Last season he started the last four games of the regular season and tallied a 1-3 record while passing for 1,061 yards and six touchdowns. Additionally, he rushed for 354 yards and three touchdowns.
The Eagles shipped Carson Wentz out of town and are giving the keys to the kingdom to Hurts this season. To help him they went out and drafted his former Crimson Tide teammate and Heisman Trophy winner DeVonta Smith in the first round in the 2021 NFL Draft. Smith is the second consecutive receiver the Eagles drafted in the first round following Jalen Reagor's selection in 2020.
Hurts discussed with the media his excitement to get back with the team from his illness, the reps with his new receivers, his mindset and more. The Eagles will be in action this Friday at 6:30 p.m. CT against the New York Jets. It is currently not yet known how much game action that Hurts will see.
Alabama Athletes With NIL Deals
The biggest evolution in college athletics history is here. Check out which current Alabama athletes hold NIL deals in this ever-expanding and changing photo gallery.
Alabama Football's Second Fall Scrimmage
The Crimson Tide was back at it on Saturday in Bryant-Denny Stadium. The Tide was more focused on execution of the offense and defense as the Tide is two weeks away from playing Miami in the season opening game.
Starting Alabama Quarterbacks Under Nick Saban
Here is every quarterback that has started for the Crimson Tide under Nick Saban.
How Do Fans Sing 'Dixieland Delight' in Tuscaloosa, Alabama?
Alabama football fans add
a few extra lyrics
to 'Dixieland Delight' when it's played on the speakers in Bryant-Denny in Tuscaloosa, Alabama. What are they singing? And Why?