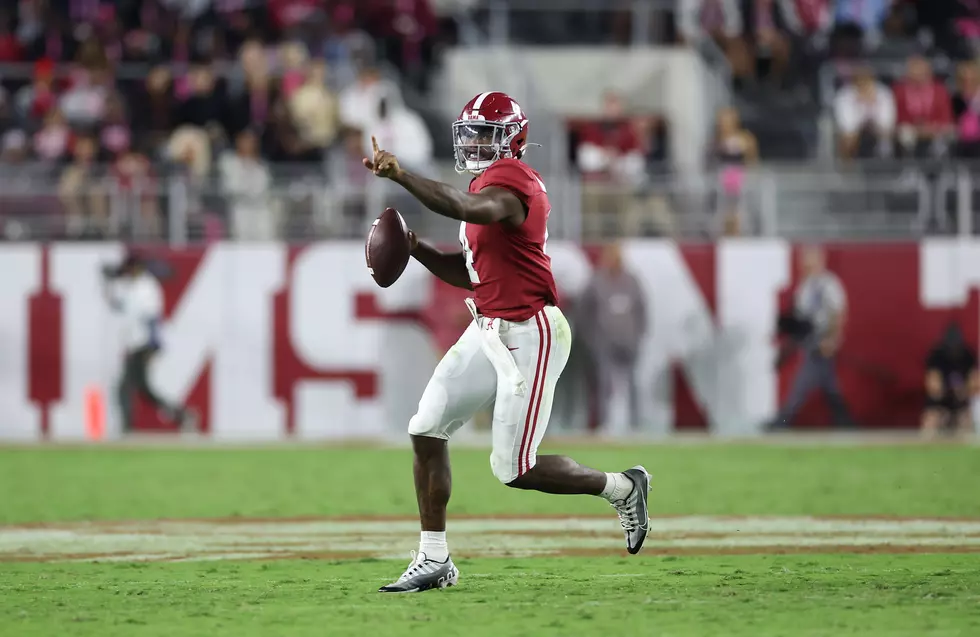 Jalen Milroe Under The Microscope – How Did He Play Against The Aggies?
Crimson Tide Photos / UA Athletics
The Alabama Crimson Tide held on to win on Saturday against the Texas A&M Aggies 24-20 in a game that was much closer than the experts predicted. The Crimson Tide was hampered on offense, having to operate without Heisman Trophy winner Bryce Young.
Alabama turned to redshirt freshman Jalen Milore who made his first start for the Tide in the most anticipated home game of the season.
"I just think Jalen played with a lot of anxiety. I don't think he allowed himself to let his training sort of guide him and trust and believe in it so that he could have success in executing plays," said head coach Nick Saban on Monday.
You can't turn the ball over and not execute plays like they're designed relative to the read of what you should and shouldn't do. So those things are all things that we all need to definitely improve on so that we can utilize all 11 players on our offensive team. We've got skill guys that can make plays. We've gotta distribute the ball at the quarterback position so they can and whether it's a run or a pass or an RPO or an advantage throw, you've gotta make the right choices and decisions on those things. I think we definitely need to improve in all those areas."
Milroe finished his night 12-of-19 for 111 yards with three touchdowns and one interception. He was able to use his legs to gain 83 yards on 17 carries but lost two fumbles.
So how did Milroe really play?
Of course, Alabama won the game and kept its undefeated season alive while playing with its backup quarterback. On the surface, any quarterback that throws for three touchdowns in a game is a positive statistic.
However, when looking at his game play-by-play it is clear to see that Milroe struggled to find consistency. His passing mechanics were all over the place, and he often got lost feeling the rush after making his first read.
That being said, Milroe's athleticism was on full display as he broke the pocket throughout the evening and hurt the Aggies with his legs.
Did Milore have a fair shot to excel in his first start for the Crimson Tide?
He told the media that he found out he would be under-center earlier in the day Saturday and according to sources he took practice repetitions with the second team throughout the week.
"I found out today," Milroe said Saturday night. "I was ready. Enjoyed the moment, definitely a great experience."
How prepared was offensive coordinator Bill O'Brien to call a game plan with Milroe serving as the starter?
All these questions serve as excuses for the Katy, Texas-native but the fact remains that Milroe largely struggled in his first start as Alabama's QB1.
"Jalen did some good things but obviously a couple turnovers," Tide head coach Nick Saban said. "He's going to live and learn. We're gonna live and learn with him."
---
I'm not a professional talent evaluator, but I love watching quarterback play.
I went through each snap that Milroe made a decision in the Texas A&M game and assigned the redshirt freshman with a grade from 1-10.
On 38 snaps in which Milroe had to make a decision, be it a read-option, a pass, an RPO or a straight quarterback run, I graded him with a failing grade of 6.6.
He scored an 8 or above on nine snaps, and scored below a 5 on six snaps.
I could not always find the All-22 film angle on every play, therefore, my evaluation isn't always as complete as possible, but I feel confident in saying that Milroe had some high-highs and some low-lows in the ball game.
Milroe's passing mechanics leave a lot to be desired, especially when compared to the recent Alabama quarterbacks, Bryce Young, Mac Jones and Tua Tagovailoa. He's often seen passing off his back foot, not stepping into throws and utilizing too much of his hand in throwing motion.
While I do think he can grow into an excellent college quarterback, I also believe if he's called upon to start again for Alabama that the coaching staff should do a stronger job in lining up plays and concepts that are more conducive to his skillsets.
Check out my snap-by-snap breakdown of Milroe's performance below.
1ST QUARTER: 9 SNAPS -- 6.51
2ND QUARTER: 14 SNAPS --6.47
3RD QUARTER: 10 SNAPS --6.94
4TH QUARTER: 5 SNAPS --6.44
Do you agree with my assessment of Milore's play? What plays was I too harsh on? What plays did I give too much grace on?
Alabama vs Texas A&M Week 6 2022
Alabama vs Arkansas Week 5, 2022