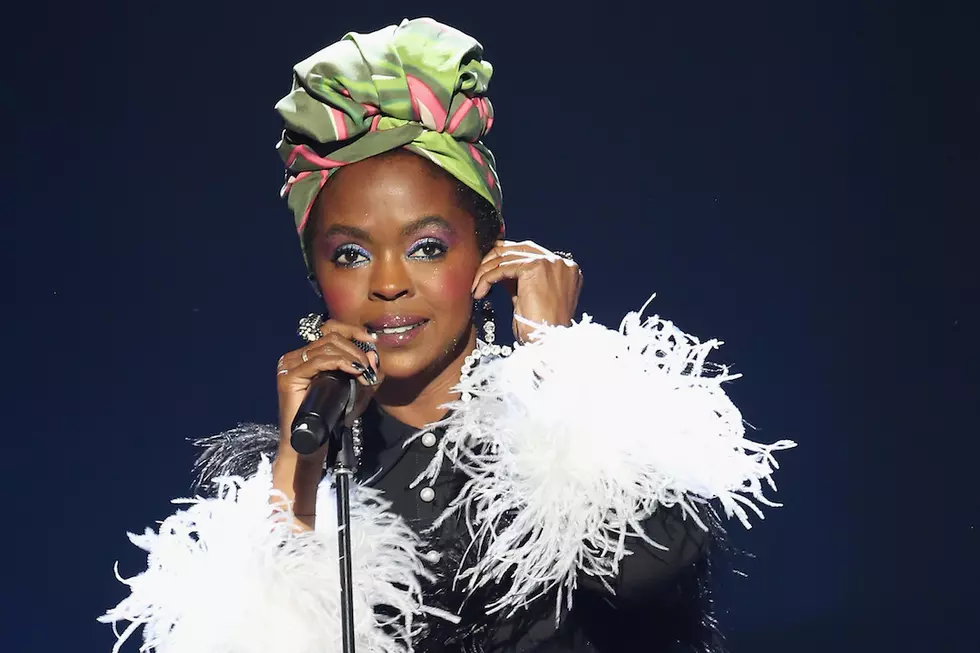 Lauryn Hill Denies 'Miseducation' Theft Claims: 'These Are My Songs'
Kevin Kane, Getty Images
It's been 17 years since Lauryn Hill settled a 2001 lawsuit, in which musicians claimed they were not properly credited for their production and writing on her greatest work, 1998's The Miseducation of Lauryn Hill. And it's been weeks since jazz pianist/producer Robert Glasper went on a Houston radio show and accused Hill both of treating her band members poorly and having "stolen all of [his] friends' music" in the making of the album.
Now, following the 20th anniversary of the landmark album, Hill has posted a lengthy statement on Medium, clarifying her behavior and pointing to biases in the industry as they pertain to the treatment and perception of women artists versus their male counterparts.
"You may be able to make suggestions, but you can't write FOR me," she wrote. "I am the architect of my creative expression. No decisions are made without me. I hire master builders and masterful artisans and technicians who play beautifully, lend their technical expertise, and who translate the language that I provide into beautifully realized music."
She went on to say that working with the musicians on Miseduction was a learning process.
"The Miseducation was the first time I worked with musicians outside of the Fugees who's [sic] report and working relationship was clear," she wrote. "In an effort to create the same level of comfort, I may not have established the necessary boundaries and may have been more inviting than I should have been. In hindsight, I would have handled it differently for the removal of any confusion.
"And I have handled it differently since," she continued. "I'm clear and I make clear before someone walks in the door what I am and am not looking for. I may have been inclusive, but these are my songs."
She also addressed Glasper's accusations that she cut her band's pay in half the day before a gig, for no reason.
"Every day she comes in and changes the show, changes what she wants to do," Glasper said during the interview. "The last rehearsal, she doesn't show up. Her manager comes in and says, 'Lauryn's not really feeling the way you guys have been learning the music, so we're gonna cut your pay in half.'"
Hill, who can usually be seen signaling to her band extensively during live shows, says she doesn't remember doing that and brought up James Brown as an example of an artist who demanded perfection.
"Don't have the details or recollection of cutting the band's pay in half. If fees had been negotiated and confirmed without my knowledge, I may have asked for them to be adjusted. But I would never just cut a musician's pay arbitrarily unless I had a legitimate reason. There are artists who do cut pay though, James Brown was notorious for docking musicians if they did something he didn't like; I'm sure there are others."
She said that she expects the musicians she hires to fulfill her vision, not their own.
"I am paying for a service, and looking for something SPECIFIC, which isn't up to someone else's interpretation or opinion," she wrote. "I have my own idea of what works for me. That shouldn't offend."
Chemistry, she said, is key to achieving that vision.
"It did take me meeting a lot of people over a number of years to find the right musicians," she noted, "but my current band has been with me for a long time; the newest members probably 2 [or] 3 years; some as long as 7 [or] 8 years now. I was looking for a similar natural chemistry with new musicians that I'd had with the Fugees and Miseducation bands. I'd literally grown up with some of those musicians. That isn't easy to find."
Hill also specifically addressed the part in Glasper's interview when he said, if Stevie Wonder, Herbie Hancock and Quincy Jones could be "cool," "Lauryn Hill should be able to be cool. You haven't done enough to be the way you are. You just have not. The one thing you did that was great [Miseducation], you didn't do."
Her response was that those three legendary artists aren't women.
"I adore Stevie, and honor Herbie and Quincy, who are our forebears, but they're not women. Men often can say 'I want it done like this' and not be challenged. The same rules don't always apply for women who may be met with resistance. When this happens you replace that player with someone who respects you and the office you hold."
You can read her statement in its entirety here.
20 Best R&B Albums of 1997