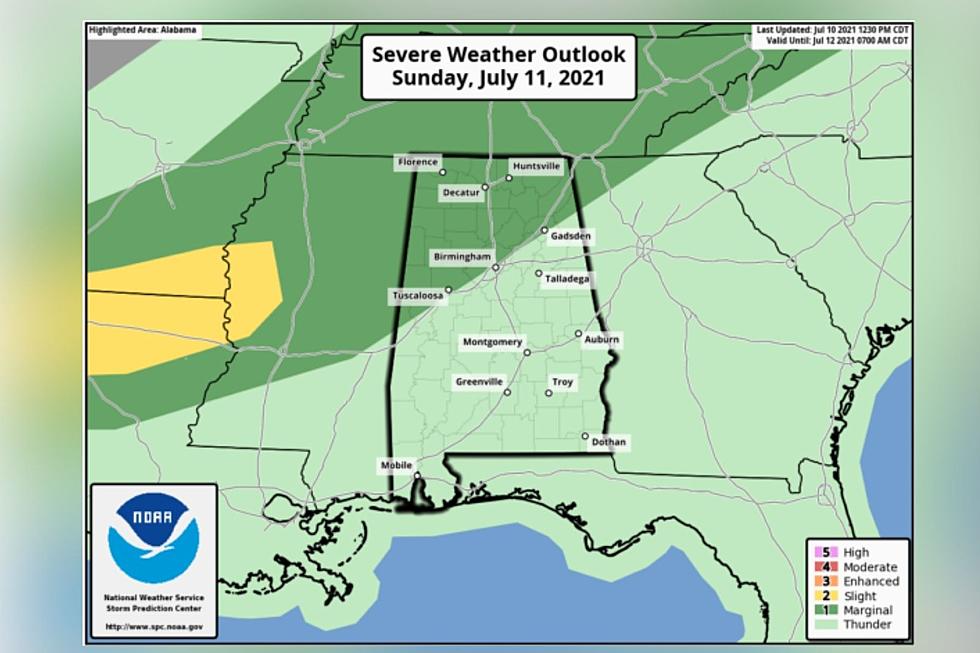 Marginal Risk for Severe Weather for Tuscaloosa, Alabama
National Weather Service
Pack Your Umbrella Today: Showers and Thunderstorm Likely for Tuscaloosa, Alabama
Today will be another typical summer day in Alabama. Be prepared for warm and humid conditions in our coverage area, with showers and thunderstorms likely. We could see shower and thunderstorm activity increase into the afternoon hours.
According to the National Weather Service in Birmingham, "the heavier activity will be capable of producing gusty winds in addition to frequent lightning strikes and torrential downpours."
James Spann, ABC 33/40, and Townsquare Media Tuscaloosa Chief Meteorologist note that there is a "low end, "marginal risk" (level 1/5) of severe thunderstorms today north of a line from Demopolis to Birmingham to Weiss Lake; a few storms over North and West Alabama could produce gusty winds and small hail."
(Source) Click here to follow the Facebook Page for James Spann. For more from the National Weather Service Birmingham, click here.
Alabama Lovers: Check Out These 15 Dazzlingly FREE Phone Wallpapers
Let "Alabama the Beautiful" spruce up your phone with these 15 free wallpapers. Save one, or save them all: you can't go wrong!
To save the photo(s) on mobile, just long-press on an image to bring up the menu to save it to your camera roll. If on desktop, simply right-click on a photo to save it to your computer.
Iconic Photos From Alabama's 18 National Championships
Claimed or recognized, no FBS football program has more national championships than the Tide. Look back on all 18 titles in Alabama history with these photos.
17 Stores That Are No Longer in Tuscaloosa's University Mall
How many of these iconic stores do you remember? They were all once a part of University Mall in Tuscaloosa, Alabama.
Take a Look Inside Tuscaloosa's Abandoned McFarland Mall
Townsquare Tuscaloosa Townie Awards 2021
Townsquare Tuscaloosa 2021 Townie Awards highlight the most unique local businesses, people, places and things around West Alabama.