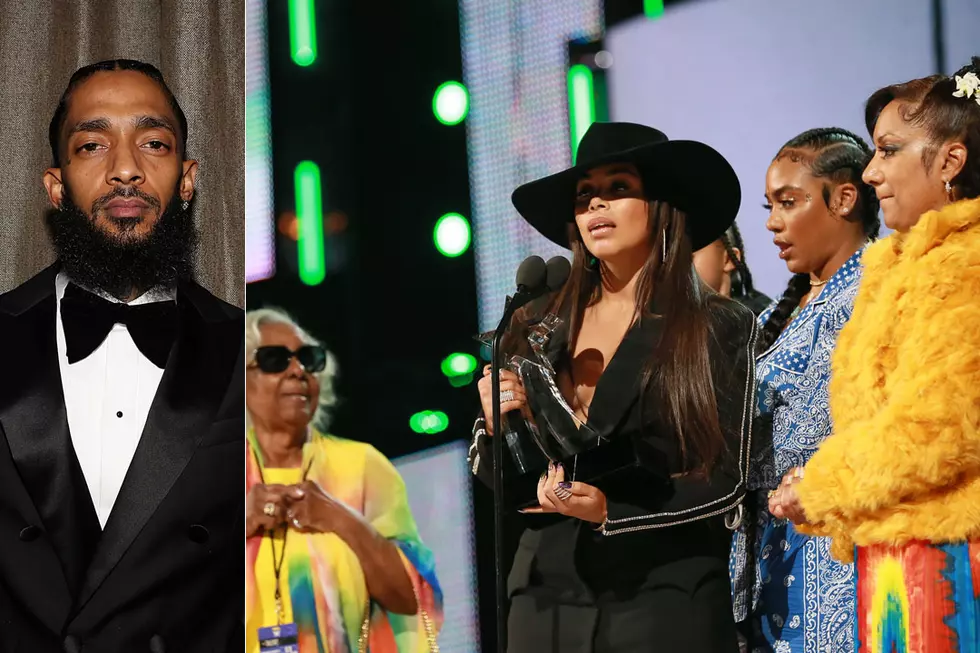 Nipsey Hussle Honored With Humanitarian Award, Tribute Performance at 2019 BET Awards
Shareif Ziyadat / Leon Bennett, Getty Images (2)
It's very meaningful for Nip to get his own posthumous moment at an awards show he supported when he was alive—the rhymer performed at the BET Awards pre-show last year. Leading the performance tribute in his honor at the Microsoft Theatre was John Legend, Marsha Ambrosius, DJ Khaled and YG, all three of whom made music with Nipsey in the past.
Before the performance tribute, T.I. shared some kind words onstage as he expressed the kind of artist and person Nipsey was during his lifetime. "There will never be another Nipsey Hussle," Tip said. "He was a revolutionary."
T.I. continued to discuss how Nipsey impacted people worldwide. "He inspired people across the world; many are still discovering how legendary he really was," the Atlanta rapper explained. There was also a video featuring commentary from Snoop Dogg, Ava Duvernay and more. T.I. presented the Humanitarian Award to Nipsey's family, including his longtime girlfriend Lauren London, his children, parents, grandmother and sister.
The performance tribute began with Marsha Ambrosius performing "Real Big," her collab with Nip from his Victory Lap album. YG then came out and did his verse from his own Nipsey collab "Last Time That I Checc'd." DJ Khaled and John Legend closed the set out with "Higher," Khaled's Father of Asahd single that released after Nipsey's death.
Watch the tribute to the late Nipsey Hussle at the 2019 BET Awards below.
See Rico Nasty, Tee Grizzley, PnB Rock, Rick Ross and More at the 2019 BET Awards