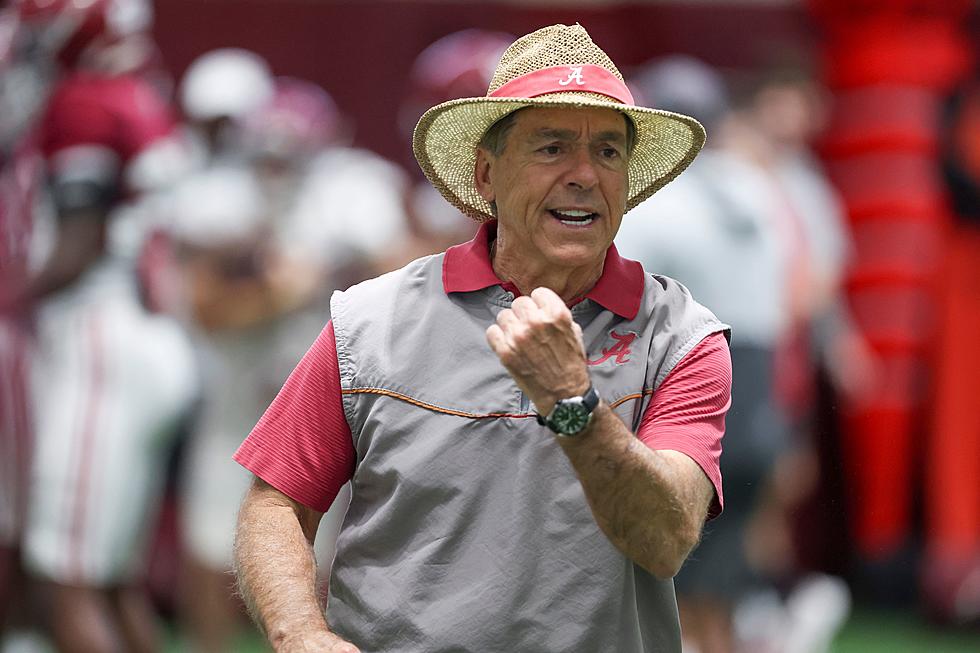 Saban Scorches Aggies, "A&M Bought Every Player on Their Team"
Crimson Tide Photos / UA Athletics
Nick Saban spoke in Birmingham on Wednesday night at an event celebrating the 50-day countdown until the World Games takeover the Iron city. While the veteran coach opened up on a litany of topics, ranging from his golf game, to his upbringing in West Virginia, one topic that Saban mentioned has set the college football world on fire.
Speaking on his SEC West Rival Texas A&M, Saban opted to hold little back, saying, "We were second in recruiting last year. A&M was first," coach continued, "A&M bought every player on their team. Made a deal for name, image and likeness."
"We didn't buy one player. But I don't know if we're going to be able to sustain that in the future because more and more people are doing it. Its tough," said Saban.
The Aggies are ranked by 247Sports as the top class in 2022, featuring a whopping 30 commitments made up of eight five-stars, 19 four-stars and three three-stars.
Saban continued to speak on NIL, diving further into his problems with the current state of it, "The issue and the problem with [NIL] is coaches trying to create an advantage for themselves. [Coaches] went out and created what's called a collective (...) That's not what name, image and likeness was supposed to be and that's what it's become."
"Now every player is saying, 'Well what am I gonna get?' My philosophy is that my job is to create a platform for our players to create value for themselves and their future."
While Saban is no stranger to calling out NIL and the way it has been implemented, to hear the coach directly go after another program, especially one in his own conference, is somewhat unheard of.
Jimbo Fisher has already denied rumors of paying out millions in NIL money to recruits once this offseason; what will the former Saban assistant's response be to this?
Saban's entire comments on NIL and Texas A&M can be found here, in a video posted by Al.com.
Highest Rated Recruits of the Saban Era By Year
Check out Alabama's highest-rated recruit from each Crimson Tide recruiting class during the Nick Saban era.
Crimson Tide's NFL Draft First-Rounders During Saban's Tenure
Take a look back on the Crimson Tide's first round selections under head coach Nick Saban.
Here's Why Every SEC Team is Inferior to Alabama