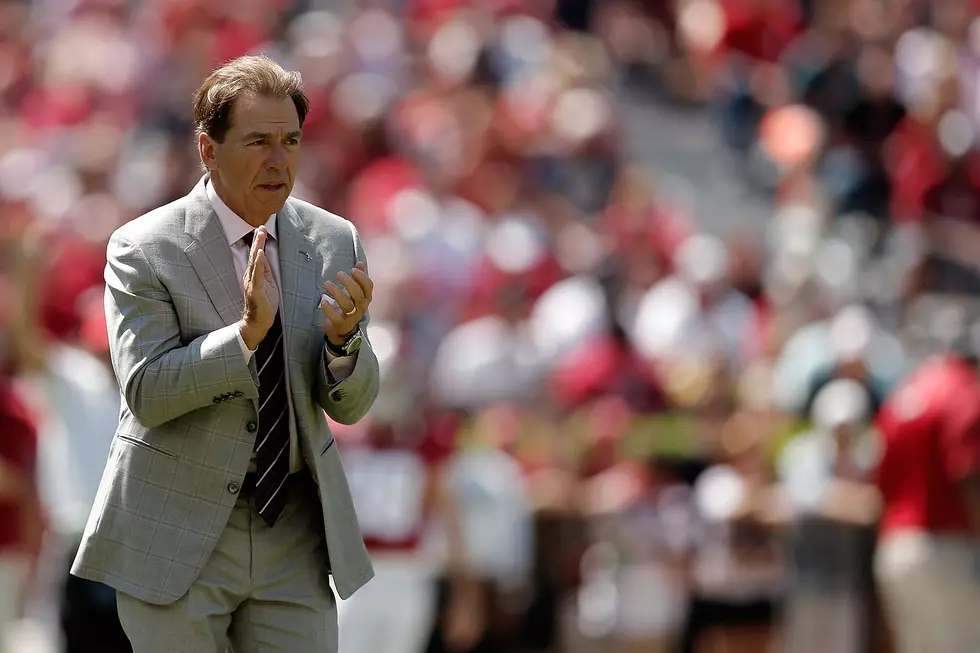 See the Full Schedule of Events for Alabama's A-Day Game
Stacy Revere/Getty Images
It's hard to believe that Nick Saban is preparing for his 12th A-Day in Tuscaloosa but that will be the case this Saturday when the Crimson Tide plays its annual spring game.
Kickoff for the game is set for 1 p.m. and ESPN will be televising it nationally, but what does the rest of the schedule look like for fans that make their way to campus this weekend? UA Gameday has a complete look at when different events begin around campus so you can be prepared for the last football game until the fall.
As you can see in the graphic below, parking lots and quad drop-off begins at 7 a.m. with the fan fest starting an hour later.
The football events begin at 10:30 a.m. with a flag football game featuring former players. At 11:15 a.m., the Walk of Fame ceremony will take place with last year's team captains adding their names at the base of Denny Chimes. From there, the team will make its way into the stadium just over an hour before kickoff.
Tide 102.9 will also be providing pregame coverage beginning at 10:30 a.m. with an A-Day Tide Tailgate Show special live from Rounders on the Strip with coverage of the game and what to keep an eye on.
Don't forget that there will be on-field access for a short time after the game so stick around until it's over. For fans that are staying around town, both the Crimson Tide softball and baseball teams are hosting rivals in conference play so you could potentially make it a tripleheader on Saturday. You can learn more about the weekend at UAGameday.com.