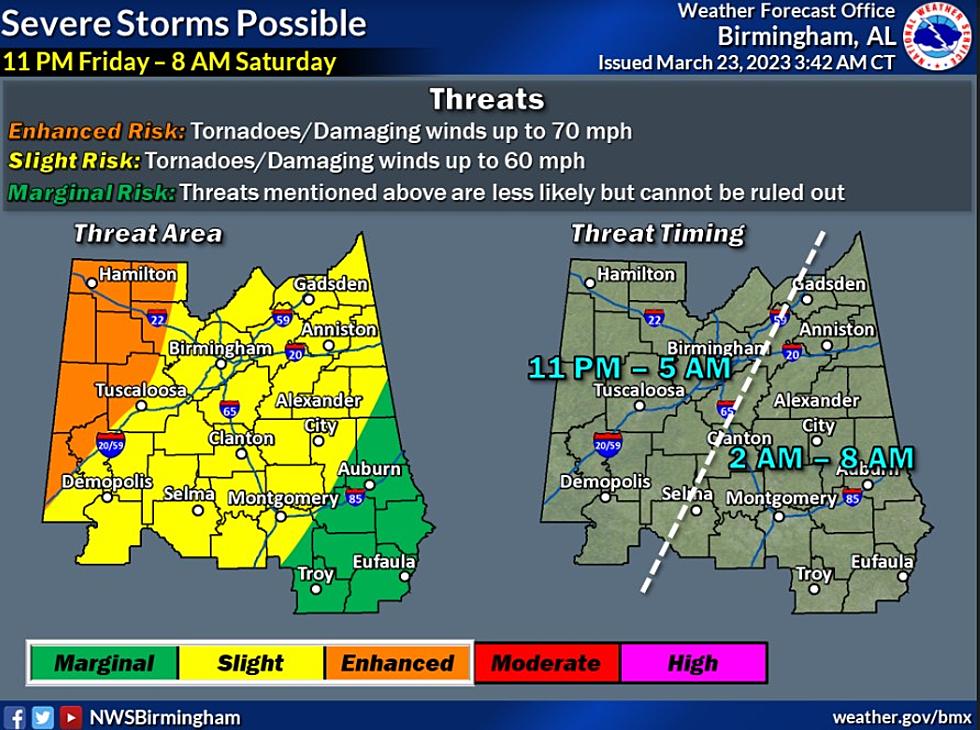 Severe Weather: Enhanced Risk Area Added to Portions of Alabama
National Weather Service
The National Weather Service in Birmingham reported that their "confidence continues to increase this morning in the potential for severe storms Friday night through Saturday morning, especially across the western and northwestern counties of Central Alabama."
Timeline
I think one of the important factors of this severe weather threat is the timing. This system brings the threat of tornadoes and damaging winds during a timespan that is considered "bedtime" hours. We encourage you to NOT silence your phones Friday evening and be sure that your automatic "do not disturb" feature is turned off.
Currently, the overall weather system could impact the state of Alabama from Friday at 11 p.m. until Saturday at 8 a.m. However, our Townsquare Media coverage timing will be from Friday at 11 p.m. until Saturday at 5 a.m.
Townsquare Media Tuscaloosa Coverage Areas
Our coverage areas include Bibb, Fayette, Greene, Hale, Lamar, Perry, Pickens, Sumter, Tuscaloosa, and Walker counties.
What Has Changed Since Yesterday?
"An Enhanced Risk area has been added across western and northwestern counties of Central Alabama, roughly along and west of a line from Livingston to Tuscaloosa to Double Springs," said the National Weather Service in Birmingham.
There is a level 3 out of 5 which is an "Enhanced Risk" for severe thunderstorms in Northwest Alabama.

There is a level 2 out of 5 which is a "Slight Risk" which extends from portions of West Alabama to east Alabama.

There is a level 1 out of 5 for a "Marginal Risk" (level 1/5) covering the rest of the state.
Severe Weather Threat Outlook
James Spann, ABC 33/40, and Townsquare Media Tuscaloosa Chief Meteorologist said that "a dynamic weather system will bring the potential for severe thunderstorms to Alabama late tomorrow night into the pre-dawn hours Saturday. The synoptic scale setup certainly favors severe storms, and instability values will be increasing during the night."
Possible Threats
"The main threat will come from strong, potentially damaging straight-line winds, but a few tornadoes are likely as well, especially in the "enhanced risk" area. Some hail is possible," said Spann. Also "rain amounts will average 1/2 to 1 inch for now flooding issues are not expected."
(Source) For more from the National Weather Service Birmingham, click here. For more from the Storm Prediction Center, click here. To follow the Facebook Page of James Spann, click here.
Jefferson County's Most Expensive Home Has Its Own Putting Green
Step Inside The Grimsley House Airbnb in Fayette, Alabama
THIS is the Most Expensive Airbnb in Alabama, See it for Yourself
Unique Getaway in Mississippi: Stay in a Silo Farmhouse