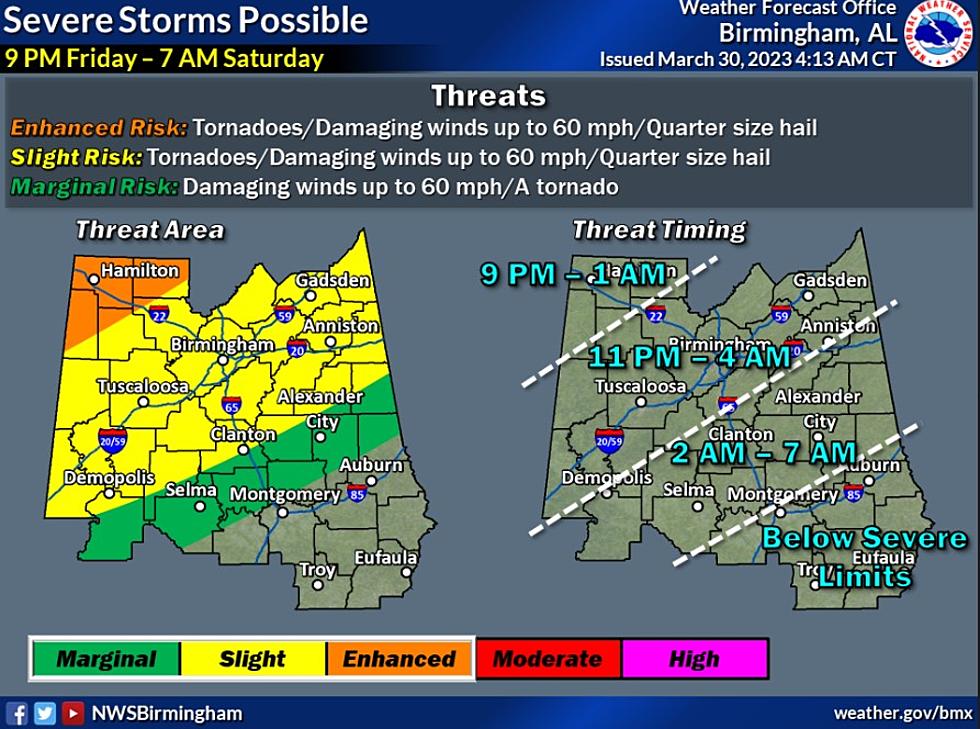 Severe Weather Info: Enhanced Risk Added to Portions of Alabama
National Weather Service in Birmingham
The Townsquare Media weather center has the latest details on the possible severe weather threat for our coverage area. Currently, this active weather event is projected to enter our area from Friday evening into Saturday morning. These thunderstorms will move from the northwest to the southeast.
I want to point out that the newest information to the outlook is the addition of an enhanced risk that was added to the northwest. For the Townsquare Media Tuscaloosa coverage area, this includes portions of Lamar and Fayette counties.
Possible Threats
"The primary threat will come from strong, potentially damaging winds, but an isolated tornado can't be ruled out, especially north and west of Birmingham. The highest tornado probabilities are northwest of Alabama, where a level 4/5 "moderate risk" has been defined around Memphis," said James Spann, ABC 33/40, and Townsquare Media Tuscaloosa Chief Meteorologist.
In addition to the threat of tornadoes, the National Weather Service in Birmingham said here is the possibility of "damaging winds up to 60 mph and quarter-size hail."
Concerns about the Timing of this Weather System
As always, I have a huge concern about nighttime severe weather threats. Mainly because this is typically when people are sleeping. Please be sure that you have not silenced your phones and turned off your automatic sleep modes. This way you can get important weather messages.
The National Weather Service in Birmingham provided a general timeframe of "9 PM Friday - 7 AM Saturday." For our coverage our window should be around  9 PM Friday – 4 AM Saturday.
James Spann Explains Risk Levels and Areas
SPC maintains an "enhanced risk" (level 3/5) of severe thunderstorms for the northwest corner of Alabama around the Shoals.

A "slight risk" (level 2/5) extends as far east as Gadsden, Hoover, and Eutaw. And, there is a "marginal risk" defined as far south as Heflin, Clanton, and Butler.

Gradient winds will average 15-25 mph of the storms, with gusts to 30/35 mph possible in spots across North Alabama.
Weekend Outlook
The other news is once this severe weather exits the area we are in for a decent weekend.
Spann said that "Saturday will be a dry day after the lingering early morning showers with a partly sunny sky and a high between 75 and 80 degrees. Sunday will be a nice day; with a sunny sky, the high will be in the low to mid-70s."
(Source) Click here for more information and to follow the James Spann Facebook Page. Click here for more information and to follow the National Weather Service Birmingham Facebook Page. Click here for more information and to follow the Storm Prediction Center Facebook Page.
Alabama's Most Luxurious Airbnb is Like Staying on a Movie Set
Jefferson County's Most Expensive Home Has Its Own Putting Green
Step Inside The Grimsley House Airbnb in Fayette, Alabama
Peek Inside Lake Tuscaloosa's Priciest Home