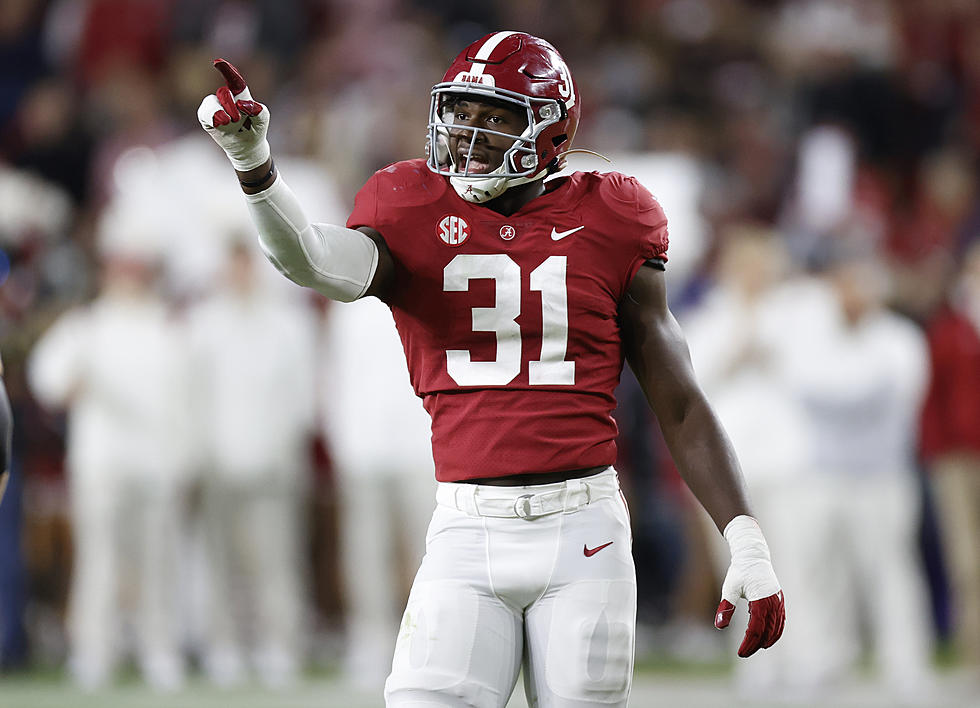 Three Alabama Players Featured in Top 10 of ESPN's 2023 Big Board
Crimson Tide Photos / UA Athletics
In his first 2023 NFL Big Board, ESPN NFL Draft analyst Mel Kiper Jr. has three Alabama players featured in his top 10, including Will Anderson, Bryce Young and Eli Ricks.
Anderson is the top ranked prospect after a dominant sophomore campaign. The 6-foot-4, 243-pound edge rusher put together a season that most college players have in a career. He registered 102 tackles and led the country with 17.5 sacks and 34.5 tackles for loss.
"Anderson is a dominant and unique edge rusher who might have been the No. 1 pick in April if he had been eligible for the draft. He doesn't take plays off, is versatile and made several impressive plays against the run. His 79 pressures and 17.5 sacks led the FBS. Anderson's coaches at Alabama rave about him. Of course, who actually goes No. 1 in 2023 will depend on whether the team needs a quarterback, but Anderson is a fantastic prospect."
Young is just one spot below Anderson at No. 2. The Alabama signal caller put together a prolific sophomore season and became the first quarterback in history to win the Heisman trophy. Young completed 66.9% of his passes for 4,872 yards and 47 touchdowns versus only seven interceptions.
"You should know the Heisman trophy winner by now. Young has an incredibly quick release and can really sling it. He's an anticipatory thrower who knows how to hit receivers where they need the ball to run after the catch. He doesn't make many mistakes. The knock on Young is size; he doesn't have a huge frame, which NFL scouts will likely play up as we get closer to the draft. Still, his arm is more than good enough for him to be a great signal-caller at the next level."
Ricks is the highest ranked defensive back at No. 8. At 6-foot-2 and 195-pounds, the LSU transfer is a big, physical corner with tremendous ball skills.
"Ricks had four interceptions as a freshman at LSU in 2020 (two were pick-sixes) before a shoulder injury ended his 2021 season after just six games. He decided to transfer to Alabama, and he could be the best corner in the country. He's battle tested — he got daily practice reps against superstar Ja'Marr Chase in 2020 — and has excellent size and speed. Nick Saban is going to make sure Ricks reaches his ceiling, and the Crimson Tide were uncharacteristically up-and-down at the position in 2021.
A number of Alabama players were featured as top 10 prospects at their respective positions.
Jahmyr Gibbs is the No. 2 running back behind Texas' Bijan Robinson. The electrifying back rushed for 1,206 yards and eight touchdowns in two seasons at Georgia Tech. The Alabama faithful got a small glimpse of what Gibbs can do in space when he exploded for a 75-yard touchdown on A-Day.
Jermaine Burton is the No. 9 wide receiver according to Kiper Jr. In two seasons at Georgia, Burton reeled in 53 receptions for 901 yards and eight touchdowns. The rising junior will see his numbers go way up in a more wide receiver-friendly offense. He gives Young a new vertical threat with Jameson Williams off to the NFL.
Cameron Latu comes in as the No. 6 tight end. He caught two touchdowns in the season opener against Miami and led all Alabama pass catchers with 102 yards and one touchdown across his five catches in the national championship. The Salt Lake City, UT. native set the Alabama record for touchdown catches by a tight end with eight.
Javion Cohen and Emil Ekiyor Jr. are the No. 7 and No. 10 guards respectively. Cohen started 14 games for No. 6 scoring offense in 2021 Ekiyor Jr. has made 28 starts over the last two seasons. He blocked for a unit in 2020 that ranked No. 1 scoring offense and pass efficiency, and No. 2 passing offense and total offense.
Byron Young has appeared in all 41 games in his Alabama career. The Laurel, Miss. native is ranked as the No. 7 defensive end. As a junior in 2021, Young registered 39 tackles, including nine for loss and two sacks.
Kiper Jr. has Henry To'oto'o ranked as No. 3 inside linebacker. After spending two seasons at Tennessee, To'oto'o transferred to Alabama in 2021. He tallied a team-high 113 tackles, including 8.5 for loss, four sacks, two pass breakups and a forced fumble. He was named the Walter Camp Defensive Player of the Week for his performance against Mississippi State and Arkansas and earned second-team All-SEC honors.
Three Alabama safeties were ranked inside the top 10, starting with Jordan Battle at No. 3. Battle has appeared in all 41 games in his Alabama career, including 31 starts. As a junior this past season, he accumulated 86 tackles, three interceptions, two were returned for touchdowns and three pass breakups, which earned him first-team All-SEC and third-team All-American honors.
Junior Brian Branch is ranked as the No. 5 safety. The versatile defensive back has been a key player down the stretch in each of Alabama's last two playoff runs. In 2021, Branch registered 55 tackles, including five for loss and a team-high nine pass breakups.
Two spots behind Branch is DeMarcco Hellams at No. 7. In his first season as a full-time starter, Hellams totaled 87 tackles, including 2.5 for loss, three interceptions and three pass breakups.
Malachi Moore is a player that could see his stock rise tremendously during the 2022 season. The Alabama native has appeared in 26 games in his career. He led the Crimson Tide with four forced fumbles, including a team-high three interceptions as a freshman in 2020.
Alabama Crimson Tide All-Time Rushing Leaders
How Do Fans Sing 'Dixieland Delight' in Tuscaloosa, Alabama?
Alabama football fans add
a few extra lyrics
to 'Dixieland Delight' when it's played on the speakers in Bryant-Denny in Tuscaloosa, Alabama. What are they singing? And Why?
Downright Unbelievable Quirky Alabama Town Names
Have You Heard of these Quirky Alabama Towns? Some are Downright Unbelievable.