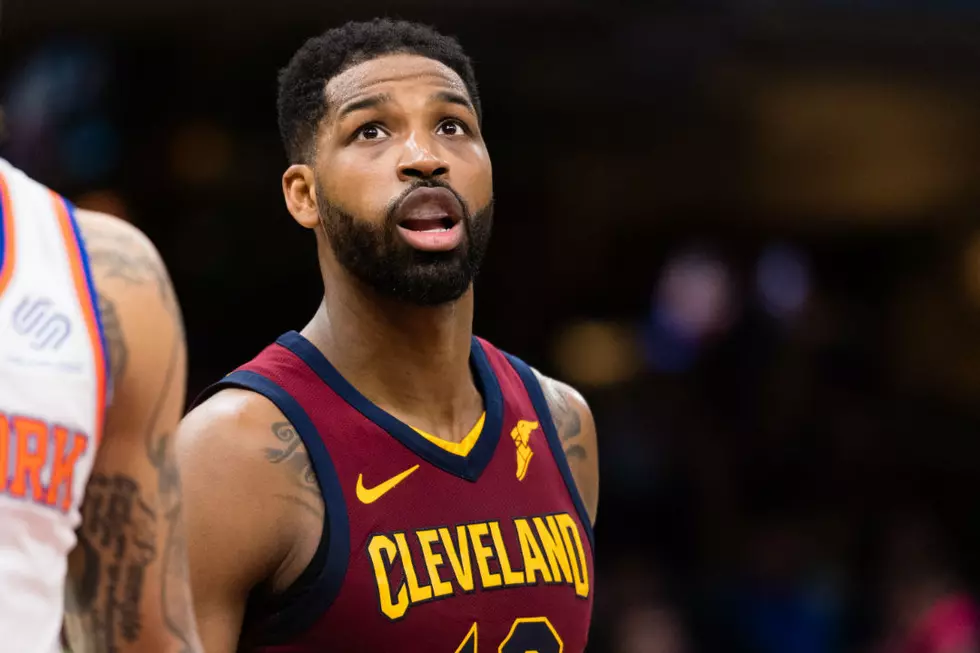 Tristan Thompson Booed at Cavaliers Game After Allegedly Cheating on Khloe Kardashian
Jason Miller, Getty Images
Think Kardashian fandom is exclusive to coastal elites? Hardly. Even in Ohio, basketball fans are turning their backs on Tristan Thompson, who reportedly cheated on Khloe Kardashian while Kardashian is pregnant with the couple's child.
At Wednesday night's (April 11) Cavaliers home game against the New York Knicks, fans booed Thompson, flashed signs in support of Khloe and effectively let the power forward know that he'd get no passes in town for bad behavior. According to People, Thompson wasn't even announced as he came off of the bench to play in what was the Cavs' eventual loss (karmic retribution)?
And the sentiment transcended social media, too, where the Twitter universe piled on.
"I'm watching the Knicks/Cavs game at 8 just to see Tristan Thompson get booed off the court," one wrote, while another noted "they announced tristan thompson's name at the cavs game and we all booed for a good 10 seconds. that's the kind of quality content i like to see."
Reports first surfaced on Tuesday that Thompson had been spotted kissing more than one woman during a weekend in New York City. TMZ and The Shade Room eventually posted footage of a mystery woman entering a hotel with Thompson at about 5 AM.
And that may not have been the first time Thompson stepped out of bounds — TMZ also posted a clip from October 2017 in which the NBA star kisses a woman while another aggressively fondles him.
25 Celebrities Who Were Caught Cheating