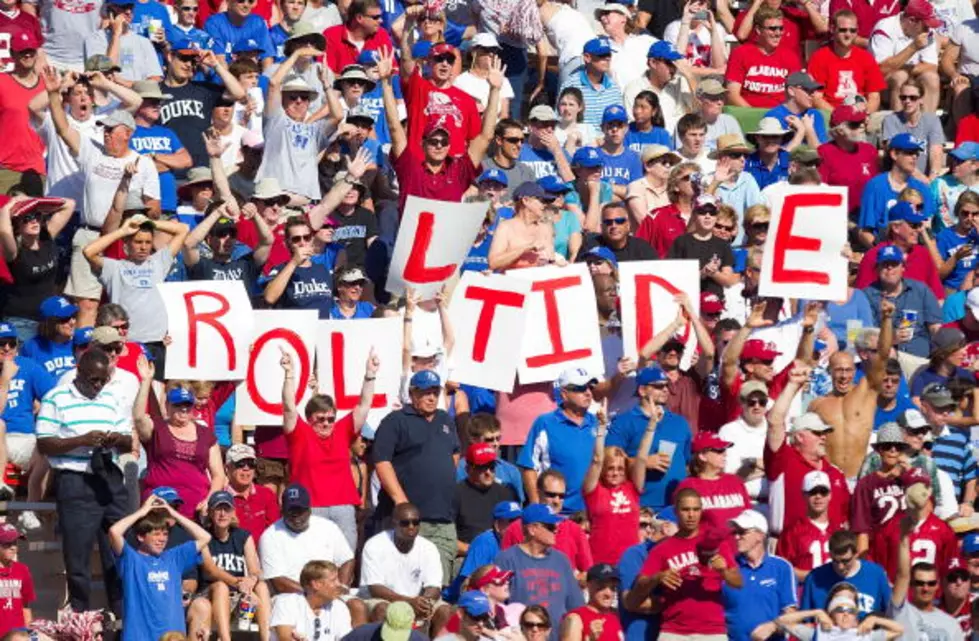 Tuscaloosa Alabama Welcomes Football Fans, Tickets on Sale Thursday
Getty Images
The defending national champion Alabama Crimson Tide football team is set to begin its season on Sept. 4 against Miami in Atlanta, GA. The Tide follows up that neutral-site matchup with a seven game home schedule with four road games scattered throughout.
Alabama fans who have circled dates to come to Tuscaloosa can now buy single-game tickets beginning on Thursday, July 1 at 8 a.m. CT. Some games are already sold out but the games that will be available to the public will be the three non-conference games as well as one SEC game.
Sept. 11 - Mercer - 3 p.m. CT
Sept. 25 - Southern Miss
Nov. 13 - New Mexico State
Nov. 20 - Arkansas
Single-game tickets are in the upper deck and will be $25 for the Mercer and New Mexico State matchups and $45 for the Southern Miss while the SEC matchup with the Razorbacks will be $75.
The LSU game is completely sold out according to the Alabama athletic department. A limited number of Field Suite tickets are available for the above games as well as the Ole Miss and Tennessee games.
There are still tickets available for the Crimson Tide's kickoff with the Miami Hurricanes at Mercedes-Benz Stadium in Atlanta. Tickets for the season opener are $125 for upper  level seats and $250 for lower level and mezzanine seating.
Fans wishing to purchase tickets and get their plans settled can do so at the Alabama athletics ticket office. The four games will be available on Thursday, July 1 at 8 a.m. CT.
Top Offensive Lineman in Saban Era