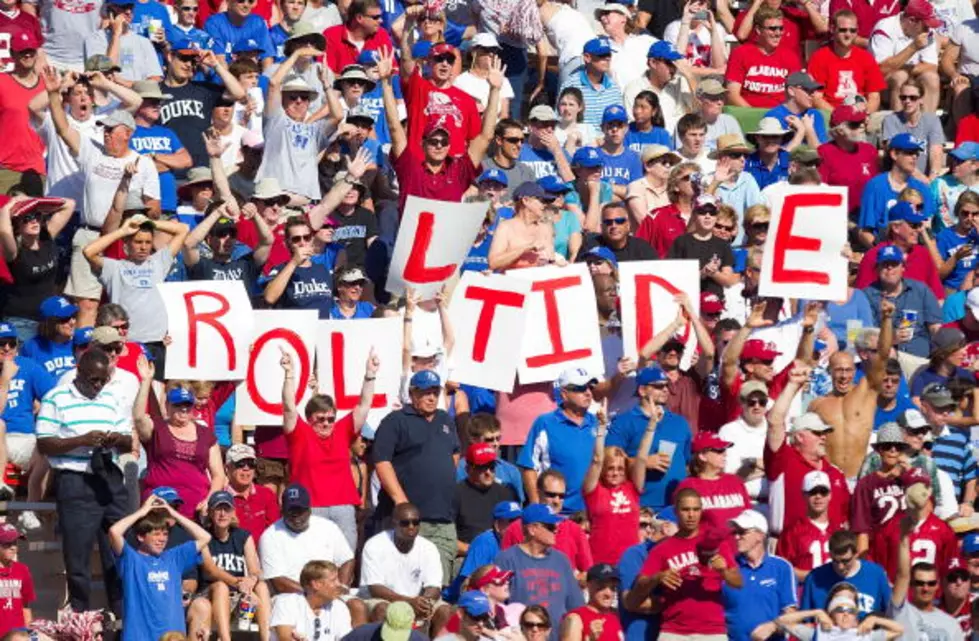 Two Seniors Save Students From Tide Ticket Scammers
Getty Images
When Alabama seniors Jared Waller and John Ritondo were paired with one another to create a website for one of their classes they didn't know they would stumble upon an idea that would unite them in business.
Waller and Ritondo now serve as the co-founders of "Student Seats" an online platform designed to serve University of Alabama students as they buy and sell Crimson Tide football tickets.
The pair are entering their second year of business together and looking to explode with the start of the 2021 football season as they offer Alabama students a safe and secure way to buy and sell football tickets.
In the past a student wishing to purchase a football ticket from a classmate would take on risk when sending money electronically to a Venmo or Ca$shApp account and would wait to receive a ticket on their ACT Card. What if there were no ticket? Perhaps the "seller" is not a student at all? How does the buying party ensure they are not being scammed?
That's where "Student Seats" steps in.
With over 800 users on its site already "Student Seats" ensures everyone who is buying and selling football tickets are University of Alabama students, eliminating the fraud that occurs in other marketplaces such as the Alabama Student Ticket Exchange Facebook page.
Futhermore the buying party pays "Student Seats" for the ticket and alerts the company when they have received the ticket. "Student Seats" then releases the money to the seller, ensuring a safe and secure transaction for both parties.
Supported by the Alabama SGA and having won first place in the 2021 Edward K. Aldag Business Competition and the 2020 River Pitch Competition the pair are ready to hit the ground running for the new year.
"We used our prize money from Aldag, we bought a bunch of t-shirts. We got branded "Student Seats" t-shirts that we're going to hand out to the freshman on campus. They're in the process of moving right now. The first week of classes we're going to try to introduce ourselves to the freshman because they'll be here for four years," said Ritondo.
The Alabama Crimson Tide will likely host a full-capacity Bryant-Denny Stadium this fall and buying and selling football tickets will be essential for the student body as they are allowed to transfer tickets again.
Once the pair grow their brand in Tuscaloosa they ultimately plan on taking their concept to other college campuses.
"We are looking to expand in terms of other schools because I know that this is a problem. I've talked to friends in internships, even in Wisconsin they're having problems with student tickets, there's not enough seats and there's a high demand and it looks like this is a reoccurring problem even outside of the SEC so if we can get it right at the University of Alabama we can get it right anywhere," said Ritondo.
Students looking to buy and sell Alabama football tickets can sign up on the "Student Seats" website using their university email address. The pair plans on operating on a one-strike policy for scams or bungled transactions to ensure users safety and security.
Alabama Non Con Opponents
The 2021 Alabama Football Schedule in Photos
Meet The 2021 Alabama Offense
The 2021 Alabama offense only brings back three returning starters from the 2020 squad. Get ready for the new season by getting familiar with this year's Crimson Tide offense.
The Alabama Crimson Tide 2021 Defense
The Alabama Crimson Tide led the SEC in scoring defense in 2020 holding opponents to 19.4 points per game. The Tide is expected to be even stronger on defense this fall, returning several starters from last year and an impactful transfer.
The Crimson Tide in the Tokyo Olympics
The University of Alabama has produced many Olympic athletes over the years, and this Olympic cycle is no different. Here are the 20-plus current or former members of the Crimson Tide in the Tokyo Olympics.