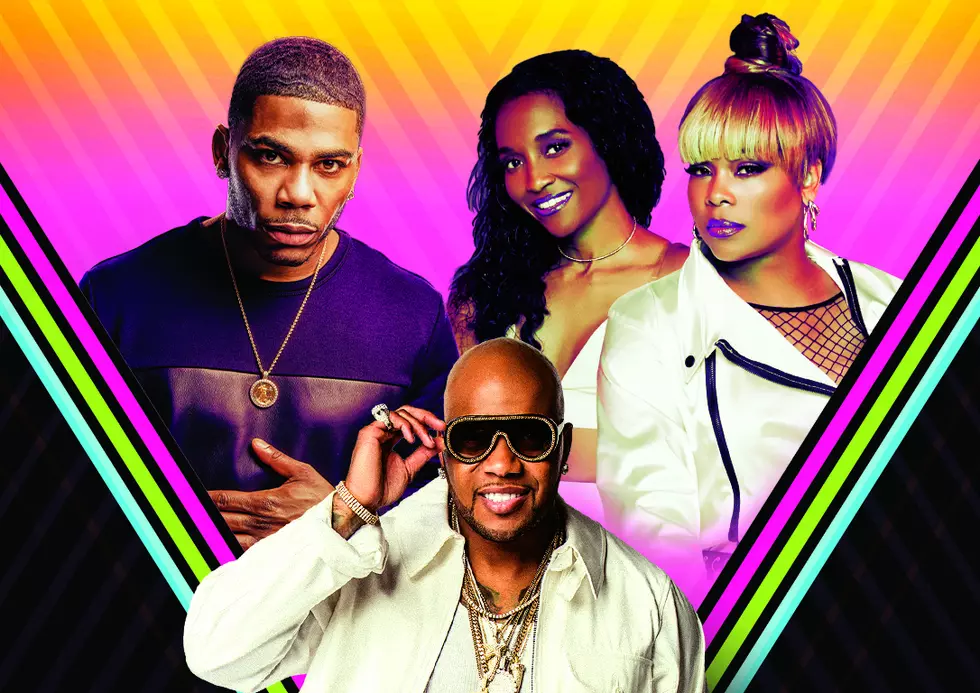 Vote for Backstage Pass Winners to Meet Nelly, TLC, and Flo-Rida
(Credit: Tuscaloosa Amphitheater)
WTUG is giving our listeners a chance to win backstage passes to meet Nelly, TLC, and Flo-Rida at their concert at the Tuscaloosa Amphitheater on Tuesday, July 23.
The following entries were submitted via the WTUG app.  Check them out and then vote for your favorite to win:
I am nominating myself to win backstage passes to see Nelly, TLC and the rest because I really deserve to be treated by others every now and then. I lost my dad two years ago and I lost my best friend, my mom, 4 months ago. I was her care giver for 5 years but that was my duty to her. So now, I am trying to get back in the swing of things and start back enjoying my life.
I've loved Nelly since the first day he came out. I really think it was a sign from above that he's having a concert here because I've been trying to get him down here since 2008 or before lol. I just have to meet him and touch him . It has always been on my bucket list to talk to this man . I just have to have Cornell he's been my screensaver , wallpaper and even my boyfriends contact photo lol hes destined to be MINE❤️
My name is Jade Mitchell. I am 17 years old. I would like to win backstage passes to TLC,Flo rida, and nelly concert. I've been a fan of these artists since I was born. I would love to see this concert, because it would be a good birthday present for me to enjoy and have a good time spending it with my love ones. My high school senior year starts in August. I'm trying to have the best time so I can prepare myself for college. I listen to 92.9 WTUG on a regular daily basis, because they play the best soul and r&b music that has a great legacy to it. I really hope I get to win these passes they would make my day including my family.
I have been a faithful WTUG listener all my life, and when it comes to TLC's motto "Crazy Sexy Cool,"  that is EXACTLY what people would use to describe me. I don't bother anybody.  I stay in my own lane and make things happen for my family.  I deserve this night out to have a good time and to let these artists meet THE REAL fan their music is made for. I LIVE the life they perform, too.
Please select me to attend Nelly and TLC concert. I should win just to get a night out to relax. I have have 7 children, 5 of which are adults with 2 still in school and one of which is on the autism spectrum and ADHD. He keeps me very busy with appointments between here and B'ham. I need a break!!
I'm sending this photo of myself because I'm coming to celebrate my birthday with Nelly, TLC, & Flo Rida!!
I'm nominating myself to win the backstage passes to see Nelly TLC and Flowrider because I am an avid fan of all three and plus July 23rd is my birthday that would be a wonderful gift!!!
The concert is on Aleshia's birthday!
Robert Pearson III: It's my wife. Her birthday is July 23rd and she will be attending the concert. I would love to win these for her.
Sharika Hurst: Aleshia Rice is my best friend. She and I will be attending the concert. And it's her birthday. This is an awesome birthday gift!!!!
Telissa Graham: This is a photo of my friend Aleshia Rice I am nominating her to win tickets to the Nelly concert for her birthday.
Lapresha Hall: Aleshia Rice is my friend of 9 years. I'm nominating her for the passes because she loves Nelly!!!! And her birthday is the day of the concert! Please choose her!
Anastashia Rice: I am nominating my sister Aleshia Rice. I think she deserves this because she always make sure her children have what they need and sometimes forgetting about herself. The concert is on get birthday.
Debbie Rice: Aleshia Rice is my daughter and the concert is on her birthday. I would for her to win these for a birthday gift.
Well not making a sad story but me and my wife lost our son a couple months ago and he battled cancer for 4 years and sadly we lost him. This would be so great for us.
I would love to meet and greet with some of the best artists I listened to growing up! I'm an all-around good person! I love helping people without looking for anything in return. I'm a very hard working man, I work with Special Education students, and it takes a special person to do this! I would appreciate if you voted for me!
Me been tha best mom I can possibly be to my one and only child.. been traveling tha world with her since she got old enough to say where she wanna go.
Remember, voting ends Sunday at midnight.  So, be sure to tell your family and friends!