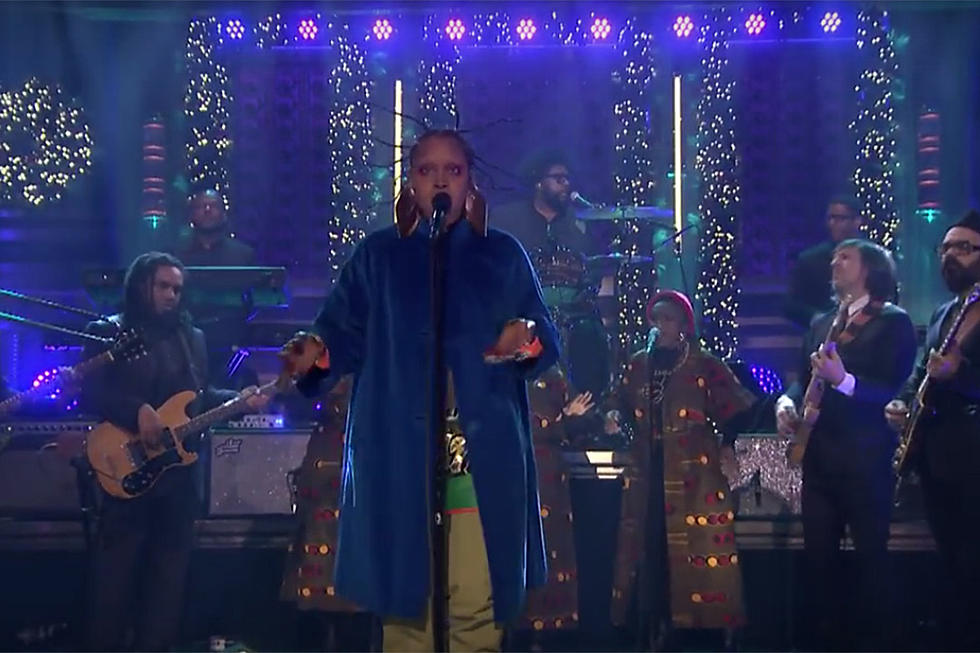 Watch Erykah Badu Perform 'On & On' and Fela Kuti's 'Sorrow Tears and Blood' on 'Tonight Show'
The Tonight Show Starring Jimmy Fallon via YouTube
Whenever Erykah Badu performs on TV, viewers know they're in for a treat, as was the case last night when she appeared on The Tonight Show Starring Jimmy Fallon.
Promoting her curated box sex of Fela Kuti's work, Fela Kuti Box Set #4, Badu performed a medley of her song "On & On" and Kuti's "Sorrow Tears and Blood." Back by the legendary Roots crew, Badu performed a smooth rendition of her hit song that seamlessly transitioned into Kuti's track, as a dancer performed behind her in what made for an electric visual appearance.
The Fela Kuti box set was made available on Dec. 15 in a limited 3,000-copy run. It includes Badu's "favorite Fela piece of all time" and comes with a booklet containing seven personal essays written by Badu, as well as never-before-published photos of Kuti. Each of the album's cover art has been meticulously recreated from the original album artwork, along with the vintage vinyl label design. In addition, the audio has been restored and remastered from the original Nigerian recordings.
"Fela Kuti is a F---ng Genius," said Badu in a statement. "Please listen to these tracks, preferably with a nice blunt...with a nice slow burn."
Check out Erykah Badu's performance above.
10 R&B Artists That Defined Hip-Hop Soul