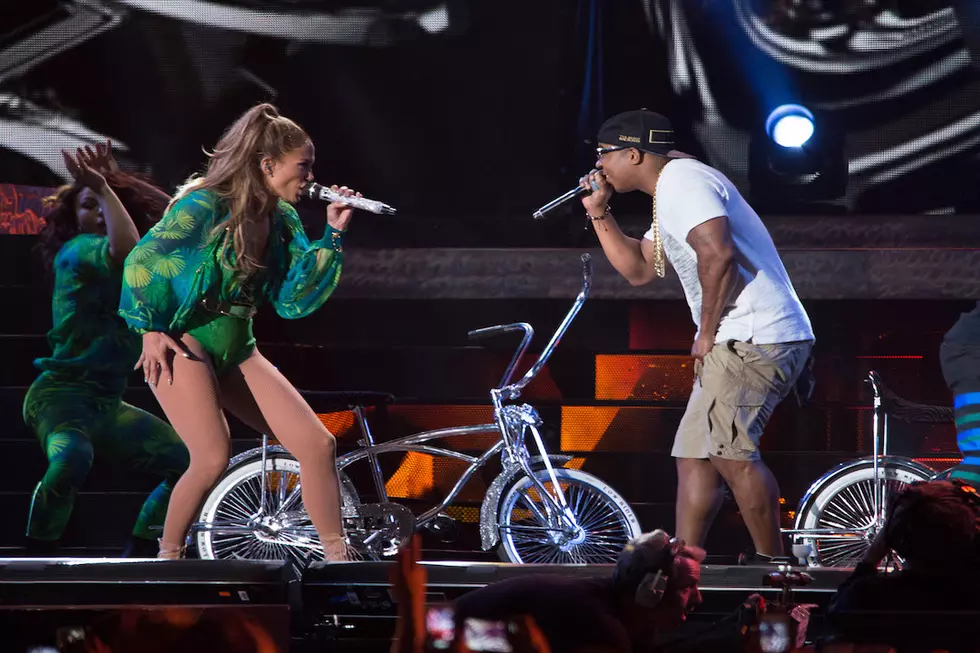 18 of The Best R&B/Rap Collabs For Your Spring Soundtrack
(Photo by Dave Kotinsky/Getty Images)
If the weather is any indication of what's to come, then spring is finally approaching. And with May just around the corner, we've been gearing up for the festivities ourselves by spinning a few classic rap songs that are known to set the tone for those breezy, yet sunny days where all you want to do is have fun and enjoy yourself.
The smell of flowers blooming, longer days, the sound of kids playing in the street, budding romances and spontaneous parties are upon us, which calls for a change of pace in the music we listen to day in and day out. While March 20. has come and gone, spring doesn't officially start it until you hear your favorite songs playing from a radio near you, particularly those of the breezy, feel-good variety. No songs better fit the script for Spring quite like the songs that marry the genres of hip-hop and R&B.
With that in mind, The Boombox has picked out 18 classic R&B and Rap collabs to get us out of a winter state of mind and that signal spring has arrived.
1

"Be Happy"

R. Kelly featuring The Notorious B.I.G.

Two of the hottest stars in hip-hop and R&B during the '90s joined forces when The Notorious B.I.G. and R. Kelly teamed up for "(You To Be) Be Happy," from the latter's 1995 self-titled release. Despite not being released as a single, "You To Be (Be Happy)" would become one of the more popular cuts from the album and remains a breezy number for the warmer months of the year.

2

"Anything"

SWV featuring Wu-Tang Clan

After the Wu-Tang Clan bumrushed the rap scene with their 1993 debut, Enter the Wu-Tang (36 Chambers), the group would lend their talents to a myriad of R&B singles and remixes, one of the most notable being the "Anything (Remix)."  The remix for one of SWV's most distinguished songs appeared on the soundtrack for the film Above The Rim. The collab is considered a classic, and the perfect song to spark a spring fling.

3

"Loungin (Remix)"

LL Cool J featuring Total

Released in June 1996, "Loungin (Remix)" would end Spring on a high note and set the Summer on fire, peaking at No. 3 on the Billboard Hot 100 and earning platinum certification. LL Cool J continued his streak of high-powered R&B collaborations by recruiting Bad Boy trio Total to ride shotgun on the hook. "Loungin (Remix)" added to Uncle L's list of hits and is a quintessential jam.

4

"I Wanna Be Down (Remix)"

Brandy featuring MC Lyte, YoYo & Queen Latifah

Coming out of the gate strong with her multi-platinum self-titled debut LP, Brandy Norwood would end 1994 as one of the biggest acts in r&b. The following year, the young star would link with rap stars MC Lyte, YoYo & Queen Latifah on the remix to her hit single "I Wanna Be Down," a track that would showcase a solidarity between women in hip-hop and indicative of Brandy's own love for the culture.

5

"Honey"

Mariah Carey featuring Ma$e & The L.O.X.

After separating with her estranged husband, music executive Tommy Mottola, Mariah Carey's image and music took a change of pace."Honey," the lead single to her 1997 album Butterfly. The original would debut atop the Billboard's Hot 100 chart and be the most successful single from the album, but Carey would up the ante up with a Bad Boy remix of the song, featuring The L.O.X. and Ma$e.

6

"Get Me Home"

Foxy Brown featuring Blackstreet

After a standout performance on LL Cool J's "I Shot Ya (Remix)" and other guest spots in 1996, Foxy Brown would unleash her debut album, Ill Na Na, which would mint her as one of rap's leading ladies. "Get Me Home," the album's lead-single, would pair the Brooklyn diva with R&B group Blackstreet and score her first hit as a lead artist, peaking at No. 42 on the Billboard Hot 100.

7

"I'm Real (Remix)"

Jennifer Lopez featuring Ja Rule

The Bronx and Queens connected in a big way when Jennifer Lopez and Ja Rule collaborated for "I'm Real (Murder Remix)" in 2001, a song that would be the first of numerous collaborations between the two New Yorkers. Peaking atop the Billboard Hot 100 for five non-consecutive weeks, "I'm Real (Murder Remix)" would mark Lopez's transition into a more hip-hop friendly style and go down as one of the premiere collabs of its era.

8

"Day & Night"

ISYSS featuring Jadakiss

R&B group ISYSS' run on the charts may have been a short one, but remains memorable thanks to their 2002 debut single "Day & Night," from their 2002 debut album, The Way We Do. Featuring a guest verse from Jadakiss, "Day & Night" would be a modest hit, but has since gained traction as an obscure bop that is perfect for a spring fling or summer romance.

9

"The Things That You Do (Bad Boy Remix)"

Gina Thompson featuring Missy Elliott

Gina Thompson's 1996 single "The Things That You Do (Bad Boy Remix)" would give the singer a home-run out of the gate, peaking at No. 41 on the Billboard Hot 100. The remix, which paired Thompson with Puff Daddy and Missy Elliott, would push her debut album, Nobody Does It Better, past the platinum mark and is her most successful song to date.

10

"Best Of Me (Remix)"

Mya featuring JAY-Z

At the height of his reign, JAY-Z threw R&B singer Mya an alley-oop in the form of a pair of verses on the remix to her 2000 single "Best Of Me." The song appeared on the soundtrack to the concert film Backstage that also starred the Brooklyn rapper, and the music video helped bring back Carolina Blue and jump-start the jersey-dress trend. "Best Of Me (Remix)" would be a defining moment in both Mya and Hov's careers.

11

"Feels So Good"

Remy Ma featuring Ne-Yo

Prior to serving a 10-year prison sentence, Remy Ma was fresh off the release of her debut album There's Something About Remy, which housed the Ne-Yo assisted single "Feels So Good." Peaking at No. 20 on the Hot R&B/Hip-Hop Songs chart, "Feels So Good" would be a sleeper-hit upon its release, but has since become a signature selection in the Bronx native's discography.

12

"Trade It All"

Fabolous featuring Jagged Edge & P. Diddy

A craftsman when it comes to performing alongside R&B acts, Fabolous outdid himself with the remix to "Trade It All," featuring So So Def quarter Jagged Edge and P. Diddy. Released in support of the soundtrack to the 2002 comedy Barbershop, "Trade It All, Pt. 2" was tailor-made for the spring and warmer months of the year and helped establish Fab as one of rap's favorite loverboys.

13

"You Remind Me"

Mary J. Blige featuring Greg Nice

Mary J. Blige's collection of hits is extensive, but one that stands among her most endearing is "You Remind Me," the legend's first Top 40 hit. Featuring an appearance from Nice & Smooth member Greg Nice, "You Remind Me," which first appeared on the Strictly Business soundtrack, is an upbeat offering that is perfect to blast on a spring afternoon.

14

"Still Not A Player"

Big Pun featuring Joe

Puerto Rican emcee and Bronx bomber Big Pun made a lasting impression with "Still Not A Player," the 1998 single from his debut album, Capital Punishment. Featuring R&B crooner Joe, "Still Not A Player" would peak at No. 24 on the Hot 100, becoming Pun's most successful single to date and one that is synonymous with having a good time.

15

"Love Me"

112 featuring Ma$e

After the platinum success of their self-titled debut, 112 returned with their sophomore effort, Room 112, which was led by the single "Love Me." Featuring a guest appearance from Ma$e, "Love Me," which sampled "Don't You Know That?" by Luther Vandross, would peak at No. 17 on the Billboard Hot 100 and earn a gold certification.

16

"No Diggity"

Blackstreet featuring Dr. Dre & Queen Pen

In addition to ending "Macarena"'s 14-week reign atop the Billboard charts, R&B group Blackstreet's 1996 single "No Diggity" would become their most successful hit to date and a pop culture staple. The lead single from their second studio album, Another Level, "No Diggity" is a certified party starter two decades later, and a worthy addition to your spring playlist.

17

"How's It Goin' Down"

DMX featuring Faith Evans

DMX's 1998 debut may have helped bring the grittiness back to rap, but one song from the album, "How's It Goin' Down," would put the dog's more tender side on display. Featuring Faith Evans on the hook, "How's It Goin Down" would give DMX favor with the ladies and be one of the go-to selections for the spring of 1998, which remains true to this day.

18

"If I Ruled The World (Imagine That)"

Nas featuring Lauryn Hill

Reaching critical success with his ballyhooed debut, Illmatic, Nas' mainstream aspirations would be attained with his sophomore release, It Was Written," which included the smash single "If I Ruled The World (Imagine That)." Peaking at No. 53 on the Billboard Hot 100, the Lauryn Hill-assisted single has an upbeat, feel-good energy about it that helps it translate two decades after the fact, making it a quality jam for the warmer months of the year.