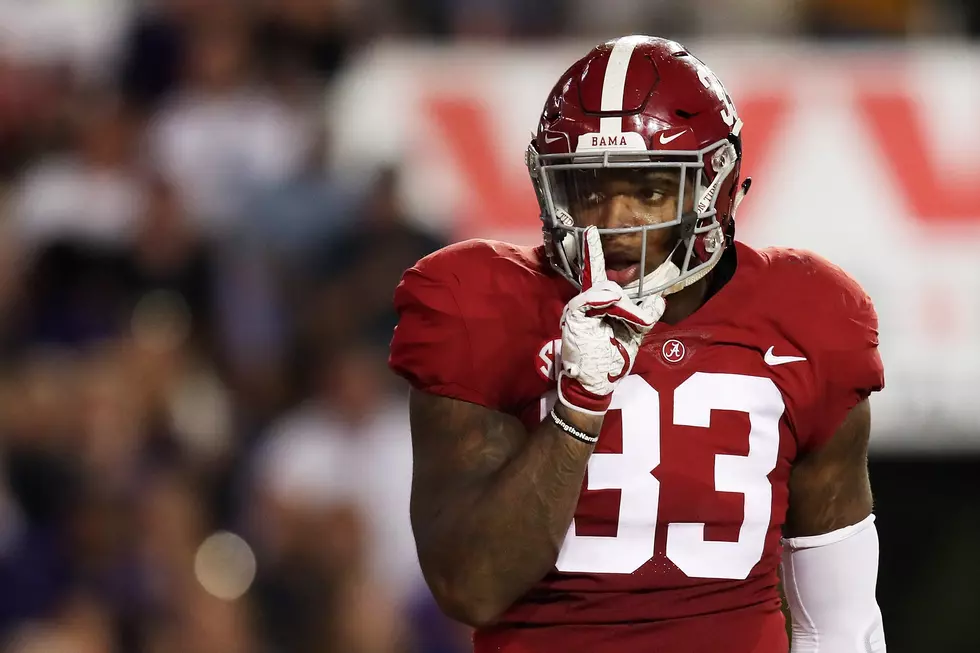 33 Days Away from Bama Kickoff: Anfernee Jennings
Getty Images
Each day counting down to Alabama's Week 1 matchup with Utah State, I will highlight one former player whose jersey number coincides with the amount of days until the game. The Tide takes the field in just 33 days, so let's look at former Bama linebacker Anfernee Jennings. 
Anfernee Jennings was a fierce pass rusher for the Crimson Tide from 2015-19 and helped lead several defensive units that ranked among some of the nation's best.
Hailing from Dadeville, AL, Jennings joined the Tide as a four-star prospect and the seventh ranked player in the state, per 247Sports. He redshirted in his first season, but saw time in all 15 games in 2016, finishing the year with 19 tackles, two of which came for a loss.
As a sophomore in 2017, Jennings took over as a starter and put together an excellent season before it came to an early end during the Tide's playoff run. Through 13 matchups, the bulldozing linebacker compiled 41 tackles, 6.0 TFL's and 1.0 sack, but suffered a torn ACL against Clemson in Alabama's semifinal faceoff.
Jennings recovered in time for his junior season and the Dadeville native continued to dominate opposing offenses. He finished the year with another impressive stat line, logging 51 tackles, 13.0 TFL's and 5.5 sacks, but the Tide came up short in the championship game against Clemson, losing 44-16.
The veteran linebacker returned for his senior year in 2019 and put together his best season yet. Jennings compiled 83 tackles, 12.5 TFL's and 8.0 sacks, but again Alabama came up short, dropping two important matchups in the regular season and missing out on the College Football Playoff.
After entering the 2020 NFL Draft, Jennings was selected in the third round by the New England Patriots. As a rookie, the former Bama star saw time in 14 games, earning four starts, and finished with 20 tackles and one quarterback pressure.
Though he looked primed for a larger role in his second season, Jennings missed the entire year after suffering an undisclosed injury.
Now, in year three, he is finally healthy again and looks primed once more for a breakout season.
Stay locked in to Tide1009.com for the countdown to Alabama football. Check out the rest of the list here.
Iconic Photos From Alabama's 18 National Championships
Claimed or recognized, no FBS football program has more national championships than the Tide. Look back on all 18 titles in Alabama history with these photos.
Highest Rated Recruits of the Saban Era By Year
Check out Alabama's highest-rated recruit from each Crimson Tide recruiting class during the Nick Saban era.