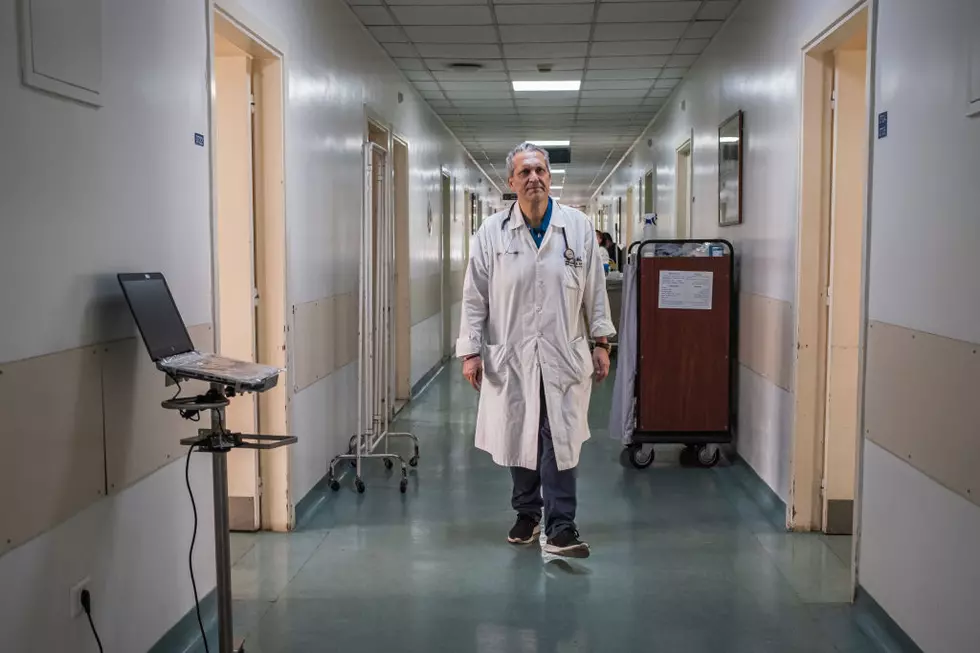 A Tuscaloosa Doctor Saved My Life And Could Save Yours
Getty Images
DO YOU WANT TO LIVE?
I will never forget that Tuscaloosa, Alabama doctor's words as she physically pulled me down the hospital hallway.
I had just been told that I was positive for Covid 19, the Omicron Variant.
I knew something was wrong because I had never experienced anything that came close to how sick I had been for 3-4 days.
I'm not sure where I was exposed to Covid, but that didn't matter. I was getting worse every hour of every day. It's at that point that you begin to get pretty frightened.
WAS I GONNA SURVIVE COVID?
When the pandemic began, it seemed like friends or coworkers didn't know many folks that had tested positive. However, that all changed in the last year as it began to feel like everyone had the disease.
So many friends, acquaintances, or co-workers were dying from Covid-19. Many of them are far too young to be gone so soon. Now, I was in the hospital and I was terrified.
Would I die in this hospital?
All positive testing people pushed into a tiny room not much bigger than a walk-in closet with other ill Covid patients. Suddenly, the door swung open, and a doctor said," are you, DC?"
I immediately said yes, but instantly felt nervous about why I was singled out of the group. The doctor said, "come with me." We enter what looked like an X-ray room not meant for Covid care.
DO YOU WANT TO LIVE?
That's when she asked me that. The doctor informed me that if I qualified, she would prescribe a Monoclonal Antibody Infusion treatment. An hour later, I was being given this Antibody infusion through my IV.
I'm ABSOLUTELY certain (and so is my doctor) that saved my life. Twenty-four hours later, I could feel a significant difference in my battle with Covid-19. Most importantly, I could breathe again normally. 
Monoclonal antibody infusion treatment is a way of treating COVID-19. The goal of this therapy is to help prevent hospitalizations, reduce viral loads and lessen symptom severity. These specific antibodies interfere with the virus's ability to attach and gain entry into human cells.
LIFE SAVING TREATMENT IN TUSCALOOSA?
Andy North, VP of Communication for DCH Health System, said, "It used to be when it was first introduced that you had to be 55 years or older and not on oxygen or in the hospital. Now, there are only two conditions. You are already positive for Covid within ten days and have not been admitted to a hospital. The other is you are 12 years or older and at least 88 pounds. Mr. North recommended talking to your doctor, and all local physicians are aware of the therapy and actively refer patients for treatment.
Preventing COVID-19 from making people extraordinarily sick or putting them in the hospital as health care providers across Alabama are stretched to capacity is extremely important.
Some preliminary research shows the treatment reduces the risk for hospitalization or death by about 70%.
Many Alabama physicians believe monoclonal antibodies are "underutilized" and that the drug can reduce the risk of hospitalization AND death from COVID-19 by 70% to 85%!
As Covid 19 continues to be a factor in all of our lives, we need to be aware of any available tools in the battle vs. Covid.
Monoclonal Antibody Infusion therapy offers a weapon for many fighting for their lives.
READ ON: See the States Where People Live the Longest
Read on to learn the average life expectancy in each state.
Answers to 25 common COVID-19 vaccine questions
Vaccinations for COVID-19 began being administered in the U.S. on Dec. 14, 2020. The quick rollout came a little more than a year after the virus was first identified in November 2019. The impressive speed with which vaccines were developed has also left a lot of people with a lot of questions. The questions range from the practical—how will I get vaccinated?—to the scientific—how do these vaccines even work?
Keep reading to discover answers to 25 common COVID-19 vaccine questions.
LOOK: How Halloween has changed in the past 100 years
Stacker
compiled a list of ways that Halloween has changed over the last 100 years, from how we celebrate it on the day to the costumes we wear trick-or-treating. We've included events, inventions, and trends that changed the ways that Halloween was celebrated over time. Many of these traditions were phased out over time. But just like fake blood in a carpet, every bit of Halloween's history left an impression we can see traces of today.