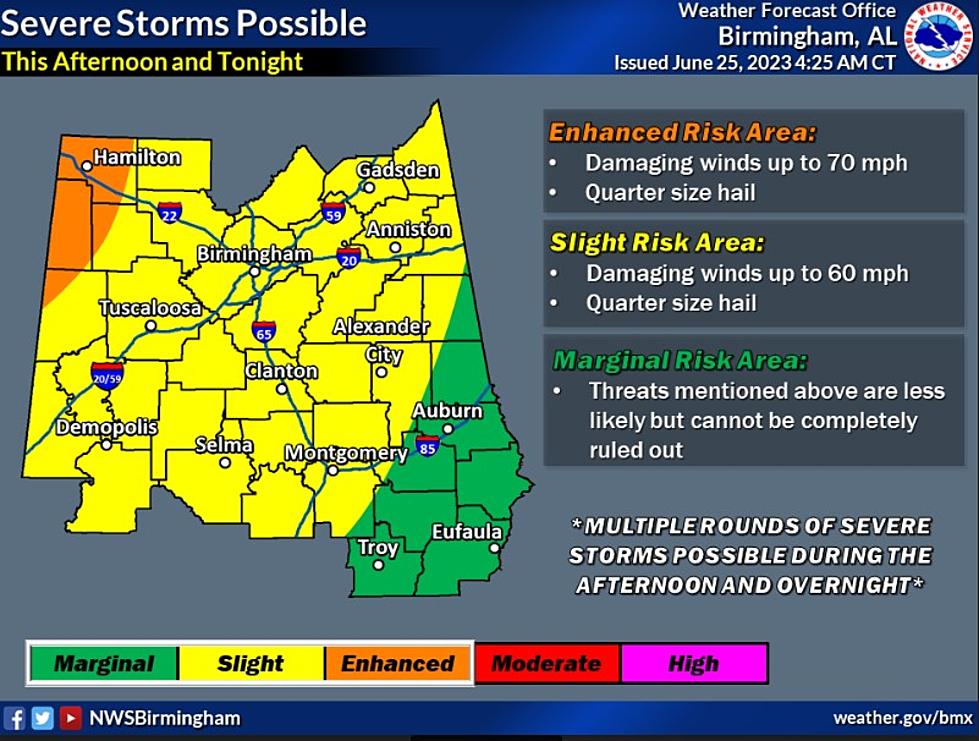 Alabamians Can Expect Several Waves of Severe Weather on Sunday
National Weather Service
Weather Alert:
Severe Thunderstorm Warning [thunderstorm damage threat: CONSIDERABLE, wind: 70 MPH (RADAR INDICATED), hail: 0.75 IN (RADAR INDICATED)] for Lamar, Marion [AL] till 10:00 PM CDT
Severe Thunderstorm Watch for Autauga, Barbour, Bibb, Blount, Dallas, Fayette, Greene, Hale, Jefferson, Lamar, Lowndes, Marengo, Marion, Perry, Pickens, Pike, Sumter, Tuscaloosa, Walker, Winston [AL] till Jun 26, 3:00 AM CDT T
Expired
Heat Advisory for Fayette, Greene, Hale, Lamar, Marengo, Marion, Pickens, Sumter, Tuscaloosa, Walker, Winston [AL] till 9:00 PM CDT Counties added in at 3:00 p.m. Bibb, Dallas, Lowndes, Montgomery, and Perry.
* WHAT...HEAT INDEX VALUES UP TO 107.
* WHERE...WESTERN PORTIONS OF CENTRAL ALABAMA.
* WHEN...UNTIL 9 PM CDT THIS EVENING.
* IMPACTS...HOT TEMPERATURES AND HIGH HUMIDITY MAY CAUSE HEAT
ILLNESSES TO OCCUR.
PRECAUTIONARY AND PREPAREDNESS ACTIONS FROM THE NATIONAL WEATHER SERVICE IN BIRMINGHAM.
DRINK PLENTY OF FLUIDS, STAY IN AN AIR-CONDITIONED ROOM, STAY OUT
OF THE SUN, AND CHECK UP ON RELATIVES AND NEIGHBORS.
YOUNG CHILDREN AND PETS SHOULD NEVER BE LEFT UNATTENDED IN VEHICLES UNDER ANY CIRCUMSTANCES.
TAKE EXTRA PRECAUTIONS IF YOU WORK OR SPEND TIME OUTSIDE.
WHEN POSSIBLE RESCHEDULE STRENUOUS ACTIVITIES TO EARLY MORNING OR EVENING.
KNOW THE SIGNS AND SYMPTOMS OF HEAT EXHAUSTION AND HEAT
STROKE.
WEAR LIGHTWEIGHT AND LOOSE FITTING CLOTHING WHEN POSSIBLE.
TO REDUCE RISK DURING OUTDOOR WORK, THE OCCUPATIONAL
SAFETY AND HEALTH ADMINISTRATION RECOMMENDS SCHEDULING FREQUENT REST BREAKS IN SHADED OR AIR CONDITIONED ENVIRONMENTS.
ANYONE OVERCOME BY HEAT SHOULD BE MOVED TO A COOL AND SHADED LOCATION.
HEAT STROKE IS AN EMERGENCY! CALL 9 1 1
Almost all of Alabama is facing some type of risk level for severe weather today. We are closely monitoring the potential for multiple rounds in our area.
Please be mindful of the temperature as well. The National Weather Service in Birmingham said that "there is potential for heat index values this afternoon to reach 100-105F, especially in western counties."
Risk Levels and Areas
The Storm Prediction Center has an "enhanced risk" which is level 3 or 5 for the northwest corner of the state which includes portions of the Townsquare Media coverage area like portions of Pickens and Fayette counties and all of Lamar county.
Also, there is a "slight risk" for a good portion of Alabama including counties in the coverage area which include portions of Fayette and Pickens as well as all of Bibb, Greene, Hale, Perry, Sumter, Tuscaloosa, and Walker counties.
Timing
James Spann, ABC 33/40, and Townsquare Media Tuscaloosa Chief Meteorologist said that "the first batch of storms could arrive as early as midday, but just know a passing storm is possible at any hour through late tonight."
Possible Threats
Stay weather aware today during the multiple waves of severe weather. The main concern is damaging winds that could reach between 60 mph to 70 mph. Also, watch out for the potential for quarter-size hail and locally heavy rainfall.
Severe Wind Outlook
The Townsquare Media coverage area has between a 15% to 44% chance of severe winds within 25 miles of a point.
Severe Hail Outlook
There is a 15% to 29% chance for severe hail within 25 miles of a point in the Townsquare Media coverage area.
(Source) Click here to follow the Facebook Page for James Spann. Click here for more insight from the National Weather Service in Birmingham.
Heat-Related Weather Terminology
Hot Weather Safety Tips
Severe Weather Terminology You Should Know
Ways to Receive Severe Weather Information