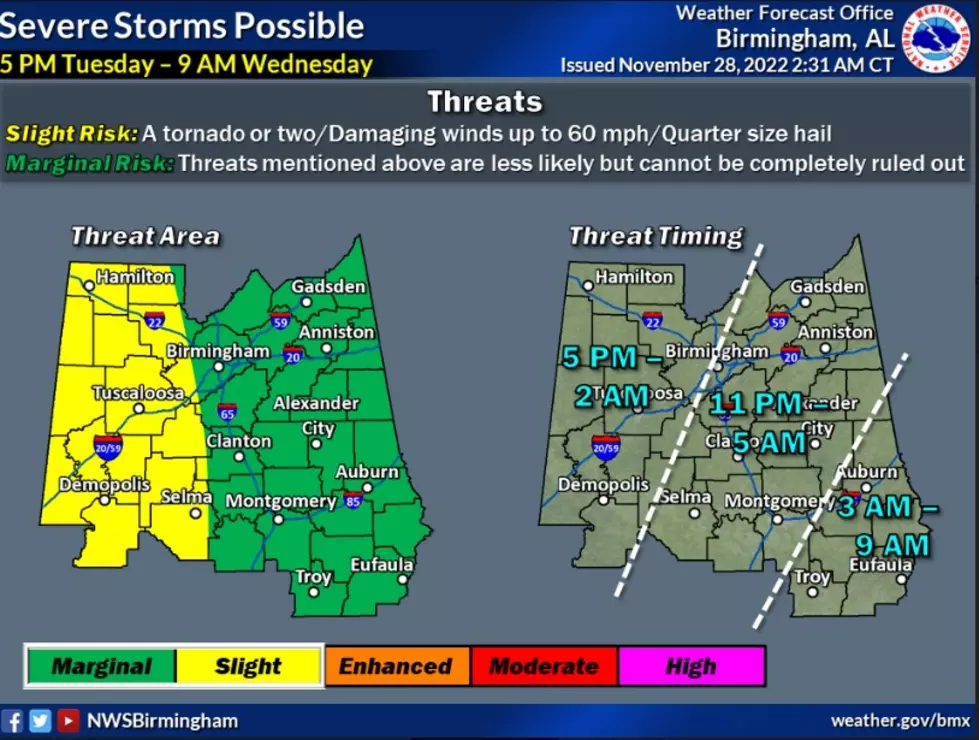 Be Prepared: Possible Severe Weather, Tornadoes, Hail in Alabama
National Weather Service
All of our attention has been placed on a possible severe weather scenario Tuesday evening into Wednesday morning. This is somewhat concerning because due to the timing of the event. As of right now the potential height of the system is when typically when people might be sleeping. So, be prepared.
Now is a good time to make sure you have access to weather alerts like our free app and that WEA (Wireless Emergency Alerts) is enabled on your phone. Also, be sure you have turned off the sleep mode silencer on your phone.
I like to always stress that weather information can and will change based on conditions as this system moves closer to Alabama. We will post any new information or adjustments to the predictions of this probable severe weather threat.
The National Weather Service in Birmingham said that "a period of unstable weather will unfold across Central Alabama Tuesday evening through Wednesday morning as a cold front passes through the region. Storms will encounter a less unstable air mass as they move from Mississippi into Central Alabama, but conditions will still be supportive for a few severe storms with the threat decreasing with eastward extent."
TIMING
James Spann, ABC 33/40, and Townsquare Media Tuscaloosa Chief Meteorologist said that "a few severe storms are possible across far West Alabama as early as 5-8 p.m. tomorrow, but the core threat for the western counties of the state will come from 8 p.m. until 2 a.m. The severe weather threat will shift into East and Southeast Alabama during the pre-dawn hours Wednesday."
THREATS
"Storms over West Alabama tomorrow night will be capable of producing large hail, damaging wind, and a few tornadoes. The threat for East Alabama is primarily from strong thunderstorm warnings," said Spann.
Also, there is the chance of outside of the thunderstorms the possibility of wind gusts up to 40 miles per hour. In addition to pressure, gradients wind up to 25 miles per hour.
(Source) For more from the National Weather Service Birmingham, click here. Click here to follow the Facebook Page for James Spann.
Severe Weather Terminology You Should Know
Ways to Receive Severe Weather Information