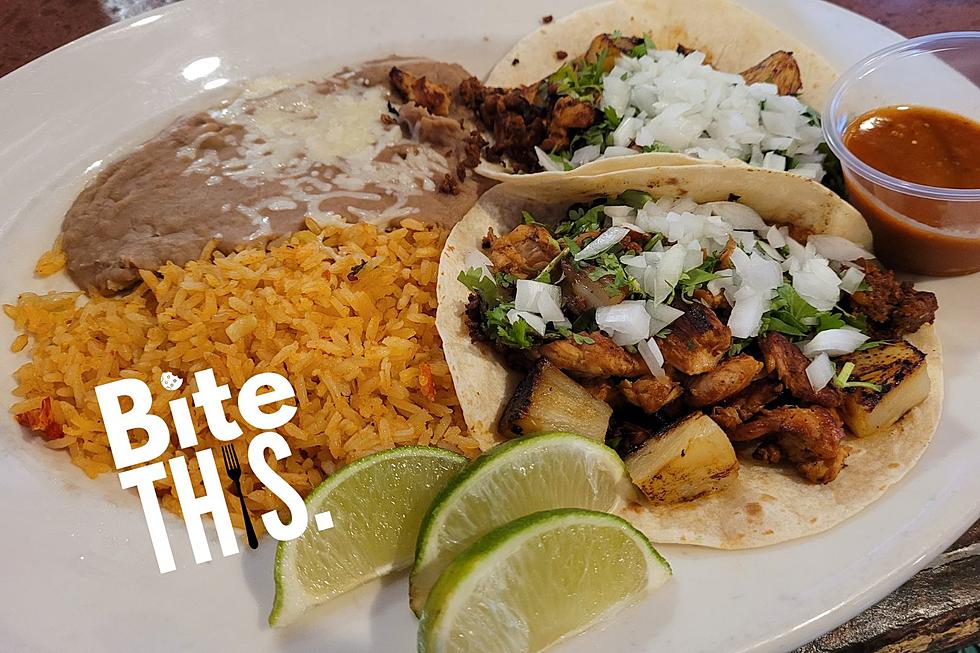 Bite This! Taste Buds Test Out New Los Tarascos Menu Item
Mary K, Townsquare Media | Canva
Earlier this month, we headed over to Los Tarascos for a lunch meeting with my radio buddies DC and DreDay.
My go-to meal is either Shrimp or Shredded Beef Quesadilla Tarasca dinner or Tacos Mexicanos. To my surprise, there were new menu items. So, of course, Bite This! had to test one out.
I opted for the "Gringos Tacos" which were two soft shells that featured Grilled Chicken, Chorizo, and Grilled Pineapple. It was also topped with fresh diced onion and cilantro. It was served with rice, beans, and salsa picosa.
We all did get a good chuckle over the use of "Gringo" which means an American person who is not Hispanic or Latino.
PRO TIP:
DC gave me a tip on how to take your table salsa to another level. Ask for a side of lime wedges and give a good squeeze to a couple in your salsa. It was Magnifico (Magnificent)!
As our meals arrived, the waiter told me my "new" dish got a complete photo shoot.
Taste:
I'll be honest, I was definitely interested in how the combination of the chicken, chorizo, and pineapples would work out. The robust flavor profile of the chorizo pair wonderfully with the chicken and the grilled pineapple was a flavor pop.
A great way to describe the "Gringo Tacos" is a great balance of savory and spicy with a dash of sweetness from the pineapple.
Texture:
The "Gringos Tacos" had a hearty filling feeling but didn't leave you heavy. The texture of the meats worked well together.
Value:
The meal was $13.25 and I consider that comparable to other dishes on the menu.
Overall:
You can expect a great and tasty experience with this brand-new Los Tarascos menu item.  I would for sure get this again and again.
Fue Una Excelente Comida Y Super Compañía
Translation: It was an excellent meal and super company. My Spanish teacher would be secretly proud but she would know that I used an online English-to-Spanish translator.
Los Tarascos Locations
Los Tarascos on Hwy 43 (Northport)
4100 Owen Pkwy, Northport, Alabama 35473
Los Tarascos on Skyland (Tuscaloosa)
110 Skyland Boulevard, Tuscaloosa, Alabama 35405
Most popular grocery stores in America
LOOK: Food and Personal Care Shortages We Could See In 2023
Learn about the 13 potential shortages that could impact stores in 2023, from produce and meat to snacks and beverages.
From coast to coast: The 20 best regional fast-food chains to try
From burgers to subs and even creamy milkshakes, these tasty fast-food chains, compiled by
Stacker
, are a must-try on your next road trip.
50 Most Popular Chain Restaurants in America
YouGov investigated the most popular dining brands in the country, and Stacker compiled the list to give readers context on the findings. Read on to look through America's vast and divergent variety of restaurants—maybe you'll even find a favorite or two.