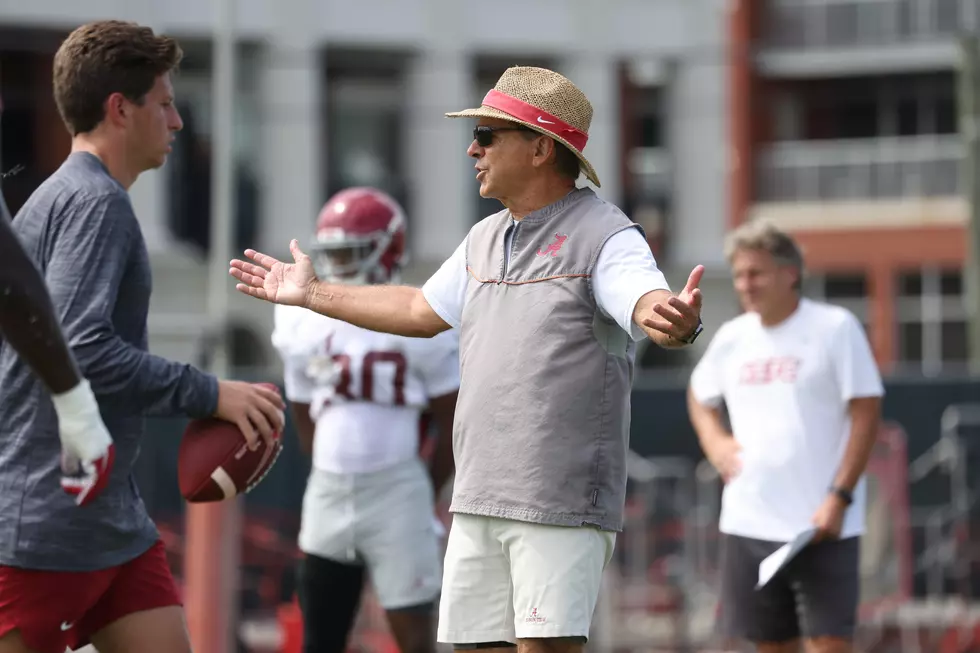 Coach Saban Gets Blasted For His Postgame Interview On CBS
Crimson Tide Photos / UA Athletics
Haven't we been down this road once before?
Or maybe ten times before?
A microphone is stuck in Coach Nick Saban's face and he jumps down the reporters throat.
He even apologized once after being rough on a reporter in a postgame interview during the early days of Tua Tagovailoa, if I remember correctly.
Now, Sports Illustrated has posted a piece on the postgame interview with Jenny Dell from CBS.
Yes, he jumped the gun and didn't hear the full question, because he was prepared for all the Bryce Young questions.
Jenny asked about the bigger story, the team.
Coach Saban wanted to spend a little time enjoying the way his team had just beaten Arkansas on the road.
He wanted to talk about Jahmyr Gibbs running for over 200 yards on Saturday.
He just ASSUMED that the questions would ignore all of that and go straight to Bryce Young.
Jenny Dell wasn't supposed to ask about the team but she did.
Coach Saban was not ready for that. I took it a little differently than the critics.
We all know Coach Saban is going to be a bit "salty" this week with Jimbo Fisher coming to Tuscaloosa.
He is tired of going over this story over and over.
He's gonna get asked 1000 times about his relationship with Jimbo and all of Jimbo's comments.
In this case, I think he wanted to take a few hours and enjoy the WIN!
He didn't want to jump to the next game right after this one.
Nick Saban actually wanted to savor the moment. He just didn't expect that the CBS reporter was actually going to let him.
We all make mistakes.
Crimson Tide's NFL Draft First-Rounders During Saban's Tenure
Take a look back on the Crimson Tide's first round selections under head coach Nick Saban.
Here's Why Every SEC Team is Inferior to Alabama
Starting Alabama Quarterbacks Under Nick Saban
Here is every quarterback that has started for the Crimson Tide under Nick Saban.