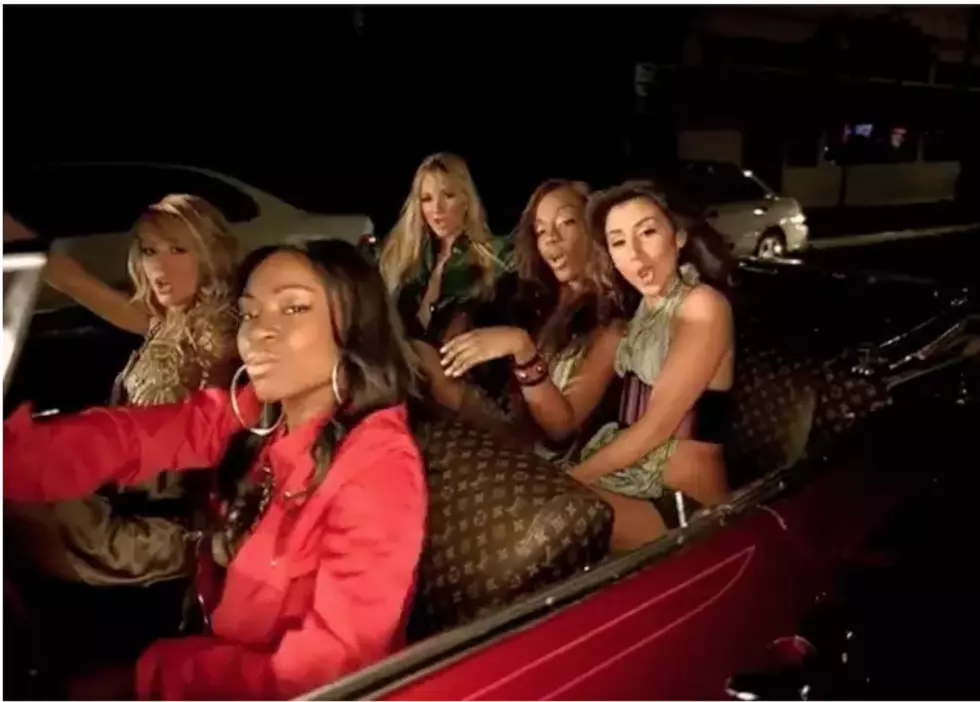 Danity Kane – 'Show Stopper' Featuring Yung Joc: Throwback Video of the Day
YouTube
Danity Kane, the Making the Band season three-made R&B group consisting of Dawn Richard, Aubrey O'Day, Wanita "D. Woods" Woodgett, Shannon Bex, and Aundrea Fimbres, had just dropped their self-titled debut album, and its single "Show Stopper" featuring Bad Boy Records labelmate Yung Joc, had peaked at No. 2 in the iTunes Music Store just two days after its release.
The song's music video, directed by Jesse Terrero, saw the girls riding through the LA streets late at night, looking as though they'd just come from a seedy nightclub. With lyrics like "Slow creepin', cause we look that fly. All the boys' tryin' taste our candy ride," it's hard to decipher whether the song is about self-objectification, or about cars – as vehicles are referenced throughout the track. But regardless, the group had arrived. The aesthetics were dated. They were a turn-key solution to classic, soulful groups like SWV, or the newer Destiny's Child. But it wasn't so much about them as a group, then it was about their journey to stardom.
"This is a historic moment for Bad Boy Records." Bad Boy's Sean "Diddy" Combs said in a press release about his girl group. "These are five hugely talented women, and they worked amazingly hard to make their dream come true. I want to thank all our friends at MTV for their great support in helping us make the band. Danity Kane is the real deal. I knew it from the beginning, the fans knew it from the beginning, and now the whole industry knows it. The people have spoken." That same release, filled with overzealous quotes from his industry peers, was riddled with eye-rolling keywords but said a lot about pop culture, and the viewer's obsession with assembling reality.
The release featured an oddly-placed quote from a music buyer, that laid out the process to running a well-oiled pop machine "The formula works like this: Diddy, Bad Boy Records, talented and beautiful artists, and the marketing strategy; It's the culmination of many factors, and Danity Kane actually brings back the excitement of what the music business is all about — Artist Development!" It was as though the music business had become filled with pop scientists in lab coats, and the world couldn't get enough.
Danity Kane's fame materialized at a time when social media was still a mysterious phenomenon. But reality TV, on the other hand, was having a moment, and Diddy was cashing in on the success of the "Making the Band" series after taking over the series from Lou Pearlman who created the group O-Town after season one. "All of us are developing [a thick skin] so quickly because we've been forced to live out all of these insecurities in front of millions of people every week, and that's not an easy thing to do," O'Day said in an interview with Allhiphop.com "It's not easy when you're alone crying in your bed at night by yourself, [laughs] it's definitely not easy when you have mass media."
While they were manufactured, in every sense of the word, they did represent the American dream, which was, at least in their eyes, a place where women of all races, classes and background who could co-exist and even feel empowered in their decisions. "We're a group, that's number one," Richard said. "We're interracial and we're trying to be international, so that's another great thing to look forward to. It's very fresh and new because even though Destiny's Child was out and the Pussycat Dolls and all of those girls were out, it hasn't been this diverse look of different color and different sound. Then, of course, the fact that we have the five girls that sing lead. It's automatic." Danity Kane was more than a guilty pleasure; they were a modern-day fairy-tale. And "Show Stopper" was their Cinderella moment.
See 20 Rappers' & Singers' Yearbook Photos You Won't Believe