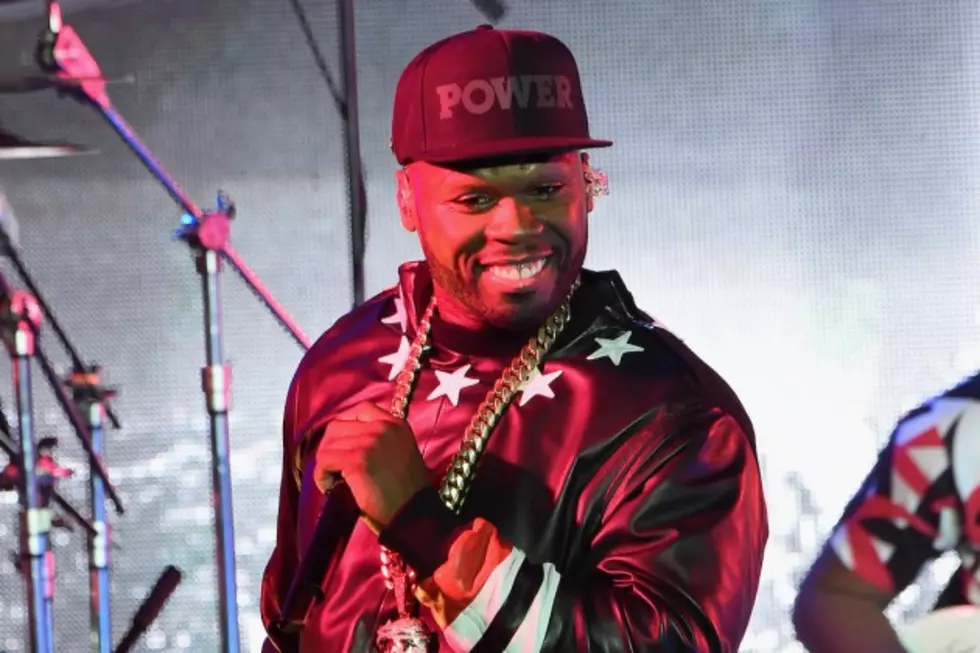 Jamie McCarthy, Getty Images
Today (July 6) is the birthday of one of hip-hop's most dominant forces and a major example of a self-made man. That person is Curtis Jackson, better known as 50 Cent.
The most highly hyped-up rappers these days with a massive fanbase include Young Thug, Travi$ Scott and Fetty Wap. However, you can combine the anticipation for each of their debut projects and that still wouldn't match how crazy the hype was for 50 Cent's major label album.
After coming up in poverty in New York's Jamaica, Queens, Fif's popularity began to grow thanks to audacious tracks like "How to Rob," which detailed how he would rob some of hip-hop's biggest names (Jay Z, Lil' Kim and DMX, to name a few). Then there was "Ghetto Qu'ran," which found him naming a few Queens drug dealers and possibly one of the reasons 50 Cent was shot nine times and Jam Master Jay (his mentor) was killed.
However, 50 Cent's shooting — in which he suffered nine bullet wounds — only pushed him into mythical figure territory. The hype just grew, and in 2002, he signed with Interscope Records to make a genuinely fearsome triumvirate: Dr. Dre, Eminem and himself.
They proceeded as such, destroying Ja Rule and Murder Inc, running the charts and starting a gangsta rap takeover with G-Unit. There was also Get Rich or Die Tryin', one of the most successful hip-hop debuts in history. After selling 872,000 copies in its first week of release, the LP eventually went six times platinum. Interscope's risky investment paid off: 50 Cent came with the ability to make hard-hitting street anthems and ubiquitous hits. Everyone who was alive and cognizant remembers that "In Da Club" was everywhere.
The rhymer's hits kept coming through the decade, but his music prestige fell. It was fine because he was making his transition into being a hip-hop mogul. The most famous example of 50 Cent the businessman is his deal with VitaminWater. With some insistence from late manager Chris Lighty, Fif bought stock in the then-relatively unknown brand. Coca-Cola bought VitaminWater's company Glacéau, which gave minority shareholder 50 Cent, an unprecedented payday of $100 million.
It's 2018, and 50 Cent is still rich. He's been involved in real estate, the spirits business with Effen vodka, became a licensed boxing promoter and serves as the executive producer as well as one of the stars of the hit TV show Power. Cracking jokes on Instagram has landed him in hot water lately, but that hasn't stopped him or his #GetTheStrap hashtag from taking over. Meanwhile, people still get hyped whenever "What Up Gangsta" comes on.
Watch 50 Cent's "In Da Club" Video
See 100 Hip-Hop Facts That Will Blow Your Mind