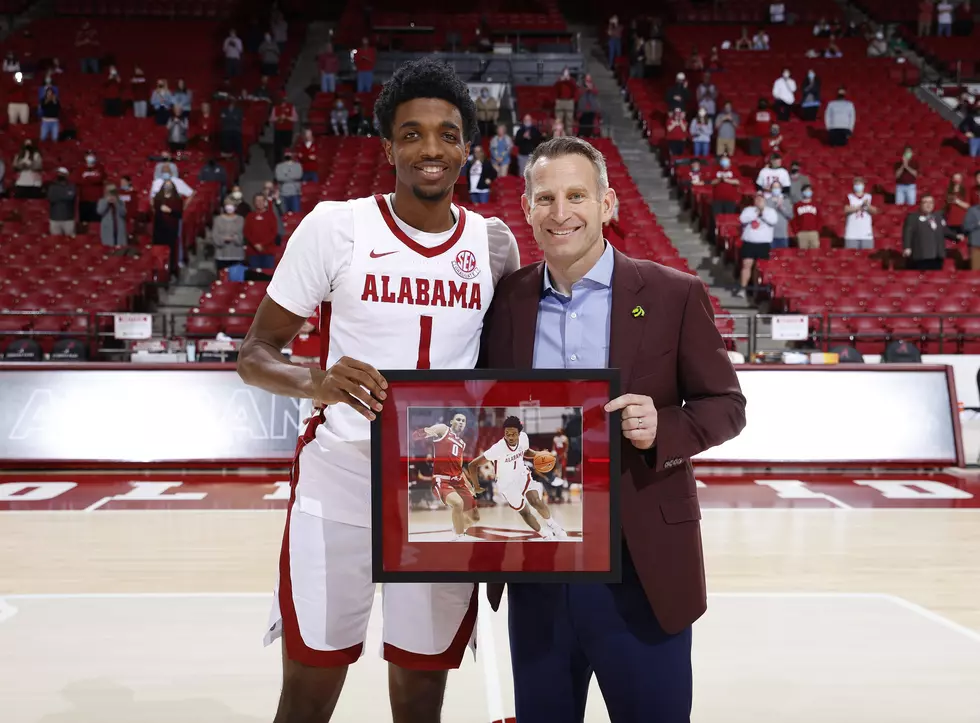 Herb Jones Named Semifinalist for Naismith Defensive Player of the Year
Crimson Tide Photos / UA Athletics
Senior forward and soul of Alabama men's basketball team, Herb Jones, was named one of ten semifinalists for the Naismith Defensive Player of the Year Award, announced Thursday morning on Twitter.  Jones is averaging 5.7 rebounds per game, 1.7 steals, and 1.1 blocks, all while adding 11.4 points on nearly 50% shooting from the field.
It is no secret that Jones has been one of the most solid defenders on the team in his time with the program, being named to the SEC All-Defensive team in 2020. Jones has spent three of his years at Alabama ranking within the top 20 for steals per game, and two ranking among the top 20 in block percentage.
Alongside racking up impressive numbers, Jones is a consistent team leader in Nate Oat's own statistic: blue-collar points.
Blue-collar points are a system Oats brought to Alabama in which a players' hustle plays are tallied and kept as a score. For example, plays like diving for loose balls and deflections earn points which are tallied up for each player after every game.
Players who lead the team in blue-collar points on a given night earn the hardhat award. Jones won the award 16 times in 2019, earning 593 blue-collar points along the way. This season Jones has a team high 479 blue-collar points, leading the next closest player by over 150 points and has won the hardhat award 12 times.
This season has seen Alabama embody Nate Oats' blue-collar approach in a way that has led the team to great success.  What has set this team apart from years past is its ability to win the close games when the offensive end isn't picking up their weight.
Herb Jones has been an instrumental piece in the defensive identity of this team, and Alabama's spot atop the SEC proves how vital he is to the program. The Crimson Tide, despite a tough loss to Arkansas on Wednesday night, still remain in the driver seat with a chance to clinch the SEC regular season title Saturday against Mississippi State.
Alabama's Top 10 Athletes: Spring 2021