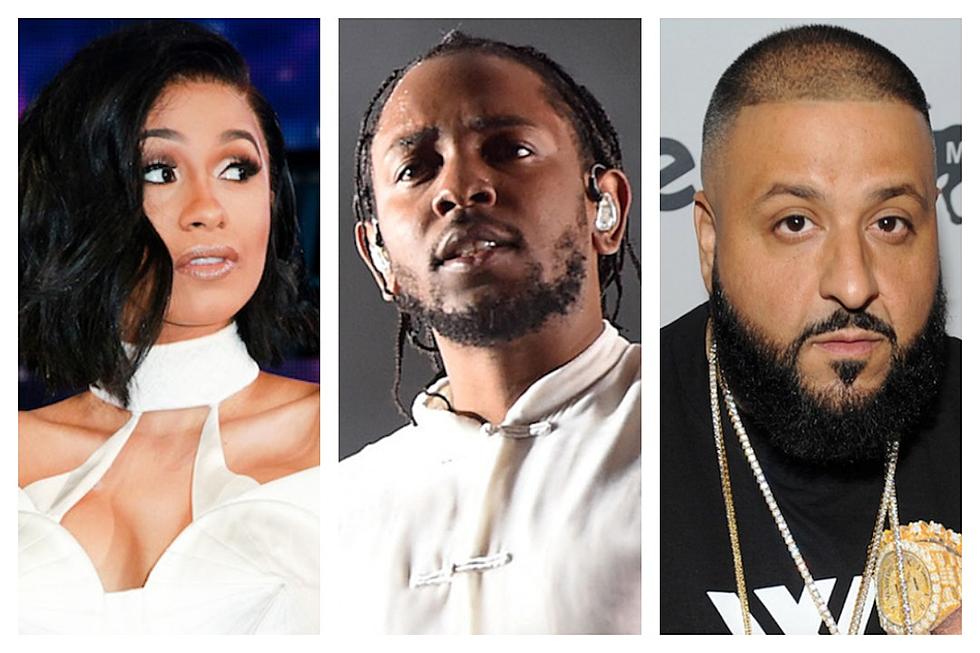 Hip Hop & R&B Account for 7 of the Year's Top 10 Most-Streamed Singles
Rich Fury, Getty Images/Kevin Winter, Getty Images/Brad Barket, Getty Images
Nielsen's 2017 year-end music report was released and as it turns out, hip-hop/R&B dominated (the two genres are counted as one by Nielsen). In fact, for the first time ever, hip-hop/R&B became the most dominant genre in the U.S.
The genre hit the position in the July and held strong throughout the rest of the year. Also, nine of the top 10 most streamed artists were by hip-hop/R&B artists, including Lil Uzi Vert, Kendrick Lamar, and Migos. All of the aforementioned artists were streamed more than 800 million times for their respective singles.
But hip-hop and R&B's dominance didn't stop there. Hip-hop/R&B also dominated in overall streams, with seven of the year's Top 10 most-streamed singles. Kendrick, Drake, Post Malone, Lil Uzi Vert, Future and Migos dominated the lists with huge records, including the release of Drake's More Life and Kendrick's DAMN. Future's back-to-back albums—Future and Hendrixx—helped him make Billboard chart history as well.
While the top 10 digital song consumption list found Luis Fonsi & Daddy Yankee Feat. Justin Bieber in the top spot, with Ed Sheeran holding down the second spot, the rest of the list was dominated by hip-hop (with the exception of Sam Hunt coming in at #8). Kendrick ("Humble"), Post Malone ("Congratulations" and "Rockstar") Bruno Mars ("That's What I Like"), Lil Uzi Vert ("Xo Tour Llif3") Future ("Mask Off"), and DJ Khaled ("I'm The One") held down the rest of the slots.
As for the top 10 songs in on-demand streaming, it was again, virtually all hip-hop/R&B. Cardi B obviously had a breakthrough year, hitting the top 10 for on-demand streaming at #8 for "Bodak Yellow" which had 724,118,000.
The year-end list essentially shows that consumers are relying on radio less and less, because while hip-hop/R&B dominated in terms of streams, it still lingers at the bottom of radio formats, coming in at #8 on the list. Talk radio is the #1 radio format, with adult contemporary, country, pop and hot adult contemporary taking up the top five remaining slots.
And while there was a lot of streaming for R&B/Hip-Hop, only one slot was held by the genre in the top 10 digital sales—Bruno Mars' "That's What I Like." Bruno also came in at #2 in the top 10 radio songs of the year with the same song, behind Ed Sheeran's "Shape of You."
Take a look at the on-demand streaming chart below.
25 Best Rap Albums of 2017