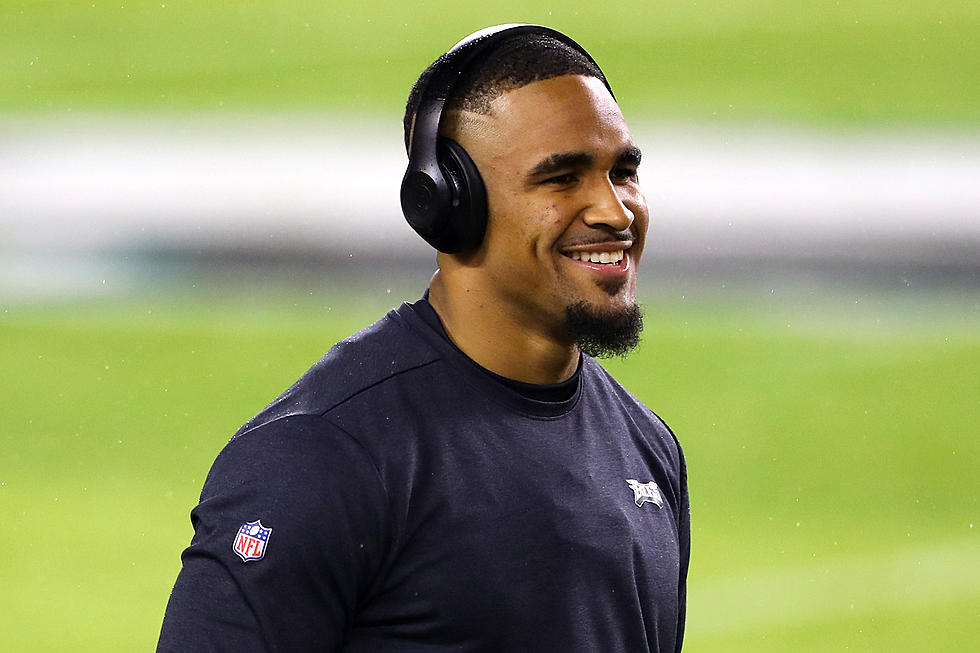 Jalen Hurts Offers His Best Financial Advice
Getty Images
Former Alabama and Oklahoma quarterback Jalen Hurts recently finished his rookie year in the NFL and is preparing for life in year two as the clear-cut starter for the Philadelphia Eagles. Hurts sat down with popular men's magazine "GQ" to discuss finances on "My First Million".
Hurts credited being a coach's kid and growing up around the game for his mentality on the field and in life. Hurts revealed his first job as a child was cutting grass, he began as a 6th grade student and continued into his high school days.
Hurts was drafted in the second round of the 2020 NFL Draft by the Philadelphia Eagles and was signed to a rookie contract. His deal was for four-years worth $6.02 million, he was guaranteed $1.94 million and has workout bonuses in his third and fourth year.
"Of my first million, I've probably spent, $165,000," said the young quarterback.
The Eagles quarterback offered several smart financial tips to save your money and make smart financial decisions.
Buy a used or lease a car instead of buying
Cook at home
Switch to an affordable phone plan such as Straight Talk
Hire a kid to do your lawn or do it yourself rather than an expensive company
Hurts talked about arriving in Philadelphia and what the former SEC Offensive Player of the Year spent his money on. He admits he spent $1,000 at the mall on apparel and gear, he then spent $30,000 on fashion and jewelry.
Hurts has always been known for humble and giving spirit and that did not change with his first paycheck. Hurts donated $30,000 to a family facing childhood cancer, in total he estimated to "GQ" that he donated $60,000 in his rookie season to different causes and charities.
Hurts lives below his means, renting a simple apartment in Philadelphia and living with his parents when staying in his hometown of Houston, his living expenses in his first season of professional football cost him $30,000.
It cost the second-year quarterback $20,000 in business fees for his agent and his business manager. As a professional athlete, its expensive to maintain peak form. Hurts dropped $10,000 in offseason training and care.
Hurts gave his parent's $15,000 to make home repairs and renovations. He upgraded the bathrooms and the floors in his parents home. He is close to his siblings and gave his older brother $1,000 cash and set aside $70,000 for his younger sister's future college fund.
Hurts opted to skip buying a new car with his rookie money, instead he spent $10,000 to pay off the used car he was already driving. Hurts set aside $15,000 to go on vacations in the future, he thinks a safari could be in his future.
Hurts finishes his time with "GQ" by advising future rookies to enjoy their newfound income but also to be smart and save their money.
"Be smart and mindful and prepared, it goes by quick. Uncle Sam is real," concluded Hurts.
SEC Mascots
Alabama Crimson Tide All-Time Passing Leaders