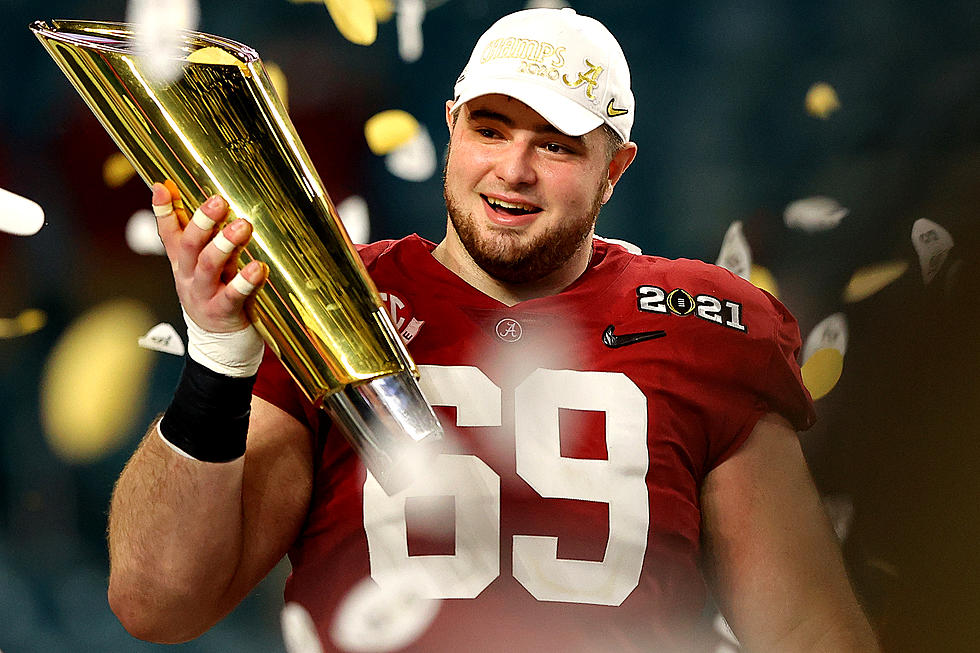 69 Days Away from Bama Kickoff: Landon Dickerson
Getty Images
Each day counting down to Alabama's Week 1 matchup with Utah State, I will highlight one former player whose jersey number coincides with the amount of days until the game. Let's continue our run of Crimson Tide centers today, taking a look back at the memorable career of Landon Dickerson. 
Though a relatively recent departure from the Crimson Tide, Landon Dickerson is a player than fans likely miss more than most. A former four-star recruit from North Carolina, Dickerson joined the program in 2019 as a transfer from Florida State where he had spent his first three years of college.
During his three years in Tallahassee, Dickerson dealt with a few major injuries that kept him sidelined for a lot of his time with the Seminoles. His freshman season saw the guard suffer a torn ACL just halfway through the year and his sophomore and junior seasons were much of the same, going down with two ankle injuries.
Luckily for Dickerson, he was granted a medical redshirt for his junior year, and, after picking up his degree from FSU, took to the transfer portal.
From the moment the behemoth lineman stepped on the field, his fun attitude and strong leadership were apparent. Dickerson started the first game of his Alabama career at right guard, where he had previously played, but was quickly thrust into the center position after a few key injuries to the offensive line.
Though he had never played center before, Dickerson took on his new role with excitement. The 6-foot-5, 300 lb. former guard started the remainder of Alabama's games at center, finishing the season as a member of the All-SEC Second Team.
In his final season at Alabama, Dickerson was the lifeblood of one of college football's best offensive line units of all-time. Taking over at center again, Dickerson not only won the Rimington Trophy, but led an offensive front that allowed quarterback Mac Jones to be sacked just 12 times on nearly 400 drop backs.
While nearly everything went right for the Tide in 2020, Dickerson was once again bit by the injury bug, going down with another knee injury in the SEC Championship game.
Although the injury cut his season short, Alabama would go on to dominate its competition in the College Football Playoff and Dickerson was able to take the field for the final snap of his college career, giving Tide fans a memory they will never forget.
Despite heading into the 2021 NFL Draft fresh off of an injury, Dickerson was still regarded as one of the top interior offensive linemen in the class and was selected early in the second round, reuniting with one of his former teammates, Jalen Hurts.
While many did not expect Dickerson to start right away, an early injury to Eagles' left guard, Isaac Seumalo, put the rookie in the starting lineup where he thrived.
Looking ahead to the 2022 season, the former Seminole turned CFP Champion is expected to remain the starter for Philadelphia who looks to be primed for a run at the playoffs.
Stay locked in to Tide1009.com for the countdown to Alabama football, and check out the rest of the list here.
Iconic Photos From Alabama's 18 National Championships
Claimed or recognized, no FBS football program has more national championships than the Tide. Look back on all 18 titles in Alabama history with these photos.
Starting Alabama Quarterbacks Under Nick Saban
Here is every quarterback that has started for the Crimson Tide under Nick Saban.