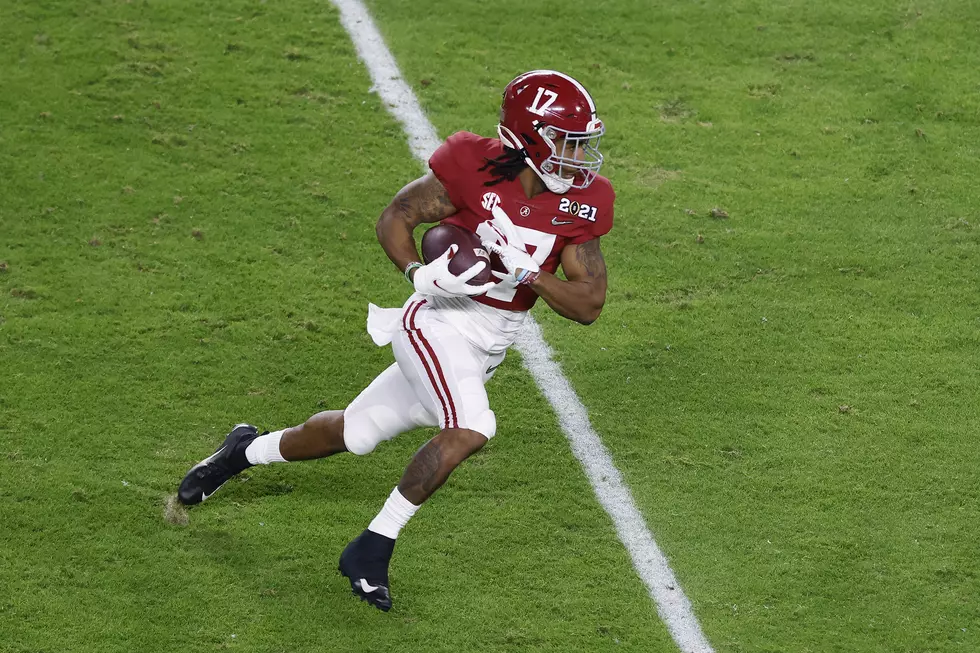 NFL Medical Combine Crucial For Jaylen Waddle and Landon Dickerson
Getty Images
From April 8-10, NFL personnel will conduct medical evaluations for 150 prospects in this year's draft. Each team will have one physician and one athletic trainer in attendance.  Each team is assigned eight-to-12 players and the results are to be shared with the entire league.
This evaluation is crucial for prospects like Jaylen Waddle and Landon Dickerson. "The medical exams are always the most important part of the combine," says Jim Nagy, the executive director of the Senior Bowl. "The workouts have been glitzy, TV thing, but when you talk to football people, it's really only the interviews and the medical exams."
Waddle suffered a devastating ankle injury on the opening kickoff against Tennessee. The injury kept it out the lineup until the national championship. When he did return, Waddle was no where close to 100% as he gimped around Hard Rock Stadium.
Prior to the injury, Waddle recorded at least 120 receiving yards in each of Alabama's first four games. He hauled in 28 receptions for 591 yards and four touchdowns last season. In his three years in Tuscaloosa, Waddle averaged an incredible 44.53 yards per touchdown catch on his 17 career scores through the air.
Landon Dickerson suffered a torn ACL late in the SEC Championship Game. Dickerson, earned unanimous All-American honors and won the Rimington Award winner last season.
Dickerson was seen doing cartwheels at Alabama's second pro day last month just three months after having knee surgery. However, Dickerson does have a long injury history, having suffered multiple season-ending injuries at Florida State.
Waddle and Dickerson are projected as first-round picks in this months draft.
Alabama Non Con Opponents