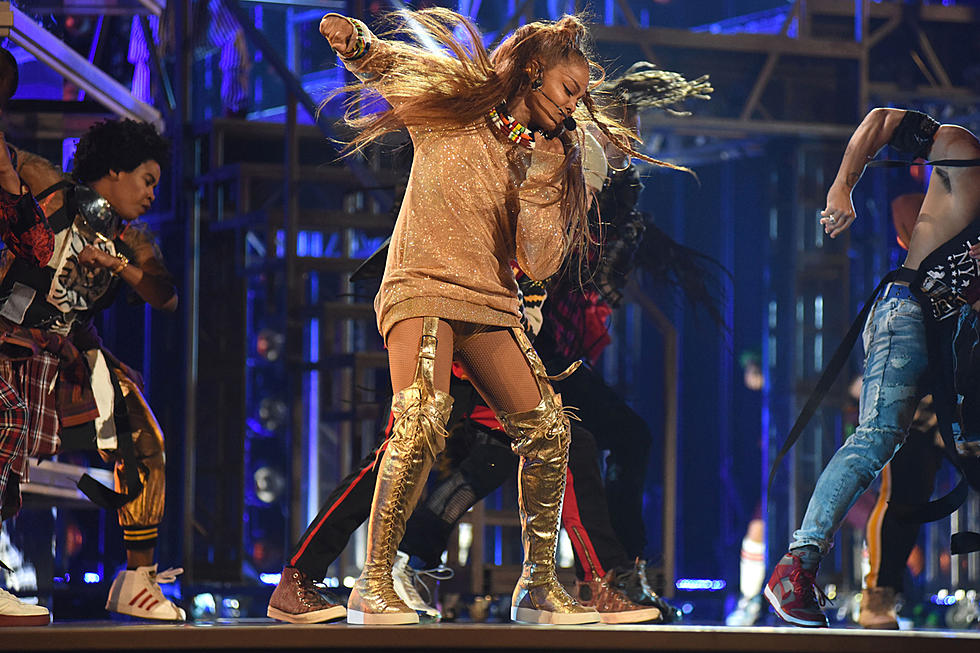 Janet Jackson Kicks Off 2018 'State of the World' Tour: Videos, Set List
NBC / Getty Images
It was doubtless a melancholic start to the highly anticipated tour, considering the fact that Jackson's father, Joe, had died just 11 days prior to the first show, a circumstance she addressed from the stage.
"My father was a great man," she said, her voice wobbly with emotion. Jackson spoke about her father's strength, and how thinking about that strength and his resilience and what they had meant to her family kept her from cancelling her tour.
She then reflected on a conversation she had with one of her brothers. "My brother said to me, 'If he were here right now, listening to this conversation, what do you think he would say to you?'" She paused, gathering herself before saying, "I think my father would have said, 'Janet, please finish what you started.'"
She then performed "Together Again," dedicating the song to her father.
Janet Jackson addresses her father's death and plays "Together Again"
The show itself was a deeply grooving set of hits and deep cuts, with more than a few surprises. Jackson came out swinging with one of those surprises, starting the show with "Skin Game," a Rhythm Nation b-side that she had never before played live.
She also dipped into 2001's All for You for a pair of rarities — "Feels So Right," which made its live debut, and "You Ain't Right," which she hadn't performed live in 16 years.
Watch Janet Jackson perform "Skin Game" live in New Orleans
Jackson also stitched together some of her biggest hits into two medleys early in the concert. A mix of "Nasty," "Feedback," "Miss You Much," "Alright" and "You Want This" came first, followed immediately by a knockout "Control" / "What Have You Done for Me Lately" / "The Pleasure Principle" tandem.
"One of my favorite things about being on tour is connecting with the fans, performing for the fans," Jackson stated in a video message to fans during the tour's rehearsals. By every indication, that connection was made in New Orleans, which bodes well for the next cities on the 15-show jaunt.
Next up for Jackson is a July 11 date in Austin, Texas, at the Austin360 Amphitheater. The State of the Nation tour winds down August 12, in San Francisco's Outside Lands in Golden Gate Park. For complete information visit her official website.
Janet Jackson Mercedes Benz Superdome, New Orleans, July 8, 2018 Set List
The Skin Game
The Knowledge
BURNITUP!
Nasty / Feedback / Miss You Much / Alright / You Want This
Control / What Have You Done for Me Lately / The Pleasure Principle
Love Will Never Do (Without You)
When I Think of You / All For You
All Nite (Don't Stop)
Runaway
When We Oooo
Feels So Right
Doesn't Really Matter
Funny How Time Flies (When You're Having Fun)
I Get Lonely
Any Time, Any Place
What's It Gonna Be?!
No Sleeep
Got 'til It's Gone
That's the Way Love Goes
So Much Betta
Throb
Together Again
What About
You Ain't Right
If
Scream
Rhythm Nation
State of The World
Worst to Best: Every Janet Jackson Album Ranked